Ravichandran Ashwin spins India back to the top

India Today
26-11-2016
For those who feared for the future of finger-spin bowling, Ravichandran Ashwin's stupendous success over the last 16 months has come as a mighty relief.
While the art of off-spin has grappled with the menace of chucking, the 30-year-old Indian has risen to the top of the ICC Test bowling rankings on the back of seven Man of the Series performances.
Apart from skipper Virat Kohli, nobody is more important to India's Test success on home soil and on Saturday he will unpack his bag of tricks in Mohali as the hosts attempt to lock up the five-Test series against England.
All this success has come against the background of the International Cricket Council's 2014 declaration of war on off-spinners with illegal actions.
Numerous bowlers required remedial work to get back to permissible limits of bend in their elbows and the crackdown wrecked the career of Pakistan's Saeed Ajmal, one of the world's leading spinners in the post-Muttiah Muralitharan era.
Photos: 25 world records held by Indians in Test cricket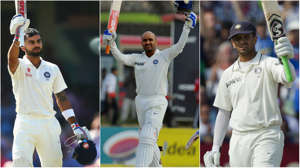 Ashwin, though, has managed to fox batsmen without ever needing to bend the rules.
A tall off-spinner who bowls in half-sleeves, Ashwin is a rarity in an age when many slow bowlers look to hide the extent of their elbow bend under full sleeves.
Against New Zealand in September, Ashwin became the second fastest bowler to take 200 Test wickets, taking one more match than former Australia leg-spinner Clarrie Grimmet (36) to achieve the feat.
It has not always been plain-sailing for Ashwin, however, particularly outside India.
OVERSEAS STRUGGLES
An opening batsman in junior cricket whose father Ravichandran was a club paceman, Ashwin transformed himself into a off-spinner and emerged from the southern city of Chennai to overtake Harbhajan Singh as India's leading slow bowler.
Two years after making his debut against West Indies in 2011, he went wicketless in both innings of the Johannesburg Test against South Africa and lost his place as number one spinner to left-armer Ravindra Jadeja when India were overseas.
"The criticism that came out of that game got the better of me," Ashwin said recently.
"It told me that I wasn't good enough and that I needed to improve. It made me raise my standards."
Watch: Best helicopter shots in cricket history
Returning to the nets, he made some tweaks to his action and returned to the side in England in August 2014.
A slow bowler with a penchant for targeting the opposition's best batsman, his 'carrom' ball - a finger-spinner delivered with the knuckle - has flummoxed the best players of spin.
He also bowls a slider and has the ability to summon up the occasional leg-break when he feels he needs it.
With his refurbished armoury, he picked up 62 wickets from nine Tests in 2015 to finish as the highest wicket-taker in the world.
He is firmly on course to repeat the feat for a second year with 55 wickets in nine matches so far and three more home Tests against England to come.
PACE GREATS
Against England at Visakhapatnam, his 5-67 gave him his 22nd five-wicket haul in his 41st Test, bringing him level with pace greats Waqar Younis (87 Tests), Malcolm Marshall (81), Curtly Ambrose (98), Courtney Walsh (132).
On a docile Rajkot pitch in the opening Test, Ashwin had managed just three wickets but he made some adjustments and took eight on a Visakhapatnam track that offered little spin.
"I'm really hungry in terms of how much I want to achieve as a cricketer," he said. "It's not about any specific number. If I get on a bit of a roll, then I don't really want to settle for anything, I just want to keep going and going and going.
---
---
"The (Rajkot) wicket was easy paced and I wanted to create some sort of pace into my action, so I tried to be a little slingy and load it up differently." 

Ashwin goes to Mohali with 231 Test wickets at a strike rate of 50.4 and a batting average of 34.22, good enough to warrant the title all-rounder.
His success with the bat - he has four Test centuries and eight fifties - has given Kohli the luxury of playing five bowlers and Ashwin has been promoted to number six in the Indian order, ahead of wicketkeeper Wriddhiman Saha.
India are keen to prolong their stay at the top of the ICC Test rankings and with another eight Tests on home soil before April and Ashwin on fire, it would be foolhardy to bet against it.
More from India Today

India Today