Ravindra Jadeja-vu

The Indian Express
21-12-2016
Ravindra Jadeja doesn't spin the ball like a left-arm spinner should. Ravindra Jadeja doesn't give it air like a left-arm spinner is expected to. Ravindra Jadeja is a bad-track bully. Ravindra Jadeja can only play a back-up role on a good wicket. Ravindra Jadeja is, unofficially, the singular reason for the BCCI to introduce neutral venues for the Ranji Trophy.
When you think of a traditional left-arm spinner, the image that props up is that of a bowler ambling to the bowling crease in between the umpire and the stumps, giving the ball loop, getting drift into the right-hander and then getting it to turn away upon pitching.
Ravindra Jadeja is the antithesis of that very graphic illustration. It's not to say that he doesn't turn balls past the right-hander or doesn't give the ball any air. But he just doesn't do it the conventional way, or in a way that would get validation from those hard-to-please experts that go under the banner of being connoisseurs. No wonder so many theories abound about why Jadeja can't or shouldn't be a successful Test bowler.
Full scorecard: India vs England, 5th Test
On Tuesday at the MA Chidambaram Stadium, he went about putting all those myths to rest. He rubbished them. He recorded his best-ever figures, 7 for 48, while donning whites for India. Along the way, he laid waste to the English turning their final day of the tour into a nightmare that they might take some time to recover from.
In an era where mystery spinners are in vogue, Jadeja is more old-school than you would think. He might not be an intelligent bowler, in the more astute sense, like say R Ashwin. But he is crafty. He doesn't quite focus on bamboozling a batsman. He instead works out their weakness and then preys on it incessantly and relentlessly.
Photos: World records held by Indians in Test cricket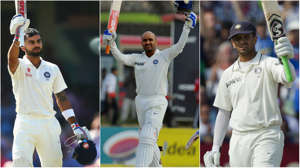 Jadeja is the cricketing equivalent of the bad cop in an interrogation scenario. He'll just keep hammering away on that one point relentlessly. There is no margin for error. Eventually, you will succumb. Eventually, you will break. It's inevitable.
Ask Alastair Cook. Jadeja on Tuesday equalled the record for a bowler having dismissed the England captain on most occasions during a series by taking him out for the sixth time. The strategy was the same as before. Cook had been stretching too far across his stumps and getting trapped by the ball angling into his pads. In Mumbai, he tried to charge at Jadeja but only managed to get stumped. Here in the first innings, he was caught at slip, edging a delivery that went straight on.
In the second innings, Virat Kohli didn't turn to Jadeja till nearly 20 overs had been bowled with Ashwin wheeling away with little impact, apart from a few that ripped past Cook's outside edge — and one that he edged for Parthiv Patel to put down. But within the first nine deliveries that Jadeja bowled, there were three loud appeals against Cook. The first was for lbw and the second for caught-behind, though the ball just shaded the inside edge. Then with a leg-slip in place, Jadeja started straightening his line, and eventually tempted Cook to hang his bat out at a ball that turned and ended well past his leg-stump, only for the edge to carry straight to KL Rahul in that position.
It was classic Jadeja. With him, it's not like you aren't aware of what's coming at you. There's no suspense involved here. It's just that there's no respite. You just have to look at the others, Michael Clarke and Hashim Amla topping that list, for whom he's been a scourge in home conditions.
"I found him hard work," Cook said. "It has been a strange thing for me. Credit to him, he found a bit of a weakness there. And he was relentless at it."
---
---
Joe Root had fallen to the sweep in the first innings, and Jadeja kept coaxing him to go for it again. Root likes the sweep shot, and he doesn't mind playing it off a very full length. Twice Jadeja came close to having England's batting mainstay in trouble with the shot. Then he bowled it slightly quicker and slightly fuller. This time he managed to sneak it under his bat and hit the pad. And for the second time in the Test, the Indians made the best use of DRS to get rid of Root.

The change in length and trajectory, as with everything that Jadeja does with the ball, was very minute and subtle.
Subtle changes of pace is a phrase you often hear in shorter formats of the game. And for many, Jadeja's lack of eye-catching variations and penchant for 'subtle changes of pace' naturally brought along a label of a 'limited-overs specialist'. But Sunil Joshi, former India left-arm spinner, has always been bemused by that image.
"Why do you need to be a conventional spinner to be successful in Test cricket? Look at the man at the helm of the Indian dressing room. What were Anil Kumble's strengths? Unwavering accuracy and consistency. I've always thought Jadeja should never change his style in whatever format he's playing, and we're seeing why now," says Joshi.
He doesn't agree with Jadeja being tagged among the dart-it-in variety of left-arm spinners either. "He's not completely a flat bowler. He does give the ball air. But he's a master at exactly knowing when and how much flight is required," Joshi explains.
And Moeen Ali, dreadful shot it might have been when your team is trying to save a Test, did get beaten in flight before swiping across the line and getting caught by Ashwin at mid-on. Keaton Jennings was the same. The young opener had got his eye in, and gone past 50, before stepping down to a ball that had been given air. But he never got to the pitch of it and instead, just lobbed the ball back to Jadeja.
End game
There was certainly more on offer for the spinners while bowling from the Pavilion End, like has been the case from the opening day of the Test. But most of the damage that Jadeja brought about was more with his own skill, even if his figures from that end read 7/28 in 12 overs. The pitch, unlike what the naysayers often point out, was just ancillary to his trickery, not the focal point. "
Another strength is the way he can release the ball from different angles. But you'll always find the seam position perfect regardless of the point of release, which means the ball is always given the best chance to grip and do stuff off the pitch," says Joshi.
"When I was with Hyderabad, I told Pragyan Ojha (who was the regular left-arm spinner in the Indian Test team back then) that you need to keep improving your game. This boy (Jadeja) is on your tail," adds Joshi.
Jadeja was certainly on England's tail in Chennai. On occasions, he didn't need to be bowling either. There was the remarkable catch to dismiss Bairstow when he ran back quite a distance with his head turned skywards and plucked the ball out of thin air. Jadeja is like a jack in the box popping up ever so often at different parts of the ground. There'll be a dive, a rapid shy at the stumps or a stunning catch. The opposition can never rest easy when Jadeja is on the prowl. He played a role in nine of the 10 dismissals on the dramatic final day.
Kohli later said Jadeja was the one who gives his side the balance required in Test matches. He also dissed talks of Jadeja having been under Ashwin's shadow all this while.
"Every time Ashwin has picked up wickets, the economy rate from the other end is not more than two," he said. Even Kohli, the batsman, couldn't help but acknowledge the challenge of facing Jadeja. "You don't necessarily need to have too many variations at your disposal, his strength is bowling at nice pace, not giving too much air to the ball and making the batsman think about how long they can defend. On any wicket, if you are bowling that accurately for a long time, invariably the batsman will make a mistake," he added.
It was only apt on a day Jadeja showed that for all the things they say he doesn't do, there is one important thing that he does. He wins you Test matches.