Red-ball blues for white-ball behemoths: The Guptill-Rohit parallel

Wisden India
20-09-2016
Average after 18 Tests: 32.62
Runs in first two Tests: 288
Runs in next 16 Tests: 658
Last ten Test innings: 79, 34, 26, 50, 2, 23, 1, 0, 9 and 41
That's Rohit Sharma. [Yes, it's that time of the season again!]
Under pressure – even if no one relevant readily admits to it – to make a strong case for himself in long-form cricket, Rohit had three more chances to impress after that last Test innings.

He and some of the other members of the national team were rushed to be a part of the pink-ball Duleep Trophy 2016-17 final after wrapping things up in the Caribbean (and then the USA).
In his first hit, for India Blue against India Red, he scored 30. That, in an innings in which Mayank Agarwal scored 57, Gautam Gambhir 94, Cheteshwar Pujara 256 not out, Dinesh Karthik 55, Sheldon Jackson 134 and Ravindra Jadeja 48. Amit Mishra dismissed Rohit with a flighted delivery outside off that Rohit attempted to hit over the infield, but only managed to send high to Shikhar Dhawan at cover.
In the second innings, he scored 32 not out. Mishra almost had his number on a couple of occasions again, but Rohit survived.
The third hit was at Feroze Shah Kotla, against the visitors from New Zealand. This one, to put it mildly, was a hash job. He was patient enough in scoring 18 runs but then stepped out to have a go at Ish Sodhi, missed it altogether, and was stumped.
Just 213 days older than Rohit is Martin Guptill.

Average after 44 Tests: 29.59
Runs in the three Tests in which he has scored centuries: 556
Runs in the other 41 Tests: 1871
Last ten Test innings: 18, 45, 18, 0, 40, 87, 11, 7, 8 and 0 – the 40 and 87 coming against Zimbabwe earlier this year.
If Rohit has hit a 264 in One-Day International cricket, Guptill has hit 237 not out. Those are the two highest scores in international 50-over history (and No. 2 and No. 4 in List A cricket). Guptill also has a Test best of 189, one of his three centuries to Rohit's two. He averages 43.25 in One-Day Internationals; Rohit averages 42.08. Their Twenty20 International averages are also in the same region – Rohit 31.72 and Guptill 34.73.
And, like Rohit, Guptill too is fighting to save his Test career.
Slideshow: Know your cricketer - Rohit Sharma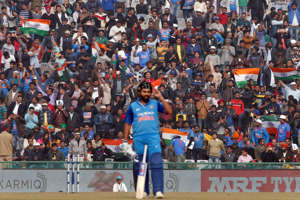 Now, while Rohit was trying to tonk Sodhi out of New Delhi, Guptill was doing even worse. He scored 15 in 19 balls with a four and a six in the New Zealanders' first innings against Mumbai, and then, opening with the man likeliest to replace him in the Test XI, Luke Ronchi, he scored a two-ball duck. Ronchi, meanwhile, scored 107.

When Rohit scored 30 in the Duleep Trophy, he spent 67 minutes with Pujara in the middle. The rest of Pujara's 474 minutes at the crease, Rohit – I assume – watched from the dressing room. What he saw, likely, was his immediate future in Test cricket going up in the Greater Noida haze. Like Guptill would have while Ronchi was on the job.
It's fascinating how similar their career trajectories have been.
Both Rohit and Guptill can rightly claim to be champions, even greats, of the white-ball game. And, unkind as it sounds, failures in Test cricket.
The difference lies in the way their bosses perceive them.
Mike Hesson on Guptill before the team left for India: "That message (that his place in the XI is under threat) has been out there a long time. It's important for Martin that we can see that (ability) out on the field and he can transfer what he has been training on to the park."
Sandeep Patil on Rohit after naming the squad for the New Zealand Tests: "He's not got a longer run in Test cricket. […] The feeling of the selection committee, along with the coach and the captain, is that whoever is picked – not just Rohit – will be given a fair amount of chances here onwards."
New Zealand have made things clear, with Hesson indicating that Ronchi will get preference over Guptill if the latter doesn't lift his game – 15 & 0 v 107 is a pretty clear report on that. But with Rohit, there is the sense of ambiguity; it has almost always been there. All along, we have waited: "Let's go." "We can't." "Why not?" "Waiting for Rohit." [With apologies to that not-too promising Irish cricketer of the 1920s, Samuel Beckett.]
© Getty Image

Meanwhile, far away from all this, Ramnaresh Sarwan has called it quits.
Oh, what a wonderful batsman he was when he burst on to the scene in 2000. After Brian Lara, who? Sarwan, of course.
When he wrapped up the other day, at just past 36 years of age, he hadn't played for West Indies in over three years. That's in ODIs. His 87th, and last, Test came in 2011. When he downed the shutters, his Test average read 40.01. ODI average 42.67. In ODIs, he was outstanding at times. In Tests, far from it, despite quite a few bits of evidence early on that he was the real deal.
As things stand right now, Rohit and Guptill would probably give anything to get to 87 Test matches. The times are different and, crucially, neither India nor New Zealand are as desperate for 'potential' and 'talent' in their midst as West Indies were (and still are) through the Sarwan years.
Guptill is unlikely to get a shot at even crossing the average of 30 for the time being, while India's five-bowler logic with M Vijay, KL Rahul, Cheteshwar Pujara, Virat Kohli and Ajinkya Rahane as the five first-choice batsmen leaves Rohit no room to better his Test record. Except, much like with the selectors, Rohit's beauty and talent – the undeniable promise of it – have forced Kohli & Co to tinker with that XI oftentimes.
Yet, Patil & Co cannot afford to spend this much time justifying the selection of one individual. Going by the obvious variables, there is no reason for Rohit to not have a good Test career. But he hasn't had one so far. Nor has Guptill. And that's the hard truth.
Rohit has tied himself up in knots with the long rope he's had. He must untangle himself now; Patil and Kohli can't do it for him. And going for those glory shots in an attempt to literally and metaphorically break free can't possibly be the right way to go about it.