Regina v Cairns: The road to hell – paved with scorched reputations

Wisden India
03-09-2016
On a grey, windy morning in late November, Chris Cairns walked out of Southwark Crown Court a free man. Eight weeks after he uttered the words "Not guilty", the foreman of the jury did the same. Cairns had entered court that morning carrying a backpack, just in case he needed to head straight to prison. Now he could take his gear home to his wife, Mel, and their two children in Australia.

Twenty minutes earlier, the significance of those two words had overwhelmed him, though not immediately: the foreman spoke so quietly that Cairns had to rely on the reaction of his friend and co-defendant, Andrew Fitch-Holland, to learn his fate. He patted Fitch-Holland, emotional at his own acquittal, on the back, then sat, briefly, stunned in the dock.
Waiting outside were the press pack. For nearly two months, photographers had captured his lonely arrival at Southwark's drab brick fortress, even his lunch run to Pret A Manger. Now journalists wanted to hear from the man who – for the second time, following a libel case against Lalit Modi more than three years earlier – had emerged victorious from a bruising saga that stretched back to January 2010, when Modi tweeted that Cairns had been involved in corrupt activities during the 2008 Indian Cricket League. "You have to be careful because it's not a victory as such," said Cairns, sensibly avoiding triumphalism. "In a case like this, I really don't think there are any winners. It's been hell for everyone involved."
Slideshow: 25 most controversial cricketers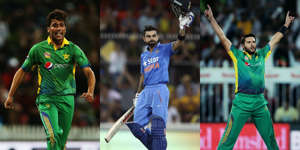 There were no bitter words for former New Zealand team-mates who had given evidence against him, not even for Lou Vincent or Brendon McCullum, his prote ́ge ́. Asked what he would say to McCullum, there was a long pause, then a simple "Why?" And with that Cairns was done. As photographers trailed him for one final image, he walked away, smiling. "I'm off for a beer."

At his peak, there was real excitement when Chris Cairns strode to the wicket or was thrown the ball – even if the prosecution's contention that he was "the golden boy… whom every cricketer wanted to emulate" was over- egging it. But when he first entered court on October 5, to defend himself against charges of perjury and perverting the course of justice, the old desire to win must have tugged at him more urgently than ever.
Cairns, the prosecution suggested, was "an arrogant individual and very aware of the power he held over people around him". Yet he was unfailingly polite. He would pause every morning to let the cameramen get their shot, nod to reporters, and hold the door open as a matter of course. But, it was true: he wasn't without ego. With every major news organisation in New Zealand sending someone to cover the case, the trial was a big story back home. Early on, Cairns indicated he wasn't following the coverage but, after an article suggested he had "appeared to lose sight of the ball" during a typically testy exchange with Sasha Wass, QC, Cairns joked with the journalist that he would never lose sight of the ball (unless it was pink, since he is colour-blind).

Waiting for him inside Court 1 was the dock – a stark, sterile rectangular glass box – the bubble in which Cairns and Fitch-Holland sat listening, staring, scribbling, sighing. Around them, the arcane machinery of a criminal trial cranked into gear. The jury of five men and seven women could be forgiven for wondering why they were there: a cricketer from New Zealand answering charges relating to an unofficial tournament in India that had taken place seven years earlier, all being litigated in a windowless bunker by the Thames. Opening the Crown's case, Wass – who in 2014 had successfully prosecuted the entertainer Rolf Harris on charges of indecently assaulting young girls – explained rudimentary elements of the game. It was "played by two teams of 11 players each"; the stumps were "three sticks" at each end of the pitch, with "two small pieces of wood balanced on top called 'bales'" [as the court's official transcription had it]. It was anyone's guess what the jurors were thinking when Vincent and Cairns debated whether a boundary Vincent had scored during an ICL game had come from a thick edge or a late cut.
At times, the language of cricket was used as a comforting metaphor. When Vincent, the Crown's first witness, arrived hand in hand with his wife, Susie, he quipped: "First in to bat. Hope it's a green one." Instead of being dismissed early, however, he was subjected to three days of questioning, during which his life was dissected for the world to see. He claimed Cairns had lured him into the murky world of match-fixing during the ICL. Lies, said Cairns, who countered that Vincent had given the authorities a "big name" simply to escape punishment when he himself had been caught.

The Vincent sideshow was as sad as it was compelling. Fourteen years earlier, he had begun his Test career as one of four centurions in New Zealand's first innings at the WACA. In 2005, he scored 172 from 120 balls against Zimbabwe, breaking Glenn Turner's 30-year-old record for the highest one- day innings by a New Zealander. But, by the end of 2007, his international career was over. For every high, there was a low, his fluctuating form linked to his battles with mental illness. "When everything was good, his cricket was amazing," testified Andre Adams, a close friend and former team-mate. "He was funny, happy and consistent. When things went badly, his cricket went badly. He got into a vicious circle and needed time to get rid of the demons."
Now, Vincent cannot coach even schoolchildren. He was banned for life by the ECB after he admitted fixing county games at Sussex. But he was never investigated by UK police, let alone charged, despite receiving around £120,000 for underperforming. This was a key part of Cairns's defence. Vincent was torturously cross-examined by Orlando Pownall, QC – not just about his match-fixing, but about lying to investigators and having sex in an Indian hotel with a woman provided by a bookmaker as a "gift".
"I was," said Vincent, "a disgraceful human being." On one occasion he left the witness stand in tears, and looked comfortable only when talking about cricket. He explained that the "art of underperforming" was not as easy as it sounded. In fixed games, he claimed his task was to score 10–15 runs off 20 balls, and described his efforts in the final of the ICL World Series in April 2008, when he tried to get out stumped on 17. The plan did not go well. Facing left-arm spinner Ali Murtaza, Vincent charged down the pitch, "but the ball did something funny". He smashed it back over the bowler's head for six. Vincent told the jury: "My heart just raced, how did this happen?" He tried to miss the next ball in the hope of getting bowled; instead, he edged it for four. "I was supposed to get out, I've just hit ten runs, this is a disaster." He ended up scoring 28.
But Pownall suggested the six was a "beaut" ("You bring the bat back and you deliberately smite it"), and the four a classic late cut. Vincent said his "footwork was horrendous". When Pownall disputed this, Vincent drew laughs from the public gallery: "I disagree with your cricket opinion."
Later, Cairns – understandably keen to suggest Vincent had not been involved in any kind of scam – took issue with his assessment of the six as a "fluke". Television footage was played to the jury, and Cairns commentated from the witness box, sometimes unprompted, leaving his lawyer no choice but to cut him off. "I think he came down and gave himself room, did nothing but follow through with the shot," he said of the six. "It was a good shot timed very, very well." The disputed late cut was, said Cairns, "a tough shot which came off the face of the bat". The differing opinions merely illustrated the difficulty the jury faced in deciding whether a player was deliberately underperforming.
Like Vincent, Cairns was most at ease when the subject was cricket. But there were no easy deliveries from Wass, and her first question was a bouncer. Did he agree he was a "most unfortunate individual" to have former team- mates and acquaintances accuse him of match-fixing? When Cairns failed to answer, she leaned in over the folders stacked at her table and pressed her point. "Because, if you're telling the truth, you've been accused of match-fixing not once, not twice, but on three separate occasions. Do you think it's unlucky to be accused on three separate occasions of something you haven't done?"
Cairns said he was not in the witness box to give his opinion, but to provide evidence and answer questions. "Well, perhaps you'll answer this one," Wass shot back. She pointed out that "perfectly reasonable, sane people" do not make up false allegations without a motive, repeating the question several times, and adding: "Perhaps if you answer the questions rather than think about where they're going."
Their exchanges were feisty: they even sparred over whether the video link, used by some overseas-based witnesses, was of sufficient quality. As theatre, it was gripping. Eventually, Mr Justice Sweeney – a legal heavyweight who had presided over the trials of former MP Chris Huhne and entertainer Rolf Harris – rebuked both: Wass, who successfully prosecuted Harris, should stop dressing up comments as questions, Cairns should answer them. Later, she pushed Cairns about his conversations with McCullum. "Are you referring to his first, second or third statement?" Cairns replied confidently, alluding to discrepancies in the three accounts, spread over three years, that McCullum had given to the ICC's Anti-Corruption Unit and police. Why would McCullum stitch him up? "Brendon is doing what is best for Brendon," said Cairns.

If Vincent was vulnerable, McCullum was not: cricket was the only thing the Crown's two key witnesses had in common. McCullum and Cairns, on the other hand, were almost kindred spirits – aggressive cricketers, forever on the front foot. It was Baz v Cairnsy, and New Zealand fans in flip-flops and All Black jerseys queued up to enjoy the show.
"When I grew up watching New Zealand cricket, Chris Cairns was very much a superstar of that team and certainly one of my idols," said McCullum. Normally an assured speaker, he gave evidence which those in the public gallery strained to hear. He was subdued, and never bristled when challenged. He regretted the three-year delay in reporting Cairns's alleged approaches to him in 2008, prompting Pownall to suggest he waited so long because he was unsure what had happened: an innocent conversation was misconstrued and evolved over time, said Pownall, so that McCullum could escape a ban.
"I'm very certain about what happened on those two occasions: Chris Cairns asked me to spot-fix," McCullum replied. "I was scared to come forward to say a guy I looked up to… had asked me to fix a match. There's no reason for me to be here other than to tell the truth. There's no benefit." One final question: Wass asked McCullum whether it had been easy to accuse his former friend. "No." With that, the biggest test of his career was over. McCullum walked out as he came in – looking straight ahead – with Cairns's gaze following him.
For eight weeks, Cairns and Fitch-Holland – who stood accused of trying to persuade Vincent to provide false testimony on Cairns's behalf against Modi – had sat side by side. Cairns's tie came off after the first day, only to return when McCullum and Daniel Vettori gave evidence. That felt significant: the only other time Fitch-Holland claimed he had seen him wearing a tie was in a photograph of the New Zealand team meeting the Queen.
One witness described Fitch-Holland, a 50-year-old barrister, as a "cricket groupie", which irked him. He admitted he had been star-struck when he met Cairns while managing the Lashings exhibition team. But over time they had forged a genuine friendship. Fitch-Holland was a loyal supporter during the 2012 libel case, managing media requests and acting as a go-between in the legal team. This was an unpaid role for "countless hours" of work, although there was an understanding Cairns would reimburse Fitch-Holland's expenses if he won. Despite being awarded £90,000 in damages, Cairns did not repay the £400 Fitch-Holland spent catching the train to London each day for the trial. He wrote an email, with mutual friends copied in, to "shame" him into honouring his promise.
The jury were told they were still friends, but the trial threw up moments of profound awkwardness, not least when Fitch-Holland described Mel Cairns during a police interview played to the court as "a girl who liked bright, shiny things". And Fitch-Holland claimed that a drunken comment ("Oh, he's guilty, Cairnsy's guilty") to Chris Harris, another former New Zealand international who gave evidence, was a reference to his personal life, not match-fixing. "I would have said the only thing Chris Cairns is guilty of is not keeping his trousers zipped up."
The trial did little for the reputation of the ICC's Anti-Corruption Unit, whose chairman, Sir Ronnie Flanagan, grabbed headlines when he compared the grooming tactics of match-fixers to paedophiles. But another key plank of Cairns's defence was an attack on the ACU's reaction when McCullum reported him in February 2011. This was "potentially momentous", said Pownall when questioning John Rhodes, the head of the ACU's Australasian branch. Yet nothing happened. Rhodes, who said he had lost his diary which chronicled the period around McCullum's statement, said his job was to collect information; his bosses then decided what to do. The ICL, he said, was an unsanctioned tournament, outside the ICC's jurisdiction.

Without the powers and tools of police officers, such as wiretaps or search warrants, the ACU investigators rely on players breaking the dressing-room omerta`. But what potential whistle-blower will now want to step forward, knowing their integrity might be called into question by a QC? And words alone are unlikely to be enough to convince a jury, especially when the evidence is contradictory. One unnamed umpire who had suspicions about Cairns's final ICL game – and was listed as a witness, but never called – gave a sworn statement in which he said Cairns had bowled terribly and been stumped after rushing up the pitch, while Chandigarh team-mate Dinesh Mongia offered up a "silly catch".
The reality, as the defence pointed out after going to the trouble of checking the scorecards, was that Cairns did not bowl during the game in question because of an ankle injury, and was not stumped during the entire tournament; as for Mongia, he had top-scored. The umpire was not lying, said Pownall, but his statement was an illustration of "confirmation bias", in which evidence is embraced without scrutiny. "A mistake has been made," said Pownall. "A telling one. What he saw, never happened."
But while such details bolstered the defence's case, a steer from the judge might have settled matters. In order to convict Cairns of perjury, he said, the jury had to be certain about the evidence of two of the three key Crown witnesses: McCullum, Vincent and his ex-wife Ellie Riley, who had claimed Cairns had told her that "everyone" was match-fixing in India. They were unconvinced.
Outside on the steps, Cairns said he had been "through the mill" and come out the other side, though with his reputation "completely scorched". In a grubby few weeks for cricket, even the victor felt slightly defeated.