Resurgent Rohit rides to India's rescue

Wisden India
02-10-2016
Why is Test cricket the sport's greatest format? Because it can have a team whose bowlers have gone for 76 runs in 19 overs in the morning, whose batsmen have put up only 110 runs by tea while losing six wickets, and still be in an impregnable position by the close. And it can do that by granting a redemption story to a man desperately in search of Test runs by giving him the stage to play the most defining knock of a still-young career.
New Zealand began the third day of the second Test in Kolkata with spirit, but India pulled full steam ahead, ending Sunday (October 2) on 227 for 8 in 63.2 overs, for an overall lead of 339. It was a performance built on Rohit Sharma's shoulders – a phrase that people had almost given up hoping to read. Rohit made a polished 82, his love affair with his favourite ground not only lifting his own sagging fortunes but putting India in sight of a series win.
The crucial runs that India's lower order had added in the first innings meant that in spite of New Zealand's own tail wagging, they opened up a lead of 112 after bowling New Zealand out for 204.
After that, a good hand from Virat Kohli (45) helped stabilised India from 43 for 4, and then Rohit took over. The last time Rohit had been the top scorer in an Indian innings was back in February 2014, coincidentally also against New Zealand but in Auckland. He had shored up a total of 202 all out with 72 then. That came in a losing cause; this innings could well see India begin a reign as the No. 1 team in Test cricket.
Scores (Day 3): India: 316 & 227-8 against New Zealand: 204
The Eden Gardens pitch had shown variable bounce from the first day, and it only became more pronounced on the third, when India came out for their second innings after taking just over an hour to bowl New Zealand out. The visitors had resumed on 128 for 7, but refused to roll over. Jeetan Patel, whose previous Test-best score of 27 not out was made more than a decade ago on his debut, stroked boundaries with the elegance of a VVS Laxman in getting to a run-a-ball 47.
Patel took the lead in an eighth-wicket stand of 60 with BJ Watling before he was undone by R Ashwin's first ball of the day. Patel had been trapped in front by Ravindra Jadeja in the 46th over, reprieved because the bowler had over-stepped, but fell without adding to his score. Playing for the off-break, Patel aimed an almighty swipe towards wide long-on, but the ball turned the other way to take the leading edge.
The ball had been just changed after it had gone out of shape, and Mohammed Shami used reverse swing to clean up New Zealand's tail soon after Patel fell, trapping Watling and Neil Wagner lbw, though the latter could consider himself a bit unfortunate since more than half the ball had pitched outside leg.
Trent Boult and Matt Henry came out all steamed up for India's reply, and Shikhar Dhawan's stay proved particularly painful. Boult hit him twice on the thumb with deliveries that reared up within the first three overs, and generally made life very uncomfortable for his Sunrisers Hyderabad teammate. M Vijay was the first wicket to fall, suckered into poking Henry into the slips. Cheteshwar Pujara wasn't allowed to repeat his first-innings heroics, given out lbw – again to one that was sliding down – and India were in a spot of bother at 24 for 2. The spot quickly threatened to become a chasm when Boult trapped a leaden-footed Dhawan in front. Ajinkya Rahane played an uncharacteristic pre-mediated pull off Henry that only found the top-edge. Rahane, perhaps, was expecting the ball to bounce a lot more and when it didn't, he didn't make the adjustment.

That was when Kohli and Rohit got together, both with first-innings failures behind them, both with a lack of recent Test runs, and both with a point to prove.

The short-ball ploy that had worked so well for New Zealand against Kohli was abandoned fairly quickly on Sunday, New Zealand perhaps feeling that the pitch wasn't quite as bouncy as it had been on Friday. Kohli capitalised brilliantly. Correctly judging that going into his shell would prove counter-productive at this juncture, Kohli ensured that he didn't let scoring opportunities pass. The difference from earlier was his judgment of which balls to punish. He would not be drawn into reaching away from his body, or hitting in the air on the legside.
Rohit connected with a Patel flighted ball to send it over midwicket, and with Kohli picking off boundaries too, Ross Taylor went back to Boult.
That brought Kohli's wicket in fortuitous circumstances. A short ball turned into a shooter, keeping low and rapping Kohli on the pads. There was nothing even a set batsman could have done about that kind of variable bounce but with a 48-run stand in just 65 balls, the fifth-wicket pair had allowed India some breathing room.
New Zealand sniffed an outside chance again when Ashwin was trapped in front by Mitchell Santner to leave the team 106 for 6, with the overall lead 218. But Wriddhiman Saha, whose first-innings half-century was crucial in India extending their total, was equal to the task once again.
Slideshow: 27 cricket world records you must know about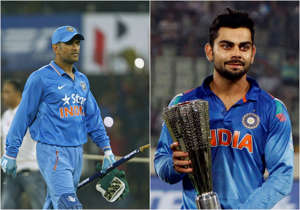 Saha played the perfect supporting role to Rohit in the post-tea session. If New Zealand bowled India out cheaply, they could still hope to chase a target under 250. But Rohit showed a mastery over the situation that has largely eluded him in whites, not being tempted into going for rash shots and batting with control. By the time he had feathered Santner to Luke Ronchi – taking over the gloves from a cramping Watling – the duo had added 103 runs, taken the lead beyond 300 and India beyond defeat.

Bad light meant play ended before the revised scheduled close of play, with Saha still batting on 39. But though the local lad had done well, this day belonged to the one who has made Eden his adopted home.