Rio 2016: which Olympic records could be beaten?

Photos
17-05-2016
With the Rio Olympics rapidly approaching, we look at the records which might tumble or even get smashed by the best athletes in the world. Whether it's the iconic 100m or archery, new benchmarks could be set.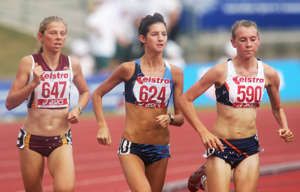 © Jonathan Wood/Getty Images BRISBANE, AUSTRALIA - MARCH 10: Linden Hall of Victoria, Chloe Tighe of New South Wales and Emma Jackson of Queensland compete in the womens under 18 3000 metres during day two of the Australian Athletics Championships and selection trials at Queensland Sport and Athletic Centre on March 10, 2007 in Brisbane, Australia. Linden Hall (Australia), women's 1500m (athletics)
Current Olympic record: Paula Ivan (Romania); time - 3m 53.96secs
Hall(R) raised eyebrows when she ran the fastest 1500m by any woman in the world this year. The Australian's astonishing performance has brought her into contention for winning gold in Rio.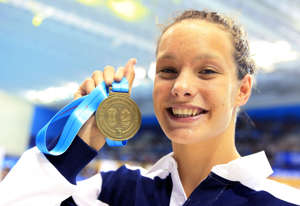 © Vaughn Ridley/Getty Images Penny Oleksiak (Canada), 100m freestyle (swimming)
Current Olympic record: Ranomi Kromowidjojo (Netherlands); Time - 53secs
The teenager from Toronto was in smashing form during trials for Canada's Olympic swim team in April. She obliterated both a national and world junior record en route to earning a spot at the Rio Olympics in the 100m freestyle with a time of 53.31secs. The 15-year-old is sure to push reigning Olympic champion Kromowidjojo all the way.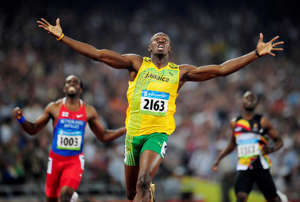 © Dylan Martinez/Files/Reuters undefined Usain Bolt (Jamaica), men's 100m (athletics)
Current Olympic record: Usain Bolt (Jamaica); time – 9.63secs
The sprinter, who has won six Olympic gold medals and is regarded by many as the greatest of all time, never ceases to surprise. Bolt also has this tendency of ease off towards the last stretch of the sprint. If he goes full tilt until the line, he might record a faster time than he did at the London Olympic Games in 2012.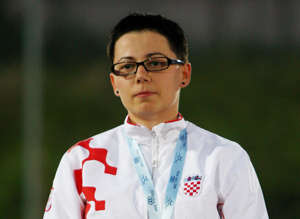 © Vittorio Zunino Celotto/Getty Images Snjezana Pejcic (Croatia), women's 50m rifle, three positions  (shooting)
Current Olympic record: Jamie Lynn Gray (USA); Final score: 691.9 points
At the Rio Olympic test event, Pejcic broke the world record by two points, scoring a remarkable 594 out of a possible 600. If she continues her form into August then reigning the Olympic champion and Olympic record holder Jamie Lynn Gray's record will be under serious threat.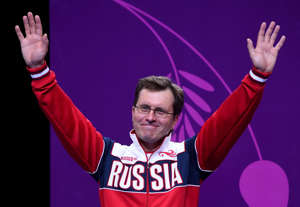 © David Ramos/Getty Images Alexei Klimov, (Russia), men's 25m pistol (shooting)
Current Olympic record: Leuris Pupo (Cuba), Final score: 34 points
The reigning Olympic champion appears to be in no mood to let go of his grip on gold. He matched the world record (35pts) at a test event earlier this year, which is above the best Olympic mark. Klimov will be the strong favorite to shoot for the top of the podium in August.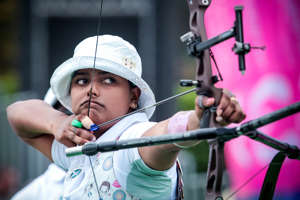 © Dean Alberga/World Archery Federation via Getty Images Deepika Kumari (India), women's 72-arrow round (archery)
Current Olympic record: Lina Gerasymenko, Ukraine/Park Sung-Hyun, South Korea - final score: 673 out of 720 points 
The Indian archer, Deepika Kumari, has her eyes set on the Olympic gold medal. The winner of two Commonwealth Games gold medal most recently equaled the world record total in the women's recurve event at the Archery World Cup which took place in Shanghai. She shot 686 in the 72-arrow ranking round and equaled the record set by London Olympic Games gold-medallist Ki Bo Bae of South Korea.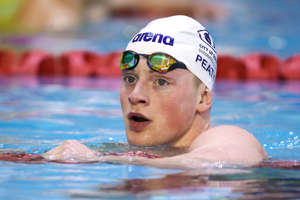 © SWpix.com/REX/Shutterstock Adam Peaty (England), men's 100m breaststroke (swimming)
Current Olympic record: Cameron vd Burgh (Russia), time: 58.46secs
Peaty, who currently holds world records for the 50m breaststroke (26.42secs) and the 100m breaststroke (57.92secs) is being tipped to win the 100m event at the 2016 Olympics. Having already set the world record, Peaty definitely holds a great chance of breaking the Olympic record too.