Rio miss will hurt me for the rest of my life: Sushil Kumar

India Today
07-09-2016
India's two-time Olympic medallist Sushil Kumar was a dejected soul as his dreams of winning a third medal at the Rio Games were shattered.
Sushil's request for an Olympic trial was turned down by the Wrestling Federation of India (WFI), which wanted Narsingh Yadav to represent India in the 74kg category at the Olympics.
It is hard for Sushil to forget what he went through in the last few months but still there is a smile on his face after he was recommended for the Padma Bhushan, the third highest civilian award in the country.
'HAPPY WITH PADMA BHUSHAN RECOMMENDATION'
Sushil maintains that the fact he couldn't participate at the Rio Games will hurt him for the rest of his life.
"I am happy that the WFI has recommended my name for the Padma Bhushan. Good to see that they acknowledge my achievements," Sushil told India Today in his first interview since the controversy regarding the Olympics came out in public.
Beautiful wedding photos of famous sports stars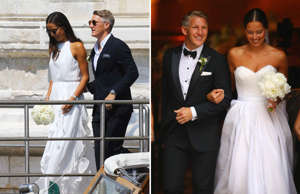 "Missing out on Rio Olympics will hurt me for the rest of my life because I knew how well I had prepared myself. However, things are getting clear gradually and the entire country has seen it. But the federation has recommended my name and I am thankful to them and the government," he added.
Sushil won a bronze medal at the Beijing Olympics and four years later, in 2012, he won a silver at the London Olympics.
SUSHIL IN AWE OF YOGESHWAR
Yogeshwar Dutt had won bronze at the London Games and after retesting of silver medallist Russian Besit Kudukhov's sample, the Haryana grappler could well be upgraded to silver now.
Kudukhov, who died in a car accident in 2013, has tested positive for a banned substance in the retesting conducted by the International Olympic Committee (IOC).
Yogeshwar showed a great gesture and said that he would like the Kudukhov family to keep that medal with them as a memory of Besit.
Sushil too applauded the gesture. "Congratulations to Yogeshwar and he has shown great sportsman spirit. These are the teachings that our Guruji (Satpal) has given. Besit Kudukhov was a good friend of mine as well. Yogeshwar has shown he is not only a good sportsperson but also a great human being," said Sushil, who has grown up with Yogeshwar and used to train together for years.
More from India Today

India Today