Rishabh Pant: Waiting in the wings

The Indian Express
01-02-2017
A net session on the evening before a match is an imprecise indicator of who will be in the XI the following day. But, in most cases, it can hint fairly reliably who won't be. For a big chunk on Tuesday evening at the Chinnaswamy Stadium, Rishabh Pant stood alone in one corner of the field as his Team India mates practised big hits in the middle. He looked more like a member of the support staff than a squad member as his only duty for the first hour-and-a-quarter of the session was to retrieve stray balls. Then, as the shadows lengthened, and big names started packing up their kits and leaving, coach Anil Kumble had a word with him and Pant disappeared in the dressing room. Minutes later, he re-emerged armed with a pair of bats. He padded up alongside the bowlers — and fellow players on the periphery — Amit Mishra and Parvez Rasool.
It's tempting to read it as a subtle indication of his position in the pecking order. Hard to overlook, too, was the symbolic value of what followed. The man whom the Delhi wicketkeeper-batsman replaced at the centre net was Mahendra Singh Dhoni, who had a prolonged hitting session during which he repeatedly sent the ball soaring into the upper tiers of the stands and once on the roof.
Pant then batted for half-an-hour, mostly practising the pull shot and even the hook off the pacers. Kumble, occupied with others, saw very little of it.
Photos: 24 amazing T20I world records that will blow your mind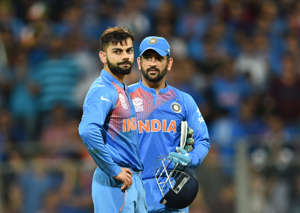 Soon after, as the Team India bus left the stadium for the team hotel, there were two questions hanging in the air: Does Rishabh Pant deserve a chance? Will he get it tomorrow?
The answer to the former is: You bet he does. There are few more explosive batsmen in India right now than Pant. And for someone with such an attacking game, he is surprisingly consistent. His 972 runs in the Ranji Trophy 2016-17 came at — liberally speaking — a Bradmanesque average of 81.00 and at — strictly stating — an Afridian strike rate of 107.28. Already he is being compared with Virender Sehwag and Adam Gilchrist. It's not just the talent, Pant has got temperament, too. He feels he belongs, and it shows in his batting. In his first Ranji Trophy game, in 2015, the then 18-year-old had made a feisty half century, which included sixes off Ashok Dinda and Pragyan Ojha.
It's no secret that India need a big-hitter in its ranks. To clear the ropes, they are over-reliant on an ageing Dhoni. And while he is very much capable, Dhoni now needs time to settle down before unleashing the big hits.
It was evident in the last match, where he came at six with seven balls to go, but couldn't connect. An authentic power hitter coming lower down the order can liberate Dhoni, whose formidable running between the wickets can be an asset a bit higher up the order. Pant can also be thrown in the deep end and picked as an opener, which he has done at the Under-19 level. If paired with KL Rahul or Virat Kohli, he can give the left-hand, right-hand combination, and his instinct to attack from the word go can allow his partner time ease into the innings.
---
---
Natural fielder

Being a wicket-keeper means he is a natural fielder and can be an asset in the field. This is what he brings to the table, and that brings us to our second question — about his chances of making the team on Wednesday. The answer is: highly unlikely. Even his childhood coach Tarak Sinha feels it.
"The way the team is right now, he may not get to play. But he should get a look in. He has done enough, in the under-19, in the Ranji Trophy season," he says.
"He has only met mine and other people's expectations but surpassed them. And India need youngsters with big events lined up in the near future. So, although I am not hopeful, but I hope he gets a chance tomorrow (Wednesday)."
Who would you drop to accommodate Pant? Rahul is coming off a half-century in the last match. Suresh Raina and Yuvraj Singh have struggled, but having picked the two veterans in the team, it would be abrupt to leave them out for the last match of the series. Moreover, the last match of the series also happens to be the decider, with the two teams locked at 1-1.
"This is hardly an important T20I series," offers Sinha. "We need to keep an eye on the future."
While Sinha argues the point of a bilateral T20 series, Virat Kohli's limited-over captaincy — unlike his bold leadership in Tests — has been conservative. The inclusion of Raina and Yuvraj in the squad and the continuation of the 36-year-old Ashish Nehra — brilliant as he has been — is a case in point.
In fact, in his first full series as captain, in Zimbabwe in 2013, Kohli didn't give off-spinner Parvez Rasool a game in the five-match series — one which he won 5-0. Rasool eventually got a chance and is in this team as well, so it could said that Pant will get his chances, too, if not here then later.
After all, you may say, he is only 19, and it was only last year that he was playing the Junior World Cup. But it helps to blood certain prodigies in early.
Not too long ago, a certain teen prodigy from Delhi had broken into the national team one year after helping India lift the 2008 Youth World Cup. Today, he is in a position to make a similar call on Pant.