Roger Federer is extraordinary, a great sporting ambassador and the finest tennis player to have walked this earth

The Independent
17-07-2017
(Video provided by Times of India)
It was unfortunate that Marin Cilic was unable to offer a bigger test in the final, but nothing can detract from Roger Federer's extraordinary achievement. The guy is quite simply the finest tennis player to have walked this earth and one of the greatest ambassadors in sporting history.
Man, you had to feel sorry for Cilic. The blister on his foot meant that we had a strange final for the second day in a row. While I'm convinced that Venus Williams' problem was in her head, it was clear that Cilic was having trouble with his movement.
Photos: Roger Federer's historic wins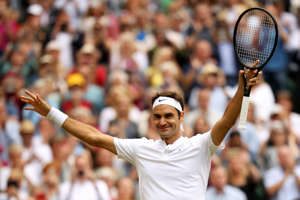 Holy mackerel, you don't want to go into a match against Federer in that state. Cilic has had a great grass-court season but on one of the biggest days of his life it was clear that he was struggling to get into position to hit his shots.
What more can we say about Federer? The guy is less than a month short of his 36th birthday, but for the last fortnight he has danced across the courts like a teenager at a disco. His movement is phenomenal. I can't think of another player who gets into position to hit his shots more quickly.
He has hardly been in difficulty in any of his seven matches at this tournament, but when he has his back to the wall there is nobody who handles the pressure better.
It might have been a disappointing final but it's been a great tournament. I said at the start that if I had to forecast the men's champion it would have to be Federer, but it was only after the likes of Rafa Nadal, Andy Murray and Novak Djokovic went out that I felt more confident about that prediction.
I have to confess that I don't pray too often, but one thing I'll be doing in the days and weeks ahead is praying that both Murray and Djokovic recover soon from their injuries. The tour needs these two great champions and it was a sorry sight to see them struggling.
I have huge admiration for the way that Murray stuck it out through five matches despite the obvious problems with his hip. Man, by the end of his quarter-final defeat to Sam Querrey it looked like he could hardly walk. We all know that movement is a key part of Murray's game, but it was to his great credit that he did not offer the injury as an excuse for his loss.
Djokovic, too, has clearly been suffering with his elbow injury for a long time now, but if he can get back to full fitness I see no reason why he can't get back to winning Grand Slam titles again. Andre Agassi is the perfect man to guide him back because he knows exactly what it's like to get to the top, to fall off the summit and climb back again.
It was certainly a strange experience for me to see Andre sitting in Novak's player box. It brought back so many memories of my time coaching Andre and in particular the unforgettable experience of working with him when he won Wimbledon. Holy cow, was that really 25 years ago?
While I was saddened to see what happened to Venus, Wimbledon has a fine new champion in Garbine Muguruza. She has a great game and has made significant progress on grass.
However, when we go into the US Open in just over a month's time I think I'll still be scratching my head wondering who might win in New York. Muguruza? Karolina Pliskova? Angelique Kerber? Johanna Konta? Simona Halep? Victoria Azarenka? To me the field is as wide open as it was going into this Wimbledon.
I believe the biggest question hanging over women's tennis at the moment is the return of Serena Williams. If she comes back next year as hungry and as committed as ever, I sense that she will still be the player to beat.
Do I have any regrets about this Wimbledon? The only one is that this great tournament is over for another year. I'm already counting the days until next July when we can start all over again.