Rohit Sharma faces decisive Test season

India Today
12-07-2016
For any Mumbai resident, a postal address switch from Borivali to Bandra is a good way to gauge progress. By that yardstick, Rohit Sharma 'has made it' quite some time back. A World T20 title in his first year for India and a 3 crore plus pay cheque in the inaugural IPL auction, Rohit Sharma's days of suburban Mumbai life-struggle went away quickly and swiftly as his cricketing stocks rose.
But 9 years in the Indian cricket ecosystem, his career continues to be looked upon as an underachievement. This despite being the only one in history with two ODI double hundreds and twice leading Mumbai Indians to tournament success in the ultra competitive world of IPL.
PRESSURE TO PERFORM
Perhaps success in test cricket has its relevance, an invaluable importance. For all the riches franchisee cricket provides, players still equate Test success to the satisfaction of having had a wholesome thali' while T20 runs are like munching a burger. Many cricketers indeed make do with the joys of instant food but the Indian selectors continue to believe Rohit still has the appetite for test cricket. Rohit himself at the risk of repeating, continues to acknowledge before every new Test sojourn that there's more to come.
16 Tests in 9 years averaging 33.18 is a statistic that sticks out despite all his silken stroke play. India's big four have gone. Kohli, Rahane and Pujara have successfully auditioned, Rohit is still on trial. If he targets playing a part in each of the 17 tests India play in the year ahead, he would have played 33 by the time he finishes a decade in Test cricket. It could be a good target to have and a nice way to reignite his test career.
"I am not taking too much pressure of cementing my Test place. I have decided to get a smile on the face and look ahead. I can't change my past. I want to stay in the present," he told India Today in an interview before departing for the West Indies. It's a good way to take pressure off but setting targets fuel the chase. Maybe he's keeping his own counsel.
BATTING POSITION STILL UNCLEAR
One of the reasons Rohit's one day career took off was his elevation as an opening bat. He averages 53 in the 64 ODIs games as an opener as opposed to the 84 other games he's played in the middle order, averaging 31. Rohit says that call to open too, came from someone else.
"I never thought I would open in ODIs. They (team management) thought I could do well as an opener and help the team," he said.
Maybe 'they' will again have to take the call on what Rohit's Test place should be. The Virat Kohli-Ravi Shastri combine, riding on the aggression mantra, asked Rohit to bat No.3 in Sri Lanka last year. But that experiment was not persisted beyond a solitary Test match. He came back to No. 5 for the rest of the series and then went on to lose his place in the home series next against South Africa as India went in with five bowlers. When Rohit came back, his batting spot dropped further to No.6.
When asked about his preferred batting spot, Rohit was non-committal initially before revealing No.3 wouldn't be his choice.
"I try to keep things simple and leave it up to the captain and the coach. But if I have to choose, I prefer middle order in Tests; which is 4-5-6. But if the team wants me to bat at 3, I have to be able to do that," he said.
Borrowing from the Ian Chappell School of cricket, No.3 is either the skilled stroke maker who can counter-attack or the technically sound player who can fight his way out of trouble.
India has a batting order to sort in the middle with Pujara, Rahane, and Rohit to choose from. This may be the first crucial decision for new coach Anil Kumble to make in India's Test season of reckoning. A judgment -- that could also prove decisive for Rohit Sharma's Test future.
Slideshow: 26 little things to know about Rohit Sharma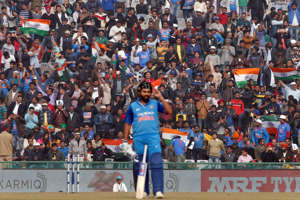 Little things to know about Rohit Sharma