Rohit Sharma, Wilshere and the quest for real joy

Wisden India
02-09-2016
As transfer deadline day in European football passed without any of the usual pandemonium, one move in particular caught the eye. Jack Wilshere was 16 years and 266 days old when he scored his first goal for Arsenal, in a League Cup game against Sheffield United in 2008. A few months later, he was a cut above everyone else on the pitch as Arsenal beat Liverpool in the FA Youth Cup final.

Since then, there have been two ankle surgeries, a hairline fracture of the foot, a broken fibula and a whole host of questions about his attitude. In recent times, Wilshere has made headlines more for his pool-party antics in Las Vegas than anything on the field. On August 31, Arsenal – who once thought they could build a team around his undoubted skills – let him go on loan to Bournemouth.
At 24, Wilshere is still young enough to resuscitate his career. But it's just as likely that he will never be the player that many thought and hoped he would become. Hothousing talent is a tricky business, and for every Sachin Tendulkar that goes on to make 100 international hundreds, there's a Reetinder Singh Sodhi with a damaged back and broken dreams.
All of which brings us to Rohit Sharma, who will turn 30 next April. He made his limited-overs debut as a 20-year-old in June 2007, and but for an ankle injury sustained while playing football during the warm-up, there would have been a Test cap against Dale Steyn and friends in February 2010.
Slideshow: 25 cricket world records you must know about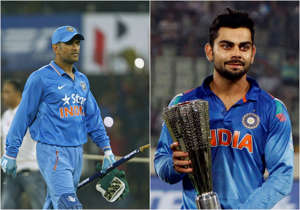 It was to prove a costly misstep. With Tendulkar, Rahul Dravid and VVS Laxman all enjoying Indian summers, Rohit had to wait until November 2013 and Tendulkar's farewell series for his opportunity in whites.

It's safe to say he hasn't made the most of it. After starting with back-to-back hundreds, he has averaged 23.5 in his next 16 Tests. Various coaches and captains have bent over backwards to accommodate him in the XI, but his performances have seldom been in line with the faith shown.
It's been a different story in coloured clothes. There were some sophomore blues after the initial impact at the World Twenty20 (2007) and in the CB Series (2008), but Rohit has since gone on to become one of the bulwarks of India's limited-overs batting. No other man has hit two double-hundreds in ODIs, and his 264 is, by a distance, the highest score in the format.
He has been no less valuable for a T20 side that has lost just three games on the big stage since 2012. Put him in whites, however, and Rohit doesn't seem to know whether to stick or twist. There have been glimpses of the player he can be – a polished 72 at Eden Park, and a classy 79 at the P Sara Oval in Colombo – but those simply aren't enough to justify keeping out a lengthening queue of contenders.

Some lose their way because they can't handle the fame and the money that come their way. Johnny Manziel won the Heisman Trophy – for the outstanding player in college [American] football – as a freshman, and had a National Football League contract with the Cleveland Browns at 21. But after two years of consistently spitting in the face of every second chance he was given, the kid they called Johnny Football is now without a team.
Rohit, who got married last year, certainly doesn't have those kind of disciplinary issues. If anything, it was Virat Kohli, now Rohit's captain at Test level, who was the hell-raiser as a young man. Others, like the wonderfully talented Nick Kyrgios, the Australian tennis player of Greek and Malaysian ancestry, don't seem to want success badly enough. That isn't Rohit's problem either. If anything, the desperation to do well seems to inhibit him every time he arrives at the crease in a Test match.
Ian Chappell, who reads the game better than most, appeared to suggest in a column earlier this year that Rohit's travails were connected with Kohli's success. "I wonder if one of his problems isn't similar to what seemed to afflict Gordon Greenidge," he wrote. "The West Indies opener was a fine player but like a startled tortoise he'd retreat into his shell when Viv Richards joined him at the crease. At times in Test cricket, Rohit seems overawed by Kohli and his reputation, and struggles to play in his shadow."

Rohit has now played 18 Tests, one more than Vinod Kambli, Indian cricket's cautionary tale from the 1990s. Two decades after his career unravelled, Kambli blames everyone else but the man in the mirror. Rohit is the favourite whipping boy of fans on social media, many of whom lack both empathy and an understanding of sport, but he will be very aware that he is now this close to joining Kambli on that what-might-have-been list.
He can take inspiration from some of cricket's modern-day greats. Steve Waugh had to wait 27 Tests for his first hundred. Damien Martyn, whose silken strokeplay Rohit emulates on his good days, didn't establish himself in the Test side till he was 30. He went on to finish with an average of 46.37 and 13 centuries. You'll be hard-pressed to find two more beautiful than those he scored in England on the Ashes tour of 2001.
For every idiot that thinks Rohit is still around because he's the teacher's pet, there are others who understand that proven winners like Kohli and Anil Kumble wouldn't risk their legacy by trusting in someone whose abilities they doubt. The difference between Rohit in blue and in whites is in the mindset. One goes out knowing the world is his stage. The other is unsure of whether he belongs.
"You are never really playing an opponent," said Arthur Ashe, who was 32 when he won Wimbledon in 1975. "You are playing yourself, your own highest standards, and when you reach your limits, that is real joy."
Rohit, like young Wilshere and Johnny Football, has yet to experience that.