Sachin Tendulkar's tennis elbow, and myriad other injuries

Wisden India
12-07-2017
It wasn't until Sachin Tendulkar was afflicted by tennis elbow, an inflammation of the tendons of the elbow caused by overuse of the forearms, that the term became a topic of endless discussion, especially among followers of Indian cricket.

Still, that was just one injury. Tendulkar has had trouble with myriad problems before and since. And like Tendulkar, there are several others in world cricket who will not only be remembered for their execution of the craft but also for how their bodies fought each day to remain in the spotlight, even if for just a little bit longer. Wisden India looks at some of the more injury-prone cricketers.
Sachin Tendulkar
When Sachin Tendulkar suffered from chronic back pain in early 1999, everyone empathised. Former India coach Anshuman Gaekwad once described Tendulkar's back pain in his words: "One of the challenging moments during my tenure as a coach was a Test match against Pakistan at Chennai in 1999. We needed 271 to win on a rank turner. We discussed about the game and I told Tendulkar that he has to remain at the wicket till the very end. Despite severe back pain, Tendulkar was determined to take India home. He got India close to the target, but fell for 136 with India needing 17 more runs. He got into the dressing room disappointed. When he got to know that India had lost he just didn't budge from the dressing room. He was weeping buried under his towel (as the back pain became unbearable and also because India had lost). He was awarded the man-of-the-match award, but Tendulkar did not come to collect it. Raj Singh Dungarpur was on the podium, asking where the Little Master was, but Tendulkar was shattered.
When he had a toe injury, they rued missing his services during the 2001 season. The thigh injury in 2002, they were wary. In 2005, when it became public that Tendulkar was struck down by a tennis elbow, everyone was trying to figure out what it was. Then came the groin injury, the shoulder injury, abdomen injury, knee injury, hand, hamstring and so on. Playing cricket for nearly 24 years at the highest level, no matter how effortless you make it seem, is going to put your body under a great deal of pressure. Although considered God by many, Tendulkar showed he was indeed human but the rare kind that comes back from it all and delivers time after time.
Shoaib Akhtar
Just how much damage would the world's fastest bowler have done to his body? Ribs, shoulder, knee, ankle, hamstring, calf and groin. That's a list of the number of parts Shoaib Akhtar injured seriously in his career. It doesn't say how many times he has had recurring injuries but it does show just how stressful fast bowling can be. He wasn't always available for Pakistan and he wasn't as effective when he was but when Akhtar was in his element and wasn't carrying an injury, he was a sight for sore eyes.
Shane Watson
Some remember his cover-drive, some remember his trademark jab flick, others his sturdy bowling action, but everyone knows about Shane Watson and his run-in with injuries. It began in 2003 when he suffered three stress fractures in his back, forcing him to miss the World Cup and the season that followed. Back on the field, a shoulder dislocation ended the summer of 2005 for him. Then there was the hamstring strain of 2007 which ruled him out of most of the World Twenty20, a stress fracture in late 2008, a few niggles after and the big one came in 2014 when his calf gave way. Eventually, Watson's patience ran out and he called time on his Test career.
Andrew Flintoff
It's hard to recall just how injury hit Andrew Flintoff was because images of his recent-self show a ripped man more at home in the boxing ring than on the ground. But take a step back, and memories of a big built man clutching his ankle come to mind. Owing perhaps to the extra weight he was carrying, Flintoff had constant issues with his ankle. He went under the knife a couple of times, meaning he missed out on a big chunk of cricket. Then came the most telling blow, a knee injury. He retired from all forms of cricket in 2010 before returning to play Twenty20 cricket for Lancashire in 2014.
Shane Bond
Stress fracture of the back, bad knee, foot injury, abdominal tear — you name it and Shane Bond has gone through it. That was a bit of a surprise, given just how fluid his action seemed, but he would exert as much pressure on his back and his legs as any other premier fast bowler. That he started his international career late too had something to do with it but it's a shame that he got to play only 18 Tests, 82 One-Day Internationals and 20 Twenty20 Internationals when he had the talent to play far more.
Ryan Harris
Here's another paceman whose name is synonymous with injuries. He was inarguably one of their best bowlers with his movement and consistency but the trouble with him was that he would spend more time with the physio than on the field. It began in 2011 when he broke a bone in his left ankle. From then on, there was the chronic knee problem, the troubled back, issues with hips and hamstrings, Achilles tendon complaints and so on. All that meant he got to play only 27 Tests, 21 ODIs and 3 T20s.
Mashrafe Mortaza
Another fast bowler with a string of back, hamstring, ankle and knee injuries but Mashrafe Mortaza went a few steps ahead by getting ten surgeries to fix his niggles. The first three years of his career were lost to injuries but he made his way back and saw some success for Bangladesh. However, the joy was shortlived as he suffered another back injury in 2005. As if on-field incidents weren't enough, Mortaza has also been part of a couple of freak accidents which have dented his career. He sprained his ankle while walking down the stairs and nearly missed the 2006 Champions Trophy. More recently, he suffered minor injuries to his hands when a bus clipped the cycle-rickshaw he was travelling in.
Chris Tremlett
At six feet eight inches, Chris Tremlett is one of the tallest cricketers to ever take the field. Had he been a batsman, perhaps his career wouldn't have gone in the direction that eventually led to his retirement. Instead, by virtue of opting to bowl fast, he brought upon himself the kind of damage every other pacer goes through in his career. The usual back, ankle and knee injuries dogged the big man throughout his short career. It's ironic that he got the call to make his debut because England were without their premier bowlers due to injuries.
Jerome Taylor
You can tell when Jerome Taylor runs in to bowl that he is in for an injury at some point or the other. His slingy action forces him to land with a tonne of pressure on his splayed left foot, meaning his back isn't always in line, neither are his shoulders and obviously his lower body doesn't take too kindly to this kind of a beating. This leaves Taylor with recurring back and leg injuries, and not enough time to recover. He has made a comeback repeatedly but it's anyone's guess how much longer he can do the same.
Jesse Ryder
Injuries weren't as much a problem for Jesse Ryder as alcohol and the accidents that came with it. Late-night drinking was his style but until 2008, no one paid too much attention until he cut his hand trying to break into a bar at 5:30 am. His luck with injuries on the field were none the better as he pulled an adductor muscle in the leg in 2009. Although his issues with alcohol and everything that came with it continued to haunt him, Ryder was a pleasure with the bat and managed to hold his own. In 2013, he was assaulted by four men and was in medically induced coma before recovering fully.
Slideshow: Best nicknames in cricket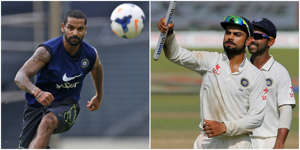 Watch: Shastri is the right choice for India coach — Gavaskar
(Video provided by NDTV)