Sachin Tendulkar, Anil Kumble India's most successful Test stars at home

India Today
29-09-2016
If 13 consecutive Tests back home and India playing their 500th Test and Ravichandran Ashwin becoming the second fastest bowler to reach 200 wickets were not enough, there seems to be another historic and significant landmark waiting for Indian cricket when they take on New Zealand at the Eden Gardens from September 30. Last week, the hosts thrashed the Kiwi's by a huge margin of 197 runs in the first Test at Kanpur. This week, India will play their 250th Test match at home to mark another significant event in the country's 84 year Test cricket history.
Over the years India have produced many talented cricketers who have made an impact on the game and won the country many crucial matches both with the bat and ball.
India's cricket crazy fans have watched and cheered for many of their stars when they have piled on the runs or ran through the opposition batting line-ups back home or abroad but two people have led the way both abroad and back home: Sachin Tendulkar and Anil Kumble.
MASTER BLASTER
In India as many say, "Cricket is religion" and if it is indeed so, a little man from Dadar, Mumbai, who goes by the name of Sachin Tnedulkar, has to be God. Tendulkar has been worshiped throughout his career by the Indian fans and you get to see that when you see Sudhir Kumar Chaudhary, a man with his body painted in the Indian flag and Tendulkar's name written on it is seen everywhere, where the legendary batsman has been.
The former India captain's achievements in Test cricket are phenomenal. He has scored 15,921 runs in 200 Test matches at an average of 53.78 overall which included 51 centuries. Out of the 200 Tests he played, 94 of them have been on home soil where he managed a staggering 7,216 runs with an average of 52.67 and 22 centuries. He is the highest ever run-getter by an Indian batsman in Tests at home and also abroad where he racked up 8,075 runs.
Photos: 27 'unique' cricket world records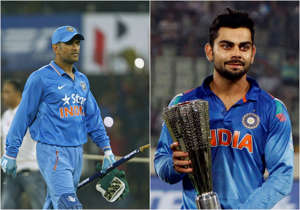 Tendulkar is followed by Rahul Dravid, Sunil Gavaskar, Virender Sehwag and VVS Laxman, who make the top five run-getters in home soil. While 'The Wall' managed 5,598 runs in 70 mathes at home, the original 'Little Master' is third in the list with 5,067 runs from 65 matches. Sehwag and Laxman are sitting fourth and fifth in the list. The Nawab of Najafgarh managed to score 4,656 runs from 52 Tests and the 'Very Very Special' Laxman raked up 3,767 runs in 57 Tests at home. 
Tendulkar also leads the pack with the most amount of centuries at home with 22 where he is followed by Gavaskar (16), Dravid (15), Sehwag (13) and one of India's finest and perhaps the most controversial captain in Mohammad Azharuddin who managed to get 13 centuries in 46 Test matches at home, also making 3,412 runs in the process at an average of 55.93, which also happens to be the highest average by an Indian batsman at home.
JUMBO
While Tendulkar leads the way in the batting charts, the current India coach Anil Kumble heads the list as the best bowler at home. Kumble with his ability to get sharp turn and bounce terrorised the batsmen right from the very onset. Ask the Pakistan team which played the second Test of the India Pakistan series in 1998-99 at the Feroz Shah Kotla, the Karnataka spinner spun a web around the Pakistani batsmen picking up all the ten wickets in the second innings, returning with figures of 10/74. It is still the best bowling performance by any Indian bowler. He also became the second bowler to achieve that feat in the history of Test cricket with Jim Laker of Australia being the first back in 1956 against England when he picked up 10/53 in the 4th Test of the Ashes series at Old Trafford.
Kumble has picked up 350 of his 619 wickets at home where he has played 63 of his 132 Test matches. While Kumble managed to extract vicious bounce if not spin outside the sub-continent, he was unplayable back home where he constantly extracted turn and bounce from the pitch. He has an impressive average of 24.88 back home with 25 five-wicket hauls in an innings and seven ten-wicket hauls in a match played at home.

Kumble is followed by his spin partner Harbhajan Singh, the only pacer in the top five wicket takers in the list Kapil Dev, BS Chandrasekhar and the left arm spinner Bishan Singh Bedi. Bhajji managed 265 wickets from 55 Tests at home with an average of 28.76 while Chandrasekhar and Bedi managed to get 142 and 137 wickets from 32 and 30 Tests at home with an average of 27.69 and 23.99 respectively. However, in this spin dominated card, Kapil Dev stands out. Perhaps, the greatest fast bowling all-rounder India has ever produced, Kapil has managed to pick up 219 wickets from 65 Test matches at an average of 26.49, making him the third most successful Indian bowler at home.
Kumble also leads the highest number of fifers in an innings. He is followed by Bhajji (18), Ashwin (14), Kapil (11) and Bedi (8) for the highest number of fifers by an Indian bowler in India.
While Kumble has managed seven 10 wicket hauls in a match, the likes of Ashwin (4), Harbhajan (4), Kapil (4) and Maninder Singh (2) follow him in the list.
However, Ashwin is expected to overtake the current India coach soon. He already has 14 fifers in an innings and four 10 wicket hauls in a match. The Tamil Nadu off-spinner averages a very impressive 21.04 and has picked up 136 of his 203 wickets at home as well. With 12 Test matches still to go, R Ashwin is all likely to topple the bowling legend if he keeps up his impressive form.
More from India Today

India Today