Sachin Tendulkar gets batting tips from little boy: Keep your eyes on the ball

India Today
02-09-2016
Sachin Tendulkar is never shy of sharing cricketing tips or his experience with youngsters and kids. He often makes his best effort to connect with his fans and followers.

However, this time it was not Tendulkar but an young kid who gave away some valuable tricks of the trade to the Master Blaster.
"Keep your eyes on the ball," said the little boy to Tendulkar.
Interestingly, this is exactly what Tendulkar did his entire career and scored loads and loads of runs all over the world.
The Little Master, who has 12.2 million followers on the microblogging site Twitter, posted a picture with a young boy giving him some tips on batting.
Tendulkar's career spanned for 24 years and during that time he played a record 200 Tests, 463 ODIs and a T20I, smashing 100 international centuries along the way. He retired from the sport in 2013 after playing his 200th Test.
Slideshow: 25 cricket world records you must know about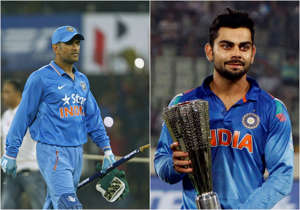 Cricket world records you must know about

More from India Today

India Today