Self-belief, aggression key to Virat Kohli's success: Rohit Sharma

India Today
07-06-2016
Star batsman Rohit Sharma says that he is completely focused on getting the Indian team to the number one position in Test cricket as they get ready to embark on a tour to the West Indies where they will play four Test matches starting from July 21.
Captain Virat Kohli and his young brigade have a gruelling season of Test cricket ahead of them starting with the Caribbean tour followed by a home series against New Zealand in October and then a tour of England in November-December. The team will be playing a total of 13 Test matches in the next six months.
And it is in times like these that Rohit feels the whole team needs to rally behind their new skipper and give him as much support as possible on and off the field.
"We've got a new captain so it's important that the team rides along with him and gives him all the necessary support on the field and off it as well," the stylish right-hander said in an exclusive chat with India Today.
Kohli, who has already notched up Test series wins against Sri Lanka and South Africa, is in red-hot form at the moment after scoring nearly a thousand runs in the just-concluded ninth season of Indian Premier League.
SELF-BELIEF, AGGRESSION BEHIND VIRAT's SUCCESS
Test cricket though, is a different level altogether. But Rohit says that Kohli has a lot of belief in his own abilities and he is ready to take on whatever challenge that is thrown at him.
"Virat is doing a lot of things right, you cannot be a great player by doing just one or two things correctly. The process of becoming a good player is also very important.
"He has a lot of belief in himself and in his abilities, that's probably the key for him. His instinct and aggression takes over after that."
Rohit himself is a batsman who possesses a lot of talent. He has had immense success as an opener for Team India in ODIs and T20Is. But his form and place in the Test side remains a matter of concern.
The 29-year-old says right now the only focus is to get the team to the number one position in Tests and that his own spot in the playing XI is not something he's bothered about.
FOCUS IS ON GETTING INDIA TO THE TOP
"I'm not worried too much about cementing my place in the Test team, right now our only focus is to make India the No. 1 Test team in the world. But that's not going to be easy. We have a long process to follow and we need to focus on that for now."
When quizzed about his batting position in the side Rohit said, "I'm not someone who will shy away from challenges. I can bat wherever the teams wants me to."
"My position in the batting order is not fixed and I've been batting everywhere from number three to six. But that again is what the team wants from me. I'll bat wherever the captain and the coach want me to bat."
Slideshow: 26 little things to know about Rohit Sharma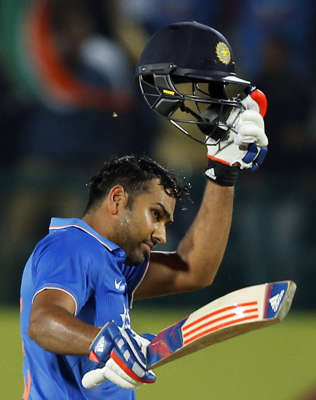 26 little things to know about Rohit Sharma
More from India Today

India Today