Set aside the chopping block – Kohli is right, it's no big deal

Wisden India
26-02-2017
In the hours since Australia inflicted a 333-run defeat on India at the Maharashtra Cricket Association Stadium in Pune, these are some of the things I've heard and read, in print and on social media. These are the opinions of journalists and alleged fans, people whom you would expect to have a basic grasp of facts, not to mention an appreciation of how capricious professional sport can be.
* Drop Jayant Yadav
* Drop Ajinkya Rahane. He only does the bare minimum.
* Virat Kohli is arrogant and overrated.
* India can't play on turning tracks.
Let's address these one by one.
Jayant Yadav scored 221 runs and took nine wickets in the three Tests he played against England. His last innings before Pune was a century from No.9. One bad match, and he's on the chopping block.
'Bare minimum' Rahane averaged 69.66 in South Africa (2013), 54 in New Zealand (2014), made a sparkling century that helped India win the Lord's Test (2014), averaged 57 in Australia (2014-15), scored the hundred that was instrumental in India restoring parity in Sri Lanka (2015), crafted twin hundreds in a Delhi Test where no South African batsman managed even 50 (2015), and reeled off centuries away in the Caribbean and at home to New Zealand.
In his last Test before Pune, he made 82 and 28. Yes, he failed in five innings against England. Let's use that admittedly small sample to slag him off.
Kohli is overrated. Let's see, he's only made 1219 runs this home season, only scored four double-centuries since July.

As for arrogance, all I saw when he was confronted with knee-jerk reactions and uninformed questions were unfailingly polite replies. Far more than Donald Trump, he had good reason to yell 'fake news'. After all, his team had gone unbeaten for 19 matches before losing this one.
As for turning tracks, the Indian season hasn't really been played on green seamers. India's average first-innings score in those nine Tests was 514. No, that's not a typo
It's enough to make you wonder if cynicism has become the national language. Kohli put it best when he said: "I don't know if people were thinking that we couldn't lose at all, but in our mind there was no such thing. If we don't play good cricket, then any team can beat us."
Watch: 'We needed something like this to get a reality check'
That's the nature of sport. It's why it captivates. India, 66-1 outsiders, beat West Indies in a World Cup final. Buster Douglas, such an underdog that most casinos in Vegas refused to offer odds, knocked out Iron Mike Tyson. Greece won Euro 2004, beating France, the Czech Republic and Portugal along the way.

Since Kohli became captain on a permanent basis, this is the first time India have been second-best from gun to tape. Galle was a freak result, a game India dominated for three-fourths of its duration before a once-in-a-lifetime innings – aided by dollops of luck – took it away from them.
---
---
© Wisden

Judging by the reaction to this loss, you could have been forgiven for thinking India had lost 19 straight. Fortunately, the players retain a sense of perspective that most of those watching don't seem to. "It's no big deal," said Kohli, words that are sure to be twisted out of context and used against him at an opportune time. "It's how you should stay calm and composed when you win. You shouldn't get overexcited. The same way you react when you lose, something that you take on the chin.
"We take failures and losses as an opportunity to learn. And the last time we had a performance like this (in Galle), we had the most outstanding run after that."
Just to verify that this attitude percolated through the side, I spoke to another player. "This is a lesson for us," he told me. "We need to learn how to come from behind and win a series."
Slideshow: Virat Kohli - On and off the cricket field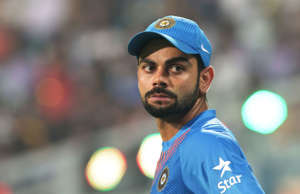 They did that in Sri Lanka, and in the sound and fury over this debacle, it's easy to forget how dominant they had been since – 3-0 against South Africa (would have been a clean sweep but for rain in Bangalore), 2-0 against West Indies (away), 3-0 against New Zealand, 4-0 against England, and comfortable victors in the one-off Test against Bangladesh.

The perfect season, if there is such a thing, is no longer possible for India. But if we're asking for heads to roll on the basis of one game, rather than the 13 games that went before, it says a lot more about us and goldfish-like attention spans than it does about the players.