Set for his final Olympics, Usain Bolt still a rock, and samba, star

USA TODAY
09-08-2016
Perhaps only Usain Bolt, the biggest star at these Olympic Games, could lead a credentialed member of the media at a news conference here to stand out of his chair, pledge his love and perform an impromptu number.
The reporter was from Norway, he said, though he didn't give a name.
"I don't have a question," he said. "I just want to say I love you, man."
Then he sang.
I hope you win
I hope it's your day
I hope you win even though
You got hit by a Segway*
(*Bolt did indeed get hit by a guy riding a Segway, last year at the world championships in Beijing.)
Only at the Olympics, and only for Usain Bolt. There are dozens of stars here in Brazil, many of them Americans: Michael Phelps, the most decorated swimmer of all time; Simone Biles, the sublime young gymnast; and Kevin Durant, Carmelo Anthony and the rest of the men's basketball team, heavy favorites to again claim the gold.

Yet there's only one Bolt, with his swaggering sense of self-confidence burnished by an international record unequaled in his sport's history. These Games, his last, hand Bolt the opportunity to cement a legacy already written into Olympic lore — a fact acknowledged nearly universally save the USA, which hasn't completely embraced the 29-year-old Jamaican at the same level as the rest of the world.
"He's just wants to compete," said teammate Asafa Powell. "He wants to get it over with and go home and enjoy himself. I think he's prepared. He realizes that he's getting old, so he knows what to expect."
So begins the final victory lap of an Olympic career that began in 2004, when a 17-year-old Bolt, hampered by a hamstring injury, failed to advance out of the first round of the men's 200 meters.

There has been nothing but unmatched success since.
He's claimed 11 world championships. Six Olympic gold medals, highlighted by back-to-back wins in the 100 and 200 meters. The only other sprinter to notch successive golds in the 100 was Carl Lewis, who achieved the feat under somewhat dubious standards: He took the gold in 1984, which featured a USSR boycott, and again in 1988, after Canadian Ben Johnson was disqualified for a doping offense.
While that medal haul pales in comparison to Michael Phelps' collection — now at 19 golds, 23 overall after Sunday's 4x100 freestyle relay — there is something to be said for perfection. Bolt has raced in four Olympic individual finals; he's won four individual gold medals.
Photos: The greatest Indian Olympians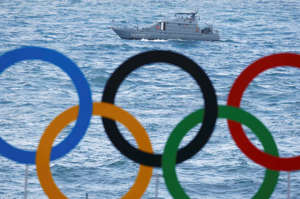 And unlike Phelps, whose reputation was damaged by arrests on DUI charges in both 2004 and 2014, Bolt has become nearly as internationally adored for his personality beyond the track — or for his much-imitated, post-event celebratory poses — as for his professional success.

"I like to entertain," he said. "Definitely a sprinter first, but I like to entertain. That's what people come out to see. That's what I do. I try to entertain and make it different. That's why people love me so much."
And he is loved by fans and sponsors alike: In terms of his endorsements, which have made Bolt $30 million in 2016, according to Forbes, he is closer to megawatt stars such as LeBron James and Lionel Messi than any track and field peer. Bolt is ranked 91st in the world this year in total earnings among celebrities, per Forbes, sandwiched between the Dave Matthews Band and NBA star Dwyane Wade.
This despite what he admits "hasn't been a perfect season." He coasted to victory in the 100 at the Jamaica Racer's Grand Prix in June, his first competitive race in more than nine months, but then withdrew from his country's qualifying trials with a hamstring injury. Jamaica's regulations nonetheless allowed him to race in Rio.
"I was really unhappy about not competing at my trials because I needed those races," he said, adding, "But everything is going smooth."
Smooth enough, he said, that his sights are set on a record: Bolt hopes to run the 200 in under 19 seconds — a feat never achieved in track and field history, and one that would break his own world record (19.19).
"I really want it," he said. "I really, really, really want that one. I always wanted to run sub-19 (seconds). But you never know."
A record time in the 200 might be the only fitting conclusion to an incomparable career. As his Olympic history comes to a close — and as he stands poised to capitalize even more on his international reputation — there is that one last chapter: Bolt has races left to run and gold medals still to win before turning his full attention to life off the track.
"As a young kid, you grow up looking forward to the big games," Bolt said. "I just think over the years I've really gotten into it. Championships are what matter. So I always come out here and give 150 percent. This is what I do. I enjoy it."