Shastri on Kohli: He's a flair batsman who's embraced the discipline of the orthodox

Wisden India
24-11-2016
Virat Kohli wasn't in a good mental space when Ravi Shastri arrived in England in August 2014 to take charge of the Indian team as the team director. In the Test series that had just concluded, the Indian vice-captain had mustered a meagre 134 runs at a dismal 13.40, his highest a measly 39. James Anderson seemed to have his number, dismissing him four times to deliveries that primarily swung away from him, and drew his bat to the ball almost magnetically.
"He was down on confidence," Shastri told Wisden India on Wednesday (November 23). "You could see that he was disappointed that he had let himself and the team down, but you could also see that he was desperate to turn that hurt into something meaningful. What has happened since is a clear, classic example of mind over matter."
What has happened since is, quite simply, this. In 21 subsequent Tests, including 19 as captain, he has smashed 2036 runs at 59.88. Eight of his 14 Test hundreds have come in this period, and his last three 100-plus scores read 200, 211 and 167.
The turnaround, if that's the word to describe the reversal of one extraordinarily poor series, came in Australia. In his first Test as stand-in captain in Adelaide, Kohli joined an elite club by making a hundred in each innings. In his first Test as full-time skipper in Sydney following Mahendra Singh Dhoni's sudden retirement from the longest format, he weighed in with 147. In all, he made 692 runs from eight innings, with four hundreds. Virat Kohli had rediscovered his mojo, and quickly.
"You ask me if I was surprised at how quickly he sorted things out? No, I wasn't at all," Shastri, a former India captain himself, said with typical exuberance. "Like I said, he was a little short of confidence in England, but even during our chats there and in the lead-up to that Adelaide Test, you could see that he was always thinking about how to get better. He was in need of encouragement, more than anything else, because he had all the tools. It wasn't as if he became a better batsman overnight, the same batsman started doing things better. Two months into my stint with the team, I was confident that it was just a matter of time. Four hundreds in Australia merely showed that that confidence was well justified."
Apart from pep-talks and the boosting of morale, Shastri and Kohli also spoke a lot of cricket. "One of the things I suggested to him was to stand outside the crease a little so that he would force the bowlers to alter their length. He was a willing listener and student; he was happy to try that out, and found that it worked for him. It was all him," Shastri said rapidly, trying not to take any credit for Kohli's revival. "It wasn't just standing outside, it was also sometimes to stand on middle-stump so you aren't reaching out with your hands alone. We also worked on a few shots – between England and Australia, Virat developed the cut shot, the punch off the back foot, more scoring options without trying to be cute."
© Getty Image

Shastri agreed that discipline had been a big factor in Kohli's rediscovery as a Test batsman. "There is a great difference between the extremely talented batsmen and the big run-getters," he pointed out. "Alastair Cook is a terrific run-getter. Rahul Dravid was a supreme run-getter. Steve Waugh was another. And of course Sachin Tendulkar, who didn't compromise so much on flair either. But if you look at all the names that I have mentioned, the one common thread was their discipline. Their self-denial, if you like.
"It's one thing having all the shots in the book, it's another not to play some of them because the situation so demands. All these great run-getters had that discipline. Virat has inculcated plenty of that discipline, which is why he is so difficult to bowl at today. He is patient, he has no problems leaving balls outside off-stump, and he is a quick learner.
"You look at the shot he played in Kanpur (against New Zealand), or in the next Test of that series in Kolkata when he chased a wide ball and got out. It was like he was trying to do something extra to impose himself on the bowling. He has quickly learnt from those errors, he is less and less loose and more and more in control of what he is doing.
"It's not easy to inculcate that discipline, especially if you are a flair batsman like Virat is. But he is tremendously strong mentally, and apart from his various other facets, that is one of his biggest strengths. He seldom hits the ball in the air in Tests, unless he necessarily has to. He will hit the big sixes in the IPL and in T20s, and he will do so with regularity, which means he is more than adept at clearing the fence. But in Test cricket, he will not take the aerial route; he has not taken it because the percentages don't support that. That's not easy. Sometimes you can get carried away. To not give in to the temptation requires an extraordinarily strong mind, and Virat obviously has that."
Slideshow: 27 cricket world records you must know about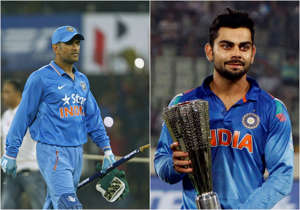 Kohli has been particularly productive since the captaincy was conferred on him in the wake of Dhoni's retirement, and Shastri concurred that the leadership role had made him more responsible. "It has certainly helped. He relishes the challenge, he enjoys leading the side, and when he is batting out in the middle, he isn't just thinking as a batsman, he is also thinking as a captain. As much as you want to separate the two, it simply isn't always possible. Being aware of how much hinges on his performances will make any individual more responsible. Sometimes, you can go the other extreme and get bogged down, too cautious and defensive. Virat's mind and his acumen have allowed him to strike that happy balance between responsibility and efficiency without losing any of his grace and elegance."

Increasingly, the Test team too is beginning to become heavily reliant on the captain to pull the fat out of the fire. "He has been the difference between the sides in this series (against England)," Shastri pointed out. "Take away his runs, and who knows, we might be 0-1 down by now. But again, Virat loves being in such situations, he is always up for a challenge, a test, an examination. And because he is also aware of how much his wicket means, he doesn't play those cute shots that I referred to earlier. He doesn't need to, not when he can score briskly enough by playing normal, conventional, orthodox cricket.
"He has got a taste for the big ones now," Shastri went on, referring to the three daddy hundreds between July and November this year. "I can see more of them coming. A big double, perhaps even a triple-century is on the cards. I wouldn't rule that out. And, I am convinced he is only going to get better. I am not saying it just for effect, I feel his best is still ahead of him."
That's a wonderfully reassuring, exciting thought if you are an Indian supporter and a scary thought if you are in the opposition. The man who on Tuesday surged to career-high No. 4 on the ICC Test batting charts has just turned 28, and is far from the kind that rests on his laurels. Incredibly fit of body, extremely strong in the mind and wonderfully gifted with the bat, it boggles the imagination to think where he could end up in a decade's time. "Look out!" Shastri thundered, before breaking into a booming laugh. A master well satisfied, you would imagine.
Watch: When Kohli scored 24 runs in a Malinga over