Shastri salutes Dhoni, the 'dada captain'

Wisden India
07-01-2017
"My salaam to a dada captain." That was the tribute from one former India skipper to another, a day after Mahendra Singh Dhoni's decision to step down as the captain of the national limited-overs team was clinically made public by the Board of Control for Cricket in India. 
Ravi Shastri was among those that was stunned into silence at the Melbourne Cricket Ground on December 30, 2014 when Dhoni walked in to the dressing-room during the third Test against Australia and proclaimed that he was retiring from Test cricket with immediate effect. The then team director has now returned to the commentary box, but more than two years on, he still remembers that fateful day with utter and complete clarity.
"There was absolutely no chance of negotiation, not a chance," Shastri told Wisden India on Thursday (January 5). "He didn't come to discuss the matter, he just came out and told us of his decision. That came as a huge surprise, of course. But this decision to quit from the captaincy of the one-day and Twenty20 sides, this doesn't surprise me one bit."
Shastri has been a huge admirer of the Dhoni the man, the captain and the cricketer. "The reason I say I am not surprised at this decision is that he is not someone who will chase the seat," said the original Champion of Champions of Indian cricket, courtesy his exploits in Australia in 1985. "Kursi ke peeche bhaagega nahi. He is the kind of guy who will play on his own terms, and this is what his terms are.
"He has obviously given it a lot of thought, though I must admit it must have been a tough decision to make. He has been the captain for so long, it wouldn't have been easy to make the call that enough was enough. But then again, MS knows that the man in waiting is ready, like he must have felt in Australia when he not just quit the Test captaincy but Test cricket itself. This is a very sensible and wise decision."
Sensible and wise? Why?
"Just in terms of the timing," Shastri offered. "This has given Virat (Kohli) time till the Champions Trophy to prepare for the title defence. MS has won everything there is to win, he really has nothing to prove. Again, the reason I say he has nothing to prove is that he is easily India's most successful captain, by a distance. There is no one even close to him in that regard. The names that follow in that list a fair distance behind are Kapil Dev, who led India to the World Cup title in 1983 and because of whom we won the Test series in England in 1986. And Ajit (Wadekar) in an era before there was one-day cricket, when we won successive Test series in the West Indies and then England in 1971. And of course, Tiger (Pataudi) for flamboyance. Baaki koi nahi [there is no one else]."
Shastri welcomed Dhoni's decision to continue to be involved with the limited-overs game. "The way I look at it is that the best thing to have come out of yesterday is that he is still available to play for the country in ODI and T20 cricket," he said. "For starters, there is no wicketkeeping alternative to him. No one is anywhere near him, forget about someone competing for his slot. And giving up the captaincy will allow him to express himself in a bigger way and enjoy his cricket and his batting even more. "

And, given all that he has done for all these years, he deserves to enjoy himself. The responsibility of finishing or whatever can be given to someone else. Virat can use him anywhere in the order, which is brilliant. He can even use him at the top of the order, and when I say top of the order, he could even use him as an opener in 20-over cricket. I think that will be brilliant."
Slideshow: Know your captain - MS Dhoni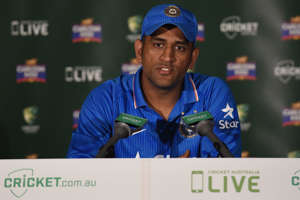 Dhoni has been the limited-overs captain since September 2007, and had only recently slipped into his 10th year as an international skipper. Shastri, however, said it wouldn't be difficult at all for him to slip back to being just another player – not that Mahendra Singh Dhoni will ever be just another player, of course. "He would have already made that shift," Shastri said with the confidence of a person who knows someone really well. "He must have thought about it long and hard. In any case, there is not too much international limited-overs cricket lined up for India. These six games against England (three ODIs and three T20Is in January-February), then a break and then the Champions Trophy in England in June. And then God alone knows when next after that. Given all that, I just think he has made the absolutely right decision. Nailed it."
Shastri had no doubt that Kohli was ready to man the additional responsibility of captaining the national side in the limited-overs formats as well. "Absolutely," he said, adding, "though the one-day and T20 games will be a learning curve because you need much quicker decision-making skills than in Tests. But he is ready, of course."
Watch: Best helicopter shots in cricket history