Sindhu is no Dravid to Saina's Tendulkar anymore

Wisden India
20-08-2016
The build-up to PV Sindhu's semifinal clash in Rio against Nozomi Okuhara was one long journey of celebration and nostalgia and anticipation and excitement. Thursday had dawned with the dramatic bronze medal-winning effort of Sakshi Malik, the Haryana grappler who staged a stirring comeback from 0-5 down to eke out a sensational 8-5 victory Aisuluu Tynykekova of Kyrgyzstan. For those that stayed up till 3am and caught a slice of the action accidentally or intentionally, it was a moment indescribable for the emotions it triggered. India would not return empty-handed from the Olympic Games.

Much of Thursday, therefore, was split between hailing Sakshi the savior and waiting for Sindhu the special one to make her mark. Sakshi's parents were much in demand – her mother hoping for a Sindhu victory was one of the more memorable moments of an unforgettable day. Also in demand was PV Ramana, Sindhu's unassuming father, a champion in his own right as a former volleyball international and an Arjuna Awardee.
Ramana is a simple man with very simple views, untouched either by his own successes – he was a member of the volleyball side that won the bronze medal at the Asian Games in 1986 – or by that of his path-breaking daughter who is now the more celebrated 'S' in Indian badminton. He kept referring to Sindhu as "child" as he spoke with pride of her journey up the ranks, and downplayed his own role in the entire process, dismissing what others referred to as sacrifices by stating that they were merely his responsibilities as a parent.
Photos: Unforgettable moments from the 2016 Rio Olympics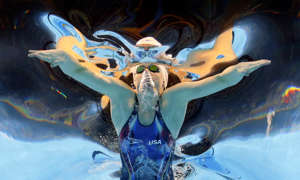 I couldn't help but recall an interaction with another eminent parent of another hyper-achieving Hyderabadi. A couple of days after VVS Laxman heeded his inner voice and called time on his international career four years back, his father Dr Shantharam, a celebrated doctor who practises long hours even today as he offers free medical care, had told me that his son had "glorified the game". Those deep words weren't spewed with boastful pride, but with a certain earthiness and in a matter-of-fact manner. It was the ultimate tribute to the son from the dad – the child is often the father of the man, indeed.

Laxman's father wasn't a constant presence at his games during his junior days – that role was embraced in totality by Baba Krishna Mohan, his maternal uncle who channelised Laxman's passion for cricket, provided him the right direction, took him to the right places, picked the right coaches to hone his unique skills.
Laxman's parents, both doctors, were neither disinterested nor uninterested; they followed their younger son's progress with interest, but without the interference that can both be overbearing and an unbearable burden on a young man already facing myriad pressures and challenges in trying to follow his dream.

Ramana, of course, is in the unique position of having been in pretty much the same mind-space as his toast-of-the-nation daughter. Understandably, the scrutiny when he played was far less. For one thing, he was a practitioner of a team sport, and for all its popularity especially away from the metropolises, volleyball in India didn't really set the imagination afire. Satellite television hadn't taken even baby steps, and while there was reasonable coverage in sports pages of newspapers and sports magazines, Ramana was never ever in a position where the expectations on him were half as much as they are on Sindhu today.
But, having been an international sportsperson himself who has rubbed shoulders – reasonably successfully – with the best in the continent if not in the world, Ramana is well aware of what it takes just to make the journey. He can empathise with Sindhu's moods, he can understand her thought processes during ups and downs, he can contribute to matters of mind and method. He is pretty much non-interfering when it comes to her skills, however. It's almost as if he is saying 'That is not my area of expertise, so I won't go there', but Sindhu will be first to admit that to have a sportsman-father in her corner is a wonderful addition that has played an influential part in her commendable climb up the performance charts.
Sindhu has actually been fortunate in that regard in more ways than one. Apart from Ramana, she also has the commanding presence of P Gopichand, who is fast emerging as the coach of all coaches. There are some who are achievers but who don't have the nous and the wherewithal to channel their accomplishments and their knowledge post retirement into a meaningful coaching role. And then there are people like Gopi, committed to the core, happy to stay in the background, keeping his wards firmly grounded and telling things as they should be from the experience and the comfort of having been there and done that.
The former All England champion has come under fire from various quarters in the past, with allegations of favouritism – among other things – hurled at him. As they do off people without vested interests, all those allegations slid off him effortlessly. If he is having the last laugh today, then Gopi isn't sniggering and guffawing or firing cheap, snide pot-shots. He is far too classy for that, just as he is mature and intelligent enough to understand that for all his drive and ambition and desire and intellect and inspiration, no one is more responsible for Sindhu's success than Sindhu herself.
Sindhu has now emphatically stepped out of Sania Nehwal's shadow, of that there is little doubt. Even when Sindhu won bronze medals in successive World Championships, she was always only the other Hyderabadi badminton superstar. Saina had won the Olympic bronze in 2012, she has been world No. 1 on more than one occasion. Hitherto, Sindhu was like Rahul Dravid to Saina's Sachin Tendulkar. Opinion will always remain divided on whether Dravid will ever be acknowledged as having stepped out of Tendulkar's shadow; Sindhu well and truly is no longer in Saina's wake, of that there is little doubt.
It's amazing how often we turn to cricket for comparisons and stuff, but such is the hold of the game of bat and ball over this country that it is impossible to not do so. Not long after Sindhu completed her annihilation of the Japanese girl by reeling off 11 straight points in the second game, Bishan Singh Bedi compared her powers of concentration to those of Sunil Gavaskar. High praise that, from one legend who invoked another legend while extolling the virtues of a legend-in-the-making.