Six months, three double hundreds, one singular player – Virat Kohli

The Indian Express
12-12-2016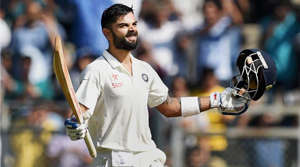 The thing that startles the most with Kohli's batting isn't where he finds himself now — the top dog in world cricket — but where he started. He wasn't a batsman who made you gasp at his talent. Couple of glances at young Sachin Tendulkar, especially the punch back past the fast bowler against length-deliveries with that Power bat he used was enough to salivate about his future. Ditto Brian Lara with his whiplash square drive. Or with Viv Richards and his imperious across-the-line whip from an earlier generation.

Kohli's rise has been the most organic evolution of them all, a result of bloody-mindedness, ambition and lots and lots of sweat. It's startling that a batsman without a signature shot in his growing-up years can tower over everyone else in the world. It just hasn't happened that often in cricket history. You can will yourself to become a very good batsman but to be perched imperiously at the top is something else altogether.
The moment that caught Virat Kohli's headspace in this double hundred that set up India's domination wasn't even a shot by him. It was his remark to Jayant Yadav. When he saw his partner try to sway away from short-ones after being hit on the helmet grill once, he walked across to have a chat: 'Don't sway, just hit'. The match situation was ripe for such aggression, India had England by the throat, and Kohli sensed the moment was there to be seized. Together, they gave India a sizeable lead at a quick pace that allowed Indian spinners to do the thing they do, leaving England staring at a series loss.
Kohli's game is really simple in its approach. Reel out the cover drives, flicks, on drives and the cuts. And run real hard. It's how he has managed to make these elements into a cohesive whole that has propelled him to the top.
The fascinating part of Kohli's achievement is how little he has acquired from the prevalent batting wisdom. He has somehow managed to own the conventional batting space, and stretch it to the fullest to make it seem modern. Barring the swat-flick — and even that came into his batting as he started to play T20s frequently, there is nothing in his repertoire that looks oddly modern. Almost traditional in its essence, his batsmanship is shorn of any modern-day accoutrements. It's only in his attitude that he reveals his age, his batting is a throwback to older days.
The thing that screams out from his batting is of course the balance that flows from the still head. And the feet. Next time, keep your eyes on his feet. It's quite a sight. Among Indians in the last few decades, only Rahul Dravid probably stretched forward more. Tendulkar's was more precise, Kohli's is grander. At times, he stands outside the crease to the seamers and still stretches inexorably. It's a dare, almost. Not an easy thing to do when the ball is hurtling down at some speed and you know in the back of mind that Stuart Broad, as he did in the first two Tests, has the ability to kick it up from short of length. But whenever Broad then, or Chris Woakes or the tall Jake Ball here, even hurled it close to good-length, Kohli would stride forward.
Unlike in the past, Kohli's feet has treaded a lot more ground in this series. He isn't a natural back-and-across mover but has been dragging himself there to counter the bounce exacted by the taller English bowlers. And that frequent shuffle to the off stump he has deployed so successfully in this series.
It's apt here to quote James Anderson. "I am not sure he's changed. I just think any technical deficiencies he's got aren't in play out here. There's not that pace in the wicket to get the nicks, like we did against him in England — with a bit more movement," Anderson said on Sunday evening.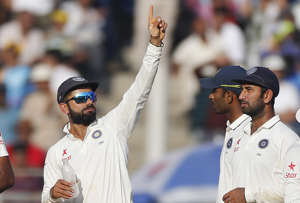 © AP Photo

A surrender of sorts
It's an extremely fair observation — he didn't seem to be trolling, neither did it come across as sour grapes, but said in a measured thoughtful tone, But here is the thing: Anderson's remark isn't a criticism but a tribute to Kohli. It's a surrender of sorts — we can't get you out in India.
One strand of Anderson thought that isn't entirely right is that Kohli hasn't changed. He has. The 'nicking off' that he talks about can still of course happen in England — and that's why the stamp of greatness has to be paused for now — but he has made the course corrections. Anderson must know it as it was the main English plan in this series.
The plan was simple, the one the Australians have tried against Tendulkar: Bowl at the fourth stump and make him fetch. Kohli has thwarted it with his feet. Back in England, he was taking guard on the leg and middle stump, and was forced to keep chasing the ball. Here, he has not only inched to his right at the stance, but has also shuffled across, ending at times on the off stump or even outside. Yes, the pitches haven't had the spice to see what happens when it curves further away but he has ringed in the changes.
Photos: Virat Kohli - The record breaker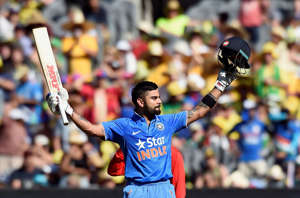 There is one other thing that has been a stand-out feature of his batting. It was seen in VVS Laxman, who had the unique ability to bat in a crisis as if there was no crisis. Tendulkar's head nods would racket up in such situations, Dravid would drag you with him into the battle, you would feel the tense match situation as if it was you out there, but Laxman would make it seem there was no such crisis in the first place. Kohli has that eerie calmness about him.

It was first seen in the numerous chase situations in ODIs but increasingly seen these days in Tests. Even though M Vijay had set up India's response in this innings, a couple of wickets in the middle had left India slightly vulnerable. It was Kohli's nerveless approach that set up India in this game. What's astounding is this: Laxman's calm personality seemed tailor-made for such situations. Or in other words, it wasn't a surprise (entirely) that he played the way he did. Kohli is supposed to be emotional, a 'hot-head', someone who doesn't even bother to hide his emotions when he is on the field as a captain, his face betrays his inner churn. But give him a bat and a crisis, he turns into this in-control, almost maniacally focussed machine. The taming of Kohli by Kohli is his greatest achievement, and what has made him the batsman he has become.
Watch: 'Kohli comes from an undiscovered planet'