Sorry, lost your form: How this DU college tormented champion cricketer trying to secure admission

India Today
18-07-2017
While trying to get admission in a Delhi University college, 17-year-old budding cricketer Ajay Guliya found himself on a sticky wicket. Despite scoring 79 out of 100 points in the varsity's sports trial - the highest for a left-arm spinner - the teenager was stunned to learn that he had not been shortlisted by his top choice, Shri Guru Tegh Bahadur Khalsa College, in the first merit list released on Sunday.
On reaching the college, Ajay was told by officials that his form had been misplaced, leading to his elimination. Hundreds of thousands of students from across the country compete to get into the university which admits about 54,000 undergraduates every year. Five per cent of the seats in all colleges are reserved under the sports and extracurricular activities quota.
"After performing well in the trials, I was confident of making it to the top DU colleges. I have scored the highest, 79, in left-arm spinning category, but my name was nowhere in the merit list released by Khalsa," rued Ajay, who has displayed his talent as an all-round cricketer in the under-19 team at the national level and has also played for Delhi in the under-14 and under-16 teams.
The budding cricketer appeared for the sports trials along with 12,000 other candidates. "In addition to this, Khalsa College selected candidates who have scored lower than me," added Ajay who has now been asked to wait for the second merit list, despite making the cut in first list. The university is attempting to usher transparency into the sports quota mechanism, which critics over the years have called biased and fraught with malpractices.
WE WILL RECTIFY OUR MISTAKE: KHALSA COLLEGE
Commenting on the condition of anonymity, an admission committee official and a professor from Botany department at Khalsa College said, "We accept that we misplaced Ajay's application form but we will rectify our mistake. We are willing to give the student a spot in the next list." Securing a seat in Delhi University has proved to be a tough journey for students this year who are facing hurdles from the first day of the admission procedure.
From glitches in the online admission portal to duplication of paperwork, the process has left many confused and helpless. "Khalsa College holds a reputation of sending maximum number of players (to the cricket team) on university level," said the professor, highlighting that the mistake was not aimed at derailing the admission process.
Ajay secured a total of 79 marks- 29 on the basis of certificates and 50 on his performance in the trials. An all-rounder, Ajay had played for the left-arm spin category, as suggested by experts in the cricket trials held on July 4. "Our trouble started in the very first stage when Delhi University's admission portal did not show my son's certificate. This continued for a week. Now, Khalsa College is taking my son's future for granted," said Rakesh Guliya, Ajay's father.
On asking if Khalsa College would entertain his son's candidature, Rakesh was told that the institute would give him a seat in the next list. "Officials at Khalsa College, however, refused to guarantee my son a spot in the second list in writing. Is this how a national player is treated?" asked the teen's father. Ajay has now decided to try his luck with other colleges. "It is disheartening to see students who scored less than me feature in the merit list. I was aiming to play for Khalsa College," he told Mail Today.
Watch: CoA in conflict with Sachin, Ganguly & Laxman
(Video provided by Times of India)
Photos: Tragic stories of Indian cricketers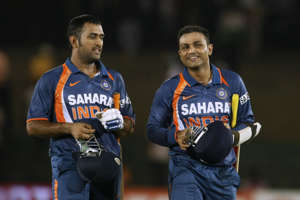 Tragic stories of Indian cricketers
More from India Today

India Today