Spain vs Czech Republic: David De Gea 'scandal' won't affect Euro 2016 defence, insists Vicente del Bosque

The Independent
13-06-2016
Spain manager Vicente del Bosque believes the holders have the experience and ability to retain their crown in France despite the David de Gea scandal that rocked preparations on Friday.
The Spanish kick-off their attempt at a third straight European Championship success against the Czech Republic in the Stadium de Toulouse in Group D on Monday and asked what it was that most made him believe in a group of players that no longer has Xavi in midfield and is also unlikely to have Iker Casillas in goal because De Gea is set to start ahead of him.
"Their experience and their ability," said the 65-year-old Spain coach. "Now they have to transmit that experience and ability in the games. Every final brings with it its own uncertainties but we have that tournament expertise."
This is Del Bosque's fourth and final tournament in charge of the team before he steps down. They have won two of those three, plus the 2008 European Championship under Luis Aragones that began what has been a golden era.
"When something happens to one of the players then the others support him so maybe it helps a little bit but the group is very united anyway," was his rather cold answer.
Ramos comes into the tournament as a European Champion at club level. Del Bosque had to call four of his squad up late because they were involved in the Champions League final two weeks ago.
"We are in good shape physically despite the singularity of our preparations and we ready for the tournament to start for us," Del Bosque said.
The Spain manager made the decision to pick De Gea ahead of Casillas several weeks ago but it now remains to be seen if the events of the last three days have changed his mind.
On the eve of the game he was still insisting: "They [De Gea and Casillas] will find out when the rest of the squad finds out. These are decisions that go over and over in your head a thousand times during the year. We now we just have to take the final decision."
Asked if it would be better for the players to know sooner rather than later who would be starting the game he broke the rather somber tone of the press conference by saying: "I don't think there is any added pressure on them. They are old enough, they have passed puberty."
The consensus in Toulouse among those closest to the Spain squad was that nothing gets to De Gea, not even him being associated with a criminal investigation into a pornographer accused of people-trafficking and organising a child prostitution ring.
"If we see that the player has been affected [by off-the-field problem] then we will take measures but if not then we will do what we were going to do anyway," said Del Bosque. It would be a major surprised if the Manchester United goalkeeper did not start.
Asked if the pressure was off for Spain having won the last two tournaments Del Bosque said: "No, the responsibility we feel is just the same, in fact it is even more. We know we have to make a good start. The Czech Republic are very well organized and are very effective from set-plays."
Spain ought to get off to a winning start. The Czech Republic are contemplating playing 35-year-old Tomas Rosicky as a false nine which points to them not being at the height of their powers.
"We still have players with a lot of quality," said Ramos. "And there are also players here who have done well and deserve to be here.
"This has been a great era for our football and the idea is to keep it going. I don't know if we can play as well as previous Spain teams but we can play at a very high level, I'm sure of that."
Slideshow: Euro 2016: Past winners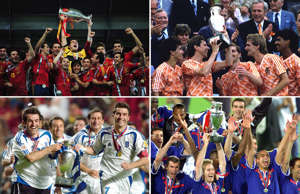 Euro 2016: Past winners