Steve Smith must be punished over DRS furore

The Roar
09-03-2017
By looking up to the changerooms while considering a possible decision review during the second Test against India in Bangalore, Australian captain Steve Smith blatantly broke the rules. For that, he must be punished.
Indian captain Virat Kohli was justifiably livid during and after the game, when he stated that while batting he had twice seen Australian players glancing up to their dressing rooms while weighing up reviews.
I find it hard to believe Australia have a swindling scheme in place where players routinely look to the dressing rooms for signals from coaches or teammates on whether they should use the DRS. Such systematic cheating would amount to one of the lowest-ever moments in Australian cricketing history.
Regardless, Smith's actions were blatant and in flagrant contravention of the laws of the game, which state players cannot seek guidance in making a review from anyone but their on-field teammates.
Photos: 'Special' world records of Indian cricketers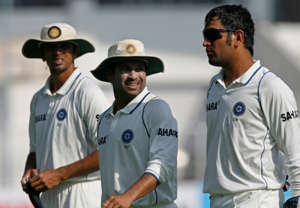 Australia should be well aware of this rule. Yet Peter Handscomb, who was batting with Smith at the time, suggested after the match he did not know of it.
After Smith was adjudged LBW from a shooter of a delivery by Umesh Yadav he consulted with Handscomb, who gestured to Smith to look up towards the Australian change rooms.
When Smith did just that, umpire Nigel Llong rushed over to Smith and sent him off the ground. Handscomb tweeted: "I referred smudga [Smith] to look at the box… my fault and was unaware of the rule. Shouldn't take anything away from what was an amazing game!"
Smith, meanwhile, didn't try to plead ignorance on the laws surrounding DRS, instead admitting his actions had been a "brain fade".
"I got hit on the pad and looked down to Petey and he said, 'look up there'," Smith said. "So I turned around and it was a bit of a brain fade on my behalf. I shouldn't have done that. I was looking at our boys, so shouldn't have done that and it was a bit of a brain fade."
Although Kohli claimed Australia had made a habit of seeking DRS advice from the stands at Bangalore, Smith was insistent he had never before looked to the rooms amid a potential review.
---
---
We can only hope Smith is being truthful. Already this incident has taken the shine off one of the finest Test matches of the modern era. In an age when all too few Tests are truly thrilling, the Bangalore match gripped viewers for all four days with its dramatic twists and turns.

This is, to my knowledge, the first time there has been an accusation of a Test cricketer seeking guidance from the changerooms over a potential review.
If teams did decide to put in place a system of exploiting the DRS in this manner it would be difficult to stop. Smith was very obvious in turning around towards the changerooms, but if a cricketer wanted to be sneaky about it, they easily could position their body to peek out of the corner of their eye towards the changerooms.
With their helmet casting their face in shadow it would be incredibly difficult for the on-field umpires to catch such a glance. Then all it would take is for a coach or teammate to execute an unobtrusive gesture – rest their hands behind their head for out or keep them down for not out, or something similarly visible but innocent looking.
Of course, we would hope that cricket teams would not be so cynical and deceitful so as to implement such a shady system. But given some sides have had no problem with blatantly cheating via ball tampering, it would be foolish to rule out similar skulduggery in regards to DRS.