Summers to van Schoor: Deaths on the field of play

Wisden India
26-11-2016
Raymond van Schoor, the 25-year-old Namibian batsman, has become the latest addition to the long list of cricketers who lost their lives playing the sport they loved.
Van Schoor suffered a stroke while batting in a one-day match in South Africa and passed away just days later. Batting on 15 for Namibia against Free State, he complained of dizziness and asked for water, before collapsing while having the drink.
Despite the circumstances being quite different, the incident invoked memories of the unfortunate death of Phillip Hughes, who was fatally hit by a bouncer around the same time last year.
Wisden India lists 12 other instances of such tragedies.
Phil Hughes (Australia, November 2014)
Phil Hughes breathed his last on November 27, 2014 at the St Vincent Hospital in Sydney, never regaining consciousness after being struck on the head by a bouncer during a Sheffield Shield match two days ago, as the cricketing community mourned the loss of one of their own.
Darryn Randall (South Africa, October 2013)
The South African cricket community was hit hard when they got the news of the death of Darryn Randall, a provincial and one-time first-class cricketer, who collapsed after being hit on the head while batting and passed away in hospital. Randall, then 32, was struck on the side of the head attempting to pull a short delivery during a match between Old Selbornians and Fort Hare University.
Ankit Keshri (India, April 2015)
A former captain of the Bengal Under-19 team, Keshri, then 21, died three days after a freak accident in a club match in Kolkata. Keshri, fielding as a substitute, collided with his teammate Sourabh Mondal while attempting a catch, and Mondal's knee hit Keshri around the back of the neck. Though his condition improved in the hospital, he passed away after a cardiac arrest.
Abdul Aziz (Pakistan, January 1959)
Abdul Aziz, an 18-year-old opening batsman, died during the final of the Quaid-e-Azam Trophy between Karachi and Services. Aziz was facing an offspinner when the ball rose sharply and hit him on the chest. He collapsed and was declared dead on arrival at the hospital. The score book entry against his name read: 1st innings retired hurt 0; 2nd innings absent dead 0.
Raman Lamba (India, February 1998)
The former India opening batsman was hit on the head while fielding at forward short-leg during a club match in Dhaka. Lamba, then 38, had been positioned there only for the last few deliveries before lunch, so Lamba decided not to use a helmet. The ball, off a pull from Mehrab Hossain, hit his temple so hard that it went off the bounce to land in wicketkeeper Khaled Mashud's hands. Lamba walked off the field claiming he was feeling fine, but later felt dizzy and had to be rushed to hospital. He was operated on, but succumbed to the injury three days later.
Richard Beaumont (England, August 2012)
Richard Beaumont, then 33, suffered a heart attack shortly after taking five wickets for Pedmore against Astwood Bank in the Worcestershire County League. He was airlifted to hospital, but pronounced dead shortly after arrival. "There was no sign of what was to happen," said Steve Adshead, Astwood Bank's captain. "He had been bowling really well."
Wasim Raja (Pakistan, August 2006)
A former Pakistan allrounder and International Cricket Council match referee, Raja suffered a major heart attack when playing for Surrey Over 50s at Marlow in Buckinghamshire. He bowled a couple of overs and then complained of dizziness, after which he was carried off the field, but collapsed near the boundary, never to recover. Raja played 57 Tests between 1973 and 1985, scoring 2821 runs at 36.16 with four centuries. He also took 51 wickets at 35.80.
Zulfiqar Bhatti (Pakistan, December 2013)
A 22-year-old club cricketer from Pakistan, Bhatti died after being hit in the chest while batting during a Twenty20 match in Sukkur district in Sindh province. Bhatti, a No. 3 batsman, was attempting a pull while playing for Super Star Cricket Club against Sindh Young Cricket Club in Begum Khursheed Memorial T20 tournament at Jinnah Municipal Stadium, when the incident took place – off the second ball he faced – and collapsed. He was rushed to a nearby hospital but the doctors pronounced him dead on arrival.
Ian Folley (England, August 1993)
Folley, a left-arm seamer, had been tipped for an England callup before a hand injury forced an early retirement. He made a comeback for Derbyshire in 1991, aged 28, but a couple of years later, he was hit below the eye while trying to play a hook shot in a domestic match, and was taken to hospital for a minor surgery. At the hospital, which later admitted to negligence, Folley suffered a heart attack while under anaesthesia.
Syed Faaqer Ali (India, April 2008)
Son of Syed Abid Ali, the former India allrounder, and son-in-law of Syed Kirmani, Faaqer Ali collapsed after suffering a heart attack while playing a league match in California. Leading the Tracy United Cricket Club, Faaqer was batting well before feeling uncomfortable and asking for a runner and continuing to bat before collapsing suddenly. He was taken off the field but died within 15 minutes.
Wilfred Slack (England, January 1989)
A left-handed opening batsman who represented Middlesex and England, Slack suddenly collapsed – due to a heart attack, as it turned out – while batting for Cavaliers XI during a game in Gambia, and never recovered. He was 34 at the time. Slack had suffered blackouts while out in the field in earlier matches, but despite carrying out various tests, the doctors were unable to diagnose the cause of these spells. The Barnett Council Ground in Finchley was named the Wilf Slack Ground in honour of the player who 13,950 runs in 237 first-class matches with 25 hundreds.
George Summers (England, 1870)
Summers, 25 at the time, was struck on the head while batting for Nottinghamshire against Marylebone Cricket Club at Lord's. He initially appeared to recover from the injury and didn't treat it, instead returning home by train, only to die from the effects four days later.
---
---
Slideshow: Phillip Hughes' career in pictures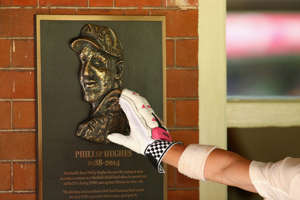 Watch: Best helicopter shots in cricket history