Superbrand: Kohli has Tendulkar within sight

Wisden India
01-07-2016
On January 2, 2015, not long after being named India Test captain, Virat Kohli welcomed his five millionth follower on Twitter.

"Wow that was a quick ride to 5 million!" he tweeted, with one of those signature selfies that his feed is full of. He wasn't kidding: Twitter India revealed then that in just over three months, Kohli had gained over a million followers to be the most popular cricketer on the microblogging site, closely followed by Sachin Tendulkar, but far ahead of his predecessor, MS Dhoni.
Seventeen months later, he had more than doubled that figure, and, at the time of writing, is neck and neck with Tendulkar in terms of social media reach.
Circa 2016, no one is more sought after than Kohli – not by fans, not by brands.
After taking over the Test captaincy from MS Dhoni, Kohli showed great fight in Australia, and then led India to an away victory in Sri Lanka, before following it up with a 3-0 drubbing of South Africa at home to terminate their ten-year undefeated streak in away Test series.
He has furthered his case as an attractive personality for the marketing men with a seemingly unending run of big scores, and his penchant of being prolific in Australia — a place Indian batsmen haven't always done well in — has been one of his USPs.
More recently, in the World Twenty20 and Indian Premier League, he often shouldered responsibility and played with an attitude that reflected assuredness, a trait advertisers and marketers love to associate with their brands. Young. Self-assured. Confident. Reliable. Kohli, at the moment, has it all that brands want.
As per an observation of leading social media tracker, Autumn Worldwide, published in The Times of India, Kohli's impact in the World T20 was reflected in his social media performance. In March, he garnered close to 11 lakh conversations across social media platforms, Instagram, Twitter and Facebook. On the other hand, Dhoni managed a little short of 7 lakh conversations in the same month.
Photos: Virat Kohli - On and off the cricket field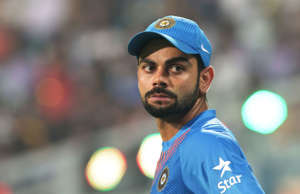 Dhoni's stocks have dipped. One can debate whether his performances and his leadership have been off the boil or not, but his appeal in the market isn't quite what it used to be. It's the Kohli era there.
Recently, various Indian media outlets reported the observation of SportsPro, the British magazine, which talked about how Kohli has surpassed even the likes of Lionel Messi and Usain Bolt in terms of market appeal. In fact, Kohli was ranked No. 3 in the list of most marketable sportsmen in the world. Only Stephen Curry, the 28-year-old American basketballer, and Paul Pogba, the 23-year-old French footballer plying his trade for Juventus in the Italian Serie A, rank above Kohli.
But more than attitude and spunk it is excellence on the field that has done it for Kohli, as Navroze Dhondy, a veteran marketer of over three decades, and founder and MD of Creatigies, confirms. "The marketability of a sportsman is primarily driven by the degree of success he or she has achieved. It is a simple rule that applies as much in India as anywhere in the world," he explains.

Subramaniam Avinash, senior adman, echoes Dhondy's thoughts: "Advertisers love you because of your ability to deliver as a player. Everything else is incidental," offers Avinash. "For instance, if Dhoni doesn't rediscover his winning ways as a captain and his form as a batsman within a year or two, he might not even command an IPL side. Or take the case of Rohit Sharma. Do advertisers have time for his 'incredible talent'? Pah!"
Dhondy lists out three other attributes that help an athlete sell himself or herself: "Screen presence, confidence and being articulate always helps further enhance the sportsperson's marketability." Kohli, anyone?
In his younger days Kohli was perceived as brash and arrogant, but age and the responsibility of Test captaincy has seen him mellow down while still retaining his natural feistiness.
Jasmine Arora, a reputed image consultant, founder of Imagicians, believes Kohli must retain that aggressive streak as the new-age Indian audience will find greater connect to him as a result. "Establishing himself as uninhibited and impulsive has given him the 'urban youth' appeal, and his advertisers derive a whole lot of brand value from that," says Arora.
It didn't start with Kohli, or Dhoni for that matter, but before them. Sachin Tendulkar might have been the biggest of the lot, but earlier-era players like Kapil Dev, Sunil Gavaskar and others were quite the darlings of marketers once upon a time. But, yes, it was Tendulkar, and his popularity, that changed the game in India. And even three years after his international retirement, Tendulkar remains the face of several brands.
Of the three players being discussed here – Tendulkar, Dhoni and Kohli – the oldest of the lot most certainly had the greatest fan following, which still hasn't diminished. And, think about it, Tendulkar played most of his cricket in the pre-social media era.
"In today's day and age, social media is key. Overall, Sachin would have had the greatest fan following for sure, and you can imagine what would have happened if social media was as rampant when he was at the top of his game as it is today," argues Dhondy.
A 'superbrand' Avinash calls Tendulkar, but feels Kohli can reach similar status.
"The world knows Sachin is not an ordinary player. In an international career spanning over two decades, Sachin had one or, maybe, two bad years. This makes him not just a top brand, but a superbrand. The only way to remain the darling of advertisers after one retires is to end up as an all-time great. If Kohli wants to do a Sachin, he will have to retire with a stellar record in all forms of international cricket," warns Avinash.
Dhoni's declining appeal with advertisers even though he remains the Indian limited-overs captain just shows how ruthless the world of endorsements can be.
"Even though Dhoni has captained India to so many trophies, his inability to deliver as a batsman and his middling record as a captain in Test cricket has pummelled Brand Dhoni," says Avinash. "Advertisers are merciless. They have little time for non-performers or even above-average guys. They only want the guys at the top."
In the 2015 Forbes list of 100 Indian celebrities, Virat Kohli (Rs 104.78 cr) still trailed MS Dhoni (Rs 119.33 cr) in total earnings. In 2016 — with half the year yet to go — Kohli's endorsement deals alone value at over Rs 100 crore, and his IPL contract earns him Rs 15 crore. While no official numbers pertaining to Dhoni's earnings are yet available for 2016, it is suggested that his advertising revenue is on the wane. As far as total earnings go, Kohli could well tip Dhoni over in the 2016 report card.
Recently, Kohli cracked the Rs 100-crore mark in terms of money made from endorsements annually – no mean feat. Tendulkar continues to be a marketable brand, while Dhoni, despite the recent dip, isn't a hot potato by any means. But Kohli, at 27, is the undisputed champion of the times we live in. Going by what the experts say, if he remains as good on the field, and retains his aggressive personality, who knows how long he can reign?