Suresh Raina refuses to be drawn into MS Dhoni-Virat Kohli captaincy conundrum

India Today
09-06-2016
Indian cricket has recently been flooded with one question. A question every Indian fan debates about, a question every media house around the world is asking, a question every possible person at the Board of Cricket Control Cricket (BCCI) is probably trying to avoid: Is it time for the most successful Indian captain in history, Mahendra Singh Dhoni to step aside and hand over the baton to Virat Kohli?
The Indian captaincy is one of the most coveted and high-profile jobs in the cricketing world. There are moments when you are worshipped and then there are moments, when you are cursed. There have been major burning issues regarding team selection and captaincy in Indian cricket before as well. One can easily refer to the Sourav Ganguly-Greg Chappel tiff or to the time when Yuvraj Singh was not selected for the Indian World Cup squad back in 2015. Yuvraj was player-of-the-tournament in the 2011 World Cup and scored three consecutive first-class centuries against Haryana, Maharashtra and Saurashtra weeks before the 2015 World Cup squad was announced. Yet, that did not earn him a place in the squad. But, neither can match up to the hype the Kohli-Dhoni captaincy issue is creating.
STRUGGLING DHONI
People against Dhoni have a fair argument when they say that he hasn't performed well as captain losing consecutive series against Bangladesh, South Africa and Australia. India just won four of the 13 matches they played in those three series and questions have been rightly asked about the Jharkhand wicketkeeper's place in the team as well. Remember, Dhoni has had a torrid time with the bat as well.
Meanwhile, Kohli has been on a record-breaking spree this year after a middling time with the bat in 2015. He has also been sensational as a skipper, leading India to successive and historic Test series wins over Sri Lanka and South Africa.
In the recently concluded Indian Premier League, the contrast between Kohli and Dhoni's leadership was as stark as it could get. While the former smashed a record-battering 973 runs including four hundreds to lead Royal Challengers Bangalore to the final, Dhoni flopped with the bat and failed miserably as a captain. His team Rising Pune Supergiants finished a poor seventh after losing nine of their 14 matches.
SHASTRI BACKS KOHLI
The Dhoni-Kohli captaincy issue is getting bigger each day. While most people including Dhoni, have sidestepped the debate, Ravi Shastri, the former team director and a leading contender for the new coaching position said, India should look to replace Dhoni with Kohli in ODIs and T20Is.
"You have to see where India is going to go in three years down the line. There's no major events in three years when you are back with the World Cups. So, this is your best time to think and build. By no stretch of imagination you are taking anything away from Dhoni. He can still contribute massively as a player. I think the time has come for Dhoni to enjoy himself and enjoy the game. End of the day, it is about how hungry Dhoni is, how passionate he is. Also the time has come where you have a guy whom you have groomed over a period of time. Kohli is ready," Shastri told India Today.
Ahead of the Zimbabwe tour, when asked about the tricky question, he flicked it in a very unconvincing and uneasy manner, saying, "Any decision about captaincy is something that the BCCI will have to take."
Unfortunately for them, the media have not spared Kohli and Dhoni's teammates either. While Yuvraj Singh reacted angrily to a question posed on the captaincy issue, Suresh Raina, trying to make a comeback into the Indian ODI side, was evasive as well, when he was asked to comment on the raging debate recently.
"How can I talk about MS? You should ask him about his future plans. He went to Pune and I went to Rajkot and there is no point judging him. I have respect for what he has done for India and his IPL franchise (suspended Chennai Super Kings)."
The heat is growing for Dhoni, who would be looking to reinvent himself on the Zimbabwe tour, with a young squad in tow. For now, the focus could shift from the captaincy debate if Dhoni asserts his authority with a convincing victory and some big runs.
Slideshow: 25 cricket world records you must know about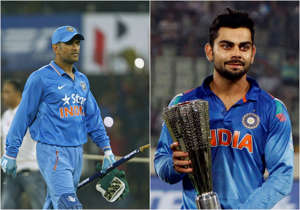 Cricket world records you must know about
More from India Today

India Today