Swinging Bhuvneshwar shreds New Zealand

Wisden India
01-10-2016
After scrapping hard on the first day, India's depth in batting and verve in bowling came to the fore to put the home team in a position of strength on a rain-hit second day of the second Test at the Eden Gardens. A Kane Williamson-less New Zealand didn't have the expertise to counter Bhuvneshwar Kumar, who marked yet another comeback to the Test team with a haul of 5 for 33.
Bhuvneshwar seemed to have the ball on a string, so immaculate was his control. Through the 10 overs he bowled in the day, there was hardly anything that didn't stick to the channel outside offstump. The result was that when play ended on Saturday (October 1), New Zealand were on a precarious 128 for 7 in 34 overs, still in deficit by 188 runs.
There was a stoppage of 149 minutes in total due to the rains, including a 20-minute tea break, that curtailed the day's play. But neither rain, nor the long break hampered Bhuvneshwar's rhythm.
The seamer had already made New Zealand's top order wobble, and he came back after the break to take three more wickets and complete a maiden five-for at home. Wriddhiman Saha had earlier played a marvellous hand in driving India to 316 all out with 54 not out, and that total began to seem immense when Bhuvneshwar got the ball in hand.
Scores (Day 2): India: 316 against New Zealand: 128-7
The rains came down with approximately 40 minutes to go for tea, and though the outfield was covered quite quickly, the sharp spell meant wet patches were left on the ground. There was an inspection at 2.55pm local time, but a further drizzle meant the covers came on again, and play finally began only at 4pm.
New Zealand's innings had run into rough weather of its own, on 85 for 4 in 24.4 overs, having just lost Luke Ronchi for a well-made 35. Ronchi's wicket was the cue for the players to go off and the covers to come on.
Slideshow: 27 cricket world records you must know about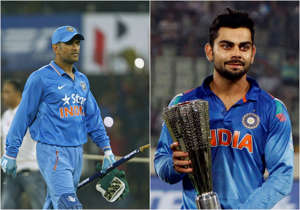 Before rain brought a dampener, Bhuvneshwar and Mohammed Shami had left New Zealand's top order bruised. After India had added 77 runs in 18.5 overs to push their overnight 239 for 7 past 300, a New Zealand top order lacking in experience was dismantled by India's pacers. Both Bhuvneshwar and Shami kept beautiful lines, keeping the ball in the off-stump channel and getting it to move.
The rewards were immediate. Shami hit Tom Latham in front of middle stump to win an lbw in the second over of the innings, and Bhuvneshwar accounted for Martin Guptill in the next over. Guptill had hit three fours in getting to 13, but it was Bhuvneshwar's magnificent line that did him in. Guptill was late in making his decision to leave the ball, resulting in the delivery clipping his elbow and ricocheting back onto the stumps.
In the seventh over, Bhuvneshwar's line brought more rewards, showing the control he had in bowling to right-handers as well as left-handers. Henry Nicholls had shaped to punch the ball, but the bat was away from the body, and the ball took an inside edge and crashed into the stumps again, leaving New Zealand 23 for 3.
The team needed the equivalent of a Cheteshwar Pujara-Ajinkya Rahane stand to bail them out, and for a while it looked like the fourth-wicket pair would do that. Ross Taylor, captaining for this match, didn't always use soft hands, but his shape was good. Ronchi carried on the impressive form he showed in the first Test in Kanpur, even smashing Shami effortlessly for a six over midwicket early on. There was a peachy straight drive off the same bowler and a piece of good fortune later on when a hard slash was put down by Gautam Gambhir at point. It was a difficult chance and Gambhir, substituting for a slightly under-the-weather Pujara, got both hands to it but couldn't hold on. Ronchi was on 16 then.

He also survived an lbw shout on 21 off Ravindra Jadeja that looked to the naked eye like it might have missed leg-stump, but proved to be a lot closer on replays. However, Ronchi's luck reversed when he was adjudged out – off Jadeja again – but this time, with the ball seeming to head down the legside. That cut short a 62-run stand in which both Ronchi and Taylor had decided to play their shots, at once easing the pressure of falling wickets and also moving the scoreboard along.
But Jadeja cut short the burgeoning stand and once the players came back after the break, Bhuvneshwar had New Zealand hopping. Taylor was caught in the in the slips to one that straightened a touch and which the batsman had to play at, and Mitchell Santner and Matt Henry fell off consecutive balls. Bad light finally brought respite for New Zealand.
In the morning, India had resumed with Saha and Jadeja showing great composure in the face of a testing New Zealand bowlers bowled a testing spell but both Saha and Jadeja were equal to the spell. Saha took blows on his bicep and rib-cage, but never let a scoring opportunity slip, which was invaluable for India. Jadeja hit Santner beyond the long-on fence, but fell to Neil Wagner's short-ball trap. The bowler had almost telegraphed his intentions, with the field packed on the legside and the left-arm pacer going round the wicket. Jadeja made good connection with the subsequent short ball but it flew straight to Henry at fine leg. Soon after, Santner thought he had Bhuvneshwar plumb in front – as did most watchers – only to be denied by Rod Tucker, the umpire. The very next ball though Santner had another shout, ironically this one probably heading down leg, upheld. But just like it had in Kanpur, the last-wicket pair made a big difference to the mood of the match. Shami lasted for 26 minutes, which was ideally 25 more than New Zealand would have wanted. While he swung and missed a few times, he also connected. More importantly, Saha stepped it up. He used his feet to Santner to drive him over the long-off and bring up a fine fifty that also pushed India past 300.

Saha's enterprise meant India had seized crucial momentum when New Zealand would have been looking to mop up India's tail quickly, but once again the depth in India's batting came to the fore. The Boult and Henry combine eventually ended the innings, the former bouncing Shami and the latter running and diving to hold on to an athletic catch at fine leg, but by then India had a competitive total.
That competitive total was made to look a whole lot bigger thanks to Bhuvneshwar's mastery of line and movement.