Team composition poses big challenge for Virat Kohli ahead of Antigua Test

India Today
20-07-2016
The Indian cricket team's performances in the two warm-up matches against West Indies Board President's XI have produced a mixed bag with the spinners and top order batsmen living up to expectations, (while) the The middle-order batsmen and the pacers left a lot to be desired.
The composition of the Indian side remains a big mystery ahead of the first Test against West Indies on July 21. Captain Virat Kohli, unlike his predecessor MS Dhoni, likes to keep five bowlers in his side on overseas assignments, a trend which was followed on the victorious tour to Sri Lanka last year.
ASHWIN, ISHANT TO LEAD ATTACK
Ravichandran Ashwin and Ishant Sharma are India's most experienced bowlers and will get a direct entry into the side. Amit Mishra, the only leg-spinner in the squad, took four wickets in the first warm-up match and grabbed a couple in the second game. He will have to fight for his place in the side with all-rounder Ravindra Jadeja, who managed to impress in the second game with 4 wickets.
Coming to the pace attack, Ishant will spearhead this department while Mohammad Shami, Bhuvneshwar Kumar and rookie pacer Shardul Thakur will compete for the second and third pacer's spot in the playing XI, if Kohli does go with his five-bowler theory.
Shami last played a Test in January last year on the tour to Australia. He has not played any competitive cricket post the 2015 World Cup due to a knee injury. Debutant Shardul might not have done enough to gain an entry into the playing XI just yet, while Bhuvneshwar was left out of the second game.
Photos: West Indies vs India Tests — Records that matter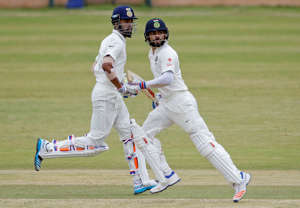 BINNY-JADEJA DILEMMA
Stuart Binny, the lone fast-bowling all-rounder in the squad, might also get a look in depending on the conditions in Antigua, the venue for the first Test. Binny is most effective in swinging conditions and is a handy batsman in the lower middle-order. He might be preferred over Jadeja solely on his batting abilities.
The Windies have a capable bowling unit with the likes of Shanon Gabriel, Jason Holder, Carlos Brathwaite and leg-spinner Devendra Bishoo certain to play the first Test. Indian batsmen will certainly be tested against a quality pace and spin attack.
Openers KL Rahul and Shikhar Dhawan both hit fifties in the practice games and will be competing for the second openers slot. Murali Vijay is most certain to open the innings as he has been in terrific form over the last year.
PUJARA OVER ROHIT?

Vice-captain Ajinkya Rahane and Kohli take up the No. 3 and 4 positions respectively, followed by a tough choice between Cheteshwar Pujara and Rohit Sharma. Kohli preferred Rohit over Pujara in the first two Tests against Sri Lanka last year while Pujara got a chance to open the innings in the third Test due to an injury to Vijay. He latched on to that opportunity with both hands and smashed an unbeaten 145 in the first innings and remains ahead in the race against Rohit for a spot in the playing XI against the Windies.
Rohit's inconsistency and tendency to play rash shots at crucial times have not helped his case either. He made just 26 runs in two Tests against South Africa but fared better against Sri Lanka, scoring 202 runs in three matches. He remains one of the most talented as well as inconsistent batsman in the squad.
Wriddhiman Saha is India's lone wicketkeeper in the squad and is set to bat at No. 6 or 7 depending on the situation of the match. He is someone who can score runs at a quick pace and defend when required, but again, his inconsistency is something which will give Kohli plenty to think about.
Looking at India's current squad, a 6-5 combination including an all-rounder is what captain Kohli and new coach Anil Kumble might prefer for the first Test at Antigua. Currently by the looks of it - Rahul, Pujara, Rohit, Jadeja, Bhuvneshwar and Shardul might warm the bench for the first game.
Probable XI for 1st Test: Shikhar Dhawan, Murali Vijay, Ajinkya Rahane, Virat Kohli, Cheteshwar Pujara, Wriddhiman Saha, Stuart Binny, R Ashwin, Mohammad Shami, Amit Mishra, Ishant Sharma.
Watch: Virat Kohli's debut ODI innings
More from India Today

India Today