Teen Who 'Spiked' Wrestler Narsingh Yadav's Food At SAI Identified

NDTV
27-07-2016
The man who could have possibly 'spiked' wrestler Narsingh Yadav's food supplements during his time at the Sports Authoriy of India (SAI) centre in Sonepat has been identified, Wrestling Federation of India told NDTV.
The 74-kg wrestler Narsingh tested positive for a banned steroid and will not go to the Rio Games, starting on August 5, India will be represented by Parveen rana in his place.
The man has been identified as the brother of an international wrestler in the super-heavyweight category.
Photos: India's greatest sportspersons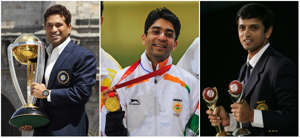 He allegedly infiltrated Narsingh's room at SAI and contaminated his food supplements.
The person is himself a 65kg wrestler and has even represented India at junior level.
Though he generally trains at the Chhatrasal Stadium in Delhi, he often visted the SAI Sonepat centre during national camps as a sparring partner.
(With inputs from Yash Chawla)
Watch: Narsingh's food spiked, alleges WFI chief