Ten times the Ravindra Jadeja parody account @SirJadeja made Twitter explode

Sport360°
06-12-2016
Cricket followers across the world are well aware of Ravindra Jadeja's antics on the field. A triple centurion in the Ranji Trophy, Jadeja has been one of those perennial failures on the international stage, flattering to deceive in nearly every outing in the blue of his country. It must be said that, on occasion, he has claimed important wickets for India, most of which are still more remembered for his elaborate celebrations than the delivery itself.

In this world of social media commentary and armchair experts, it was only a matter of time – and a few failures – before Jadeja earned his own parody account alongside the likes of Boring James Milner and Deluded Brendan. And so @SirJadeja came to light and followers followed thanks to the witty trolls and sarcastic posts.
Although the account addresses a myriad of issues ranging from politics to natural disasters, the tweets on most instances draw from the aura of 'Sir' Jadeja and his supposed miracles. Quite aptly, the bio reads: "Form is temporary, I'm permanent."
Here, we look back at ten occasions @SirJadeja broke the internet.
PUTTING ANDREW FLINTOFF IN HIS PLACE
First off, former England international Andrew Flintoff tested the water with a rather tongue-in-cheek reflection on the brilliance of Virat Kohli and his standing compared to fellow prolific run-scorer Joe Root.
Amitabh Bachchan sent a fitting reply, but Flintoff seemed adamant to have the last laugh by questioning who on earth Bachchan was.
It was then that @SirJadeja came, saw and conquered with a screenshot of Flintoff's account having paltry 1.8 million followers in comparison to Bachchan's 20 million.
ON MARIA SHARAPOVA'S TWO-YEAR BAN
Tennis star Maria Sharapova took a battering on the internet after she expressed her ignorance towards the identity of Sachin Tendulkar, irking Indian cricket fans who launch a staunch defence of the Little Master without such provocation. Some did defend the Russian, saying the whole thing was understandable considering cricket is an insect only, not a sport, in her country. The majority, however, couldn't let it go.
Months later, as Sharapova finds herself facing a two-year ban from tennis having failed a drug test, @SirJadeja drew from the spiritual principles of cause and effect, or karma.
AN HONEST TAKE ON SHOAIB AKHTAR'S COMMENTARY
Post retirement, Shoaib Akhtar has been sporadically active in the commentator's box for international matches. While contemporaries like Sourav Ganguly and Rahul Dravid have impressed with their eloquence and style, the Rawalpindi Express hasn't been as fortunate.
The account pleaded to be spared the torture of Akhtar's commentary in this post last year.
ON SELECTION ISSUES
Jadeja proper's exclusion from the Indian squad for the series against South Africa didn't raise any eyebrows, given his poor form. However, trust the owner of his parody account to conjure something out of the blue and put the spotlight back on the man himself.
It was just one of many examples when the account has been taken as an official one, making for some rather funny responses to this tweet.
SILENCING ARVIND KEJRIWAL
Sir Jadeja is a known follower of Narendra Modi's political ideals and on numerous instances he has trolled the Delhi Chief Minister Arvind Kejriwal with great success. None, however, have been better than this example.
ON STUART BINNY'S SURPRISE WORLD CUP INCLUSION
Following India's 2015 World Cup squad announcement, @SirJadeja went ballistic on Twitter posting about Stuart Binny, Mayanti Langer and Anushka Sharma.
He began with "Even Stuart Binny can't believe he got selected for #WC2015", followed it up with "Married Mayanti Langer, Selected for #WC2015, Trending on Twitter, Stuart Binny must be aiming for Bharat Ratna next." He went on to compare Abhishek Bachchan with Binny and finally ended with this hilarious tweet.
TROLLING BANGLADESHI FANS
The 2016 Asia Cup turned out to be a successful one for MS Dhoni's men, having tamed the Bangladesh Tigers in the final. Earlier in the tournament, one Bangladesh fan courted controversy with a photoshopped image of Taskin Ahmed holding aloft Dhoni's severed head. Of course, @SirJadeja was one of the first to hit back.
CELEBRATING ROHIT'S SUCCESS AT KOHLI'S EXPENSE
In a warm-up game against West Indies preceding the World T20, Rohit Sharma scored an unbeaten 57-ball 98 at Eden Gardens. The ground has borne witness to a number of centuries by the Mumbaikar both in domestic and international cricket.
While celebrating Sharma's magnificent innings, @SirJadeja highlighted that this love affair was far more solid than that of Virat Kohli and actress Anushka Sharma.
TAKING A SWIPE AT MUSHFIQUR RAHIM
Bangladesh's exit from the World Cup was not taken well by Mushfiqur Rahim who, incidentally, had been one of the main culprits in the ultimately costly narrow defeat to India. It would not have been such a big deal had Rahim not gone on to tweet about it.
Cue Sri Jadeja…
TROLLING DINESH KARTHIK
After Gujarat Lions vs Royal Challengers Bangalore in the IPL this season, one image of Lions wicket-keeper Dinesh Karthik caught people's attention. The still shows Karthik seemingly stuck in time, while the match moves on without him, as noted by one Sir Jadeja.
Slideshow: Know your cricketer — Ravindra Jadeja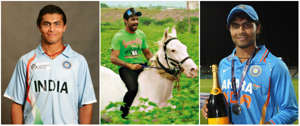 Watch: When Sachin made his first run in ODIs
---
---