Tendulkar, mongoose the unlikely stars of '93 Hero Cup semifinal

Wisden India
30-01-2017
Sachin Tendulkar's career had several high points with the bat. The memorable moments with ball in hand were comparatively fewer, but arguably delighted onlookers more because they arrived so unexpectedly.
Recalling one of his more famous bowling exploits, when he conceded just three runs in the last over against South Africa – who needed six off the final over to win in the Hero Cup semifinal in 1993 – Tendulkar said that a stray mongoose that was on the field had played its part in bringing India luck.
"I don't know how many of you have noticed this but because it was the first day and night match (in India – though in fact it was the third), there was a mongoose which kept coming in the second half of the match," said Tendulkar, who was back in Kolkata as the face of IDBI Federal Life Insurance Kolkata Full Marathon, on Saturday (January 28). "We got some wickets when it came. Then there were some runs and again the mongoose came and we got wickets. So I was waiting for the mongoose to keep coming. The match got rather close and I ended up bowling the last over."
Photos: 'Unique' world records held by Indian cricketers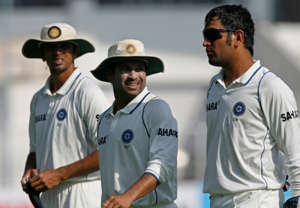 Tendulkar remembered some of his cherished moments at the Eden Gardens in Kolkata, with the Hero Cup semifinal taking pride of place. As recorded in Wisden India: 'Chasing India's 195, South Africa had reached 190 for 8 going into the final over, with a well-set Brian McMillan holding fort. Azhar could call on Kapil, Srinath, Prabhakar or Salil Ankola; instead, he went to Tendulkar, who hadn't bowled a single ball till then. Through a mixture of seam-up stuff and the odd slower delivery, he conceded only three. Crucially, he allowed McMillan to face just two deliveries as India pulled off a get-out-of-jail two-run win. Tendulkar charged down the pitch to be engulfed by Vijay Yadav and Ajay Jadeja, his pumping hands and an unending jig matched for effect by the plethora of paper torches in the stands that was a first at a cricket ground.'
Full coverage: India vs England Series
"When in Kolkata we used to have a joke running around –'Pehle do wicket lelo, baki ke aath wickets crowd le leta hai' (first take the first two wickets, the crowd will look after the rest)," reminisced Tendulkar. "It was quite memorable and completely different, the first day-and-night match where I ended up bowling the last over. The experience to see the entire stadium lit with torches was truly out of this world. They stay with you for the rest of your life."
Watch: 'Bumrah bowled cleverly on a tough pitch'
India had also played South Africa at the Eden Gardens two years before that in 1991, on the team's return to international cricket after the isolation imposed due to Apartheid. "We had a spectacular match, (Allan) Donald had a fiery spell up front but we got a partnership going and ended up winning the game. All in all, the experience was overwhelming not just for South Africa but also for me," he said.
Tendulkar, who was only 18 then and two years into international cricket, had taken 1 for 27 in five overs and then hit 62 off 73 balls after coming in at 3 for 2 to take India past South Africa's total of 177 for 8 in a 47-overs-a-side match. Donald, on ODI debut like most of the South African team, took 5 for 29 in 8.4 overs to share the Man of the Match award with Tendulkar.
"It was incredible, not just inside the stadium but the moment they landed at the airport. On their way to the hotel there were people standing and cheering on both sides of the road," said Tendulkar. "I later spoke to Clive Rice (South Africa's captain) who was double my age that time and he still fondly recalled that series."
"Kolkata has a glorious past and is a city with a soul. I am sure Kolkatans, who are passionate and proud about their culture, are excited about joining the ever-growing health and fitness revolution of the country."