Texted Virat Kohli when I got India call-up: Yuzvendra Chahal

India Today
12-06-2016
Not many leg-spinners can do what Yuzvendra Chahal has been doing for the last two seasons at the Indian Premier League. Despite playing most of his games at the M Chinnaswamy Stadium - a ground where mishits sail over the boundary line - the Royal Challengers Bangalore leggie has been dominating the bowling charts for two consecutive seasons.
Twenty-three wickets in 2015 and 21 the following season, helped him earn an India call-up for the upcoming limited-overs tour in Zimbabwe. The leg-spinner, in all probability, will make make the cut in the playing XI of the Mahendra Singh Dhoni-led side.

'ASKED ME TO STAY FOCUSSED'
Chahal hasn't forgotten the day he got to know about the India call-up. He revealed it was a dream come true moment for him and that he straightway took his mobile phone to text his RCB skipper Virat Kohli.
"When I was named, I was very happy and it was like a dream come true moment for me. I still remember I texted Virat Kohli to share the moment. He congratulated me and all he asked me to do was to stay focussed whenever I would get a chance to wear Indian colours," he told bcci.tv.
WHEN ABD SAID 'WELL BOWLED'
Chahal credited his success to the exposure he got while playing for RCB in IPL. He added that the experience of bowling at the likes of Kohli, AB de Villiers and Chris Gayle during the net sessions helped him evolve as a bowler.
"When I bowl in the nets to a Virat or an AB or Gayle, I bowl to them with a plan. They keep telling me about small things like varying pace, bowl a specific line that will make it tough for the batsmen or at times ask me to bowl a bit fuller as well. Such inputs are really helpful. "When someone like AB de Villiers finds it difficult to play your deliveries and walks up to you and says, 'Well bowled' it gives a different kind of confidence," Chahal said.
'KOHLI HAD IMMENSE FAITH IN ME'
Chahal was all praise for Kohli saying the RCB skipper had immense faith in him. The leg-spinner added he was never shouted at for conceding sixes and boundaries at the Chinnaswamy Stadium.
"I used to get positive vibes from my conversations with Virat Kohli. Bowling at the M Chinnaswamy stadium is not easy because it is known for being a run-fest.
"Virat would never pressurize me as a captain or ask me why I was being hit for sixes. He would always tell me that getting hit for sixes is never a problem if you had bowled a good ball. Such things make you realise that the captain has immense faith in you," he said.
CHAHAL'S GATEWAY TO SUCCESS
Chahal was picked by Mumbai Indians in the 2011 IPL auctions. After warming the Mumbai benches for two years, the leg-spinner got a brief chance in the 2013 season, in which he played a game for the franchise. Chahal got his due when he made the move to RCB in 2014. In his first season with Bengaluru club in 2014, Chahal played 14 games and picked up 12 wickets.
Chahal attributes his evolution to RCB coach Daniel Vettori. "When I came to RCB, Vettori started observing even finer aspects of my bowling. He would let me know when my body would slide a bit or my strides during my run-up were bigger, or my follow through was faster. Together we worked on all these aspects," he said.
'EXCITED TO PLAY UNDER DHONI'

What next? The 25-year-old is all excited about the prospect of playing under Dhoni. Chahal said he had observed Dhoni handling his bowlers from behind the wickets and that he can't want to play under the skipper.
"I am excited to play under MS Dhoni. He reads the game really well and I have observed that he notices a lot about your bowling from behind the wickets. I haven't played much under his captaincy but I have seen him walking to his bowlers and advising them about what lines and lengths to bowl. I am sure I am going to learn a lot from this Zimbabwe tour and there will be an improvement in my bowling," Chahal said.
Slideshow: Virat Kohli - On and off the cricket field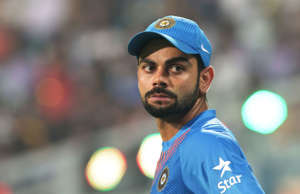 More from India Today

India Today