The 10 most expensive bowling figures in ODIs

Wisden India
25-01-2017
Cricket is so statistical in nature that almost every ball has the potential of some milestone. The last One-Day International between India and South Africa at the Wankhede Stadium in Mumbai on Sunday (October 25) in 2015 was filled with many records, as the visitors put up a mammoth 438 for 4 on their way to clinching the series. Of the many benchmarks that were bettered during that game, Bhuvneshwar Kumar registering the second-most expensive bowling figures in ODIs was the least memorable for Indian fans. Wisden India looks at the ten most expensive spells in an ODI.
Mick Lewis (Australia)
10-0-113-0 against South Africa; Johannesburg, 2006
In their pursuit of 435 in the series decider against Australia, South Africa were 80 for 1 in 10 overs when Ricky Ponting introduced Mick Lewis into the attack. Sensing that he was the weak link in an otherwise capable Aussie bowling unit, Graeme Smith and Herschelle Gibbs attacked Lewis right from the first over. Lewis conceded 32 run in his first spell of four overs before coming back in the 25th over. By then, Gibbs and Smith were in a rampaging mood and Lewis was once again the sufferer. He bowled his full quota in three spells, the last of which was in the 48th over when he conceded 17 runs. In all, he went for 13 fours and four sixes, and never played for Australia again.
Bhuvneshwar Kumar (India)
10-0-106-1 against South Africa; Mumbai, 2015
Much has been spoken about how Bhuvneshwar has lost his ability to swing the ball while attempting to gain more pace, and he had a bad day on a placid Mumbai pitch. Bhuvneshwar started the match well, conceding just two boundaries in his first two overs, but once Quinton de Kock and Faf du Plessis decided to seize the early advantage in the series-deciding clash, there was no escape. He was hit for 12 fours and six sixes, as each of de Kock, du Plessis and AB de Villiers hit big centuries to bat India out of the game.
Martin Snedden (New Zealand)
12-1-105-2 against England; The Oval, London, 1983
To understand how enigmatic Martin Snedden's returns were in the inaugural game of the 1983 World Cup game against England, one just needs to glance at the table. No bowler had conceded above 87 runs in one ODI till 2000 except for him. Snedden came in as first change and proved to be easy pickings for Allan Lamb, who went on to record his second ODI century, as England posted 322 for 6.
Tim Southee (New Zealand)
10-0-105-0 against India; Christchurch, 2009
In one of the finest knocks by Sachin Tendulkar in ODIs, he was particularly severe on Tim Southee, whom he hit for four fours and a six on his way to 163 before retiring hurt. Southee opened the bowling and conceded just two runs in the second over of the match, and was impressive in his first spell with figures of 4-0-22-0. He came back into the attack in the 23rd over when Yuvraj Singh hit him for a six and a four off consecutive deliveries, and things went downward from thereon. He was unlucky to have Tendulkar dropped at third man, but that was the only time he came close to picking up a wicket in the innings. After Tendulkar and Yuvraj, it was turn of Mahendra Singh Dhoni and Suresh Raina to carry forward the mantle. They hit him for four sixes in five deliveries across two overs as India raced to 392 for 4 – their highest total against a Test playing nation away from home.
Brian Vitori (Zimbabwe)

9-0-105-1 against New Zealand; Napier, 2012
In a game where Ray Price became the fourth Zimbabwean to take 100 wickets in ODIs, Brian Vitori had a completely forgettable match as he got hit for 12 fours and six sixes. His expensive bowling was the foundation on which New Zealand completed a clean sweep in their three-match series. Brendon McCullum, who hit an 88-ball 119, feasted on Vitori's offerings, getting his runs off him at a strike-rate of 233.33.
Jason Holder (West Indies)

10-2-104-1 against South Africa; 2015
Having been appointed the West Indies captain just a few weeks before the 2015 World Cup, Jason Holder had a tough time bringing the team together in the competition. Nowhere was he was challenged as much as in the encounter against South Africa, where de Villiers, who earlier in the year had hit a record-breaking 31-ball 100 against West Indies, continued to show his liking for the Caribbean bowlers. Holder came in for severe assault as de Villiers hit him for 76 runs in 21 balls on his way to an unbeaten 66-ball 162. Holder leaked 34 runs in the 48th over, the second most in a single over in a World Cup encounter. As a consolation, he got the wicket of de Kock, and remains the only bowler to have produced two maiden overs while conceding anything above 81 runs in a game.
R Vinay Kumar (India)
9-0-102-0 against Australia; 2013

R Vinay Kumar, the first Indian to concede 100 or more runs in an ODI, remains the only bowler to have been a part of a winning game despite recording such expensive figures. That, however, was no solace, as Vinay has not represented India since that game, more famous for Rohit Sharma's maiden double-century. On a belter of a track at the M Chinnaswamy Stadium in the series-decider, Australia started their chase of 384 cautiously, aware that any total was gettable with an end-overs assault. It fell upon James Faulkner to give the final push to the chase, and he took a particular liking to Vinay. In the end, Vinay bowled 20 dot balls and went for ten fours and seven sixes, as Dhoni decided not to give him his final over. Vinay, in fact, is the only bowler to have conceded 100 or more runs without completing the full quota of overs.
Dawlat Zadran (Afghanistan)
10-1-101-2 against Australia; Perth, 2015
Dawlat Zadran started promisingly with the wicket of Aaron Finch, but it was never going to be easy for Afghanistan against the Australians, still smarting after their one-wicket defeat to World Cup co-hosts New Zealand. David Warner took up the ownership of taking Australia to 417 for 6 – the highest total in World Cup games, and Zadran came in for some serious pounding, especially in the 30th over when he gave away two fours and two sixes. He picked up the wicket of Glenn Maxwell in his final over and remains the only bowler, apart from Snedden, to have taken two wickets while conceding more than 100 runs, but the game was far away from Afghanistan's reach very early in the piece.
Muttiah Muralitharan (Sri Lanka)

10-0-99-0 against Australia; Sydney, 2006
That the world's highest wicket-taker could be Sri Lanka's most expensive bowler in ODIs indicates how unpredictable cricket is. Having won the first final of the triangular series on the back of Muttiah Muralitharan's three-wicket haul, Sri Lanka were bubbling with confidence in the second game, and looking for another victory when Chaminda Vaas picked up three wickets in the first three overs of the game. Ricky Ponting and Andrew Symonds, however, deflated the visitors through a fourth-wicket stand of 237 runs. Muralitharan conceded 73 runs to the pair in 48 balls and finished with the most expensive ten-over spell in ODIs at that point of time as Australia posted 368 for 5 – their highest innings total back then. For the record, Australia won the third final by nine wickets to lift the trophy.
Ashantha de Mel (Sri Lanka)
10-0-97-1 against West Indies; Karachi, 1987

There was very little the greenhorn Sri Lankans could do against the dynamic West Indies pair of Desmond Haynes and Vivian Richards in a World Cup game in Karachi. After Rumesh Ratanayake took two wickets in two balls, the pair took charge, hitting all around the park on the way to their respective centuries. Richards was in a particularly destructive mood as he hit 181 off 125 balls – the best score in World Cup history till Gary Kirsten eclipsed it in 1996. Ashantha de Mel did have the last laugh when he had Richards, going for a six, caught by Roshan Mahanama, but it did not stop West Indies from posting 360 for 4 – the highest ODI total then. De Mel never played for Sri Lanka after the World Cup.
Slideshow: Unseen images of cricketers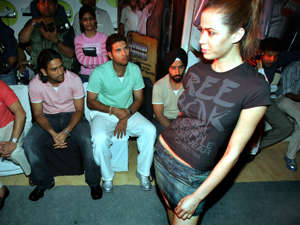 Watch: 'I have always believed that split captaincy doesn't work'