The agony of being Rahim in the Kohli shadow

Wisden India
11-02-2017
A captain is only as good or as bad as his team, they say. That's a fair enough assessment. But Mushfiqur Rahim stuck out like a sore thumb over the best part of two days even as his mates battled away manfully against the group of outstanding cricketers who make up the No. 1 Test team in the world in the ongoing Test.
The Bangladeshis didn't always excel. Anything but. Some of them were ordinary at times too. But no one on the field messed up as often as Rahim.
In this case, the captain wasn't as good as his team.
And Virat Kohli probably showed Rahim up a bit too, simply by doing what a captain is supposed to do – be in charge. Not many in the world do it as well as Kohli these days, and even as Rahim went from one fumble to the next bungle, Kohli kicked open the door left ajar by M Vijay and Cheteshwar Pujara on the first day in collaboration with Ajinkya Rahane.
As Kohli went from milestone to milestone, Rahim looked the worse for wear.
On the first day, he refused to go for the chance offered by Cheteshwar Pujara off Kamrul Islam Rabbi. Pujara was on 11 then and went on to score 83. That innings ended when Rahim managed to catch an edge off Mehedi Hasan's delivery, but only after remaining unmoved when the ball came to him. Fortunately for Rahim, the ball struck his thigh and looped up, leaving him with enough time to dive and collect the rebound.
Of course, these things happen.
There was, however, a mix of pity, embarrassment and hilarity when Rahim let Wriddhiman Saha off the hook soon after the wicketkeeper-batsman had walked in on Friday (February 10). Taijul Islam got the ball to go past Saha's swinging bat and when Rahim collected the ball, Saha was yards out of his crease. The hands went towards the stumps and connected with thin air, twice, before Rahim finally knocked off the bails. But by then Saha was well home.
This time, the lapse cost Bangladesh 102 runs as Saha went from four to 106 not out.
The talk in Bangladeshi cricket circles is that Rahim isn't the national team's first-choice wicketkeeper. Not even second or third. He slots in at No. 4 in most discussions, with Liton Das, Nurul Hasan and Anamul Haque rated above him, and Mohammad Mithun at par in terms of behind-the-stumps ability. But Rahim, a veteran of 51 Tests (before this), is by far the best batsman of the lot, though Liton is thought of as a good batsman, one who can take over once Rahim is done.

Why not play Rahim as a specialist batsman then, Chandika Hathurusinghe, the coach, was asked the other day. "We want to put our best XI on the field," was the practiced answer from the coach – it's a question he has been asked often back home.
So there doesn't seem to be a major threat to Rahim's place, especially as long as he is doing his bit with the bat. One just wonders if Bangladesh will be better served with stronger skills behind the stumps, especially on the evidence of the first two days in Hyderabad.
---
---
"It is part of the game. I used to feel bad before, but I have also missed chances, so I have learnt from that. I think the fielders do their best, but sometimes things go wrong. I don't think much about all this anymore," offered Mehedi Hasan, the offspinner who himself muffed up a gilt-edged chance to run Vijay out when the batsman was on 35 on the first day. Vijay went on to score 108.

At the other end was Kohli, who batted for close to five hours, blazing away from start to finish to score his fourth double-century in Test cricket, the landmarks coming in four consecutive series to give him a world record. His 204, ending when he looked good for many more, would have lifted Bangladeshi spirits, but he had done enough to thoroughly subdue the opposition by then, scoring runs off the good balls and dispatching the bad ones to all corners of the ground. It was almost like 50-over stuff from the master of the modern game.
In Kohli is an example of a man who leads from the front, whatever the format.
In Test cricket, he has 2315 runs from 23 Tests as captain, the runs scored at an average of 68.08, and nine centuries coming along the way. Compare that with his record when not captain: 2098 runs in 31 Tests at an average of 41.13 with seven centuries. It doesn't need to be said that the man thrives on being a leader. And we are not even talking about India's Test record under him or their position on the International Cricket Council rankings at the moment. Tops, both of them.
The Indian team is soaring at the moment in Test cricket, and everything Kohli touches turns to gold. It won't last forever, but it won't be for lack of trying on Kohli's part, or on the part of Anil Kumble, the coach, or even the players, who all seem to have bought into the concepts of Team First and Winning Is Everything.
Slideshow: 25 most controversial cricketers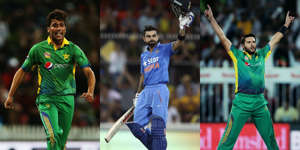 Ambition. Naked ambition. Uninhibited, unrestrained desire. It's what has helped Kohli be the leader he is in a very short time. And it's working – for him and his team, which seems to have taken after him all the way, including the fuzz on the face.

That's what Bangladesh need too. Unfortunately, it's not coming from their captain – not on the field certainly. And the lapses in Hyderabad were hardly the first we have seen from him.
"Hopefully we can create and grab the chances … we have to be switched on for every ball and session," Rahim had said on the eve of the Test.
If he can pick up the pieces with the bat and keep Bangladesh's fight going in this Test, Rahim would have atoned for some of the times he wasn't switched on in the field. But the one thing he can be sure of is that Kohli and Co. are going to grab their chances more often than they aren't.
Watch: 'Virat Kohli makes batting look ridiculously easy'