The Azhar flick, the Laxman twirl – passing the baton

Wisden India
13-08-2016
Mohammad Azharuddin isn't very active on social media. Despite having joined Twitter more than six years back, at the last count (which was a minute before starting this piece), he had no more than 365 tweets – even in Antigua, Azzu, they have a beach only for each day of the year, as you well know – of which several are retweets.

Destiny's original child so far as Indian cricket is concerned, Azhar has lived out a most dramatic life in full, unforgiving public glare, and yet has managed to maintain the aura that has been a constant companion since he burst into international cricket as an awkward, gangly young man in December 1984. As he became worldly-wise – losing much of his innocence in the process, sadly — and developed a liking for things stylish, elegant and expensive, his metamorphosis was more dramatic than gradual. He was the style icon of his generation, taking after fellow Hyderabadi ML Jaisimha and his great pal Tiger Pataudi, the upturned collar and a strut-swagger unwitting statements that became quite the rage.
The upturned collar, Azhar revealed recently as he pricked the style bubble, had primarily been to protect his neck from the harsh sun. But few knew it then and fewer still are buying into it now. It will remain a fashion statement, no matter what the protagonist might say.
Slideshow: 25 most controversial cricketers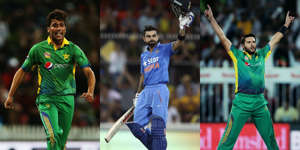 Back to Azhar and Twitter, though. One of his more recent posts is a 45-second video of him picking up two excellent catches in the close-in cordon behind the stumps on the offside during the Karachi Test against Pakistan in 1989. At his prime, in his days of struggle and toil, during the turmoil of the match-fixing scandal that is a black spot that will never go away and in his current foray into politics, Azhar has invariably tried to not talk about himself or his cricketing excellence. For him then to post this video is proof that this is something he treasures.

Azhar was a stickler for practice, and particularly when it came to fielding. He would spend close to an hour after scheduled training sessions at the Gymkhana Ground in Secunderabad, honing his ground fielding, trying to perfect the art of scoring direct hits, and taking close to a hundred catches by the end of which the giver was more spent than the taker. He totally abhorred sloppiness on the park, piercing glares and the occasional cuss word aimed at his Hyderabad teammates, to many of whom fielding was an unnecessary evil and to whom the cricket ball merited the rite of passage, in typical pehle aap Hyderabadi fashion.
For all his brilliance in the infield – both as a catcher and as a fielder – Azhar's on-field legacy will remain his lightweight willow wielded with grace unquantified, directed by a sharp cricket brain and wonderful hands, by twirling, supple, dexterous wrists that could place two balls pitched on the same spot either behind point or wide of midwicket with equal felicity.

Post Gundappa Viswanath, Azhar was in a league of one for his extraordinary wristwork until another gawky Hyderabad lad joined his childhood hero on the international stage. There was much about VVS Laxman that was similar to Azhar the greenhorn. Laxman's Test debut came days after his 22nd birthday – Azhar's had come days before his 22nd – and he had the same rangy build. Alright, so he wasn't the perfect athlete that Azhar had been, but those wrists. What wrists! Could someone match the original? Laxman could.
The temptation to slip into the comparison game was overwhelmingly irresistible. "Oh doesn't he bat just like Azhar?" was a common conversation-starter in laidback Hyderabad. "Kya khelta hai potta. Ine aur Ajju ek saath, wah!"
It was wah – wow — make no mistake. When they batted together for Hyderabad, you couldn't take your eyes off the action. They weren't quite as prolific together for India as they were for the state side, which was a pity because audiences worldwide missed out on such mellifluous entertainment, but for Hyderabad, they were a jugalbandi to die for. Sinuous, free-flowing, reluctant bashers of the cricket ball, imperious and elegant but also self-contained and unassuming.

But Laxman wasn't quite like Azhar, of course. The one strong thread that united them was their wristwork and their ability to work balls from outside off on to the legside, but there really wasn't one stroke Laxman played that necessitated a double-take, wondering which of him or Azhar had politely dismissed the ball from his presence. Azhar had his inimitable style, Laxman his own.
Looking at R Ashwin the other day – and on several other days in the last few years – however, you couldn't help but spot shades of Laxman in the Chennai lad who has clearly more than justified his status as the No. 1 allrounder in Test cricket. Unlike the Azhar-Laxman connection, there is no wristy thread linking the engineer from Chennai to the artist from Hyderabad. But when Ashwin leans with his upper body into a silken caress through covers – feet not quite to the pitch of the ball, not unlike the 281 man – you first think aah, and then VVS.
And then, when you are trying to tell yourself that it is your mind playing tricks, Ashwin whips a fullish delivery on his toes through midwicket, ala Laxman. He pulls the ball from the spot, not rocking on to the back foot, ala Laxman. Not exactly the same wristwork, but the same motion into the stroke, the same flourish, the same finish, the same position. Plenty of this similarity in stroke-production was obvious as long back as in 2013 when Ashwin more than held his own in the elegance stakes in a stand of 280 with debutant Rohit Sharma. But with the passage of time and with a larger database to fall back on, one can talk about the Laxman-Ashwin reminiscence theme with a little less fear of ridicule and derision.
No such danger, of course, when it comes to Darren Bravo. Not only is his built like his illustrious second cousin, the younger of the Bravo boys bears a striking resemblance at the batting crease to Brian Lara. The same high backlift, the same shuffle with feet locked together, a little hop as the ball is defended to off, the same expansive drive through covers, the same crunch through point. Eerily spookily similar, the family connection notwithstanding.
Bravo didn't set out trying to copy the only man to a Test 400 – can anyone ever match that? – but if imitation is the best form of flattery, then Sachin Tendulkar would have been flattered that Thilak Naidu made a conscious effort to ape not just the master's strokeplay but also his mannerisms in the early stages of his career. There was one memorable morning at the M Chinnaswamy Stadium when both the Indian team and the Karnataka Ranji side were practising at different corners of the outfield – Tendulkar in the India nets, Naidu in the other. It wasn't quite Lara-Bravo, but it wasn't all that far off too. Not long after that, Naidu lost loads of weight and made the considered decision to bat like he could. Which wasn't all that bad, either.
A very good friend in Chennai tells me that Robert Fernandez, the Kerala batsman, is a carbon copy at the crease of Rahul Dravid. That Venkatapathi Raju was the first to spot the connection. Fernandez, 29 and averaging 28.01 from 45 first-class games, ought to be thrilled to bits, just to be mentioned in the same breath as Dravid.