The Chennai Declaration: Kohli's logic made perfect sense

Wisden India
21-12-2016
The concept of a declaration has always been a fascinating one in Test cricket. The unique combination of 20 wickets to take and no time-bound limit to an innings has made the timing of the declaration as much of a tactical tool as knowing which bowler you want bowling into the wind, and which spinner you want bowling from the end that has longer leg-side boundaries.
As the fourth evening of India's fifth Test against England was entering its last hour, these were the questions Virat Kohli had to wrestle with.
Full scorecard: India vs England, 5th Test
1. How many overs would be needed to bowl England out?
2. How many overs should his bowlers have on the evening, to go full steam at tired England batsmen, and leave more than enough in the tank to come back steaming in on Day 5?
3. How many runs should India be ahead by?
4. And, possibly the most contentious of all to a section of the outside world – was it worth waiting a little bit longer than he had planned to declare, to allow Karun Nair the glory of a triple century?
His decision attracted particularly scathing opprobrium from some quarters because Kohli had publicly disavowed the pursuit of 'personal landmarks' as recently as after the Mumbai Test.
Was Kohli guilty of putting a personal landmark ahead of the team's interest?
In short, I don't think so. Not by a long shot.
Photos: World records held by Indians in Test cricket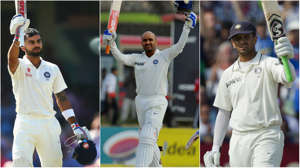 There are a couple of things to consider here, one of which Kohli also touched on when he was asked about the possibly delayed declaration in the press conference after the Test. "This guy [Karun Nair] is close to 300 and it doesn't happen every day. It's not like he was taking ten overs to do it. He was hitting sixes, he was hitting fours, he was getting us a bigger lead. So it was a perfect scenario and he got us to a stage where we wouldn't have to bat again and at the same time, we had enough overs," said Kohli.
Consider what would conventionally be considered the 'optimum' time to declare. It would have to be when Nair had reached 250 – giving a nice round figure to the batsman and 16 overs to the Indian bowlers to have a crack.
Flawless, right? You don't deprive the batsman of a landmark – 250 is a pretty sizeable one – and have England batting just after they have spent two days fielding, are tired and denied the comfort of an overnight rest. Well, not so fast. When Nair turned Adil Rashid to square leg to raise his 250th run, India's score was 687 for 6. The lead was 210 runs.
Given how the pitch had played till then, there was a high degree of probability that even if India got England all out by Day 5, they would have to chase a total. Seeing as how England got to 207 on the fifth-day pitch, it is reasonable to assume – tiredness or not – that the target might have been in the vicinity of 60 to 80 runs.
---
---
Anyway, Kohli wouldn't have known how many England would get. He could only make an educated guess at how many they could get. Did it then make more cricketing sense to go for the extra runs against an already tiring bowling attack and ensure that India wouldn't have to bat at all on a last-day pitch? It was certainly easier – and quicker – to get those extra 70 runs towards the end of Day 4 with set batsmen in, rather than chasing them down at the end of Day 5. 

Things happen in the last session of a Test that don't otherwise. If you're the bowling side you make them happen, if you're the batting team they happen to you. Kohli would have thought – legitimately – that he'd much rather be the bowling side.
That's the cricketing logic. But there was more at play here too. This was not just another landmark that was beckoning. This was historic. Say what you will about cricket's obsession with milestones, but they have been a reality since the game has been there. You can philosophise about 'What if the human race was born with eight fingers instead of ten – we would have used that as our base and triple digits would have started after 77 – and triple centuries would have come by quicker'. But it won't change the fact that artificial construct or not, that one run that takes you from one century to the next matters. Just ask KL Rahul.
And because it matters, it is a very, very significant moment. Not just for Nair, but for the entire Indian team. To see a batsman who wouldn't have made the first XI come in and hit a triple century in just his third Test innings would have done for the self-belief of the team what getting change for Rs 2000 in 100-rupee notes does for purchasing power in your wallet.
Infusing that sort of belief in a young team that is likely to stay together for years to come, allied with the cricketing logic of getting those extra runs in so that India wouldn't bat again, would have made answering the questions at the start fairly straightforward for Kohli. Especially with the series scoreline already 3-0. What would have mattered more? The coming together of a unit in a tighter bond with confidence touching an all-time high and still more than 90 overs to force a win – or denying a youngster a historic moment for no significantly great strategic gain? It's a no-brainer.
And yes, India had left themselves with enough time, as it happily turned out. And yes, India did it in a match that one young man who could potentially have a decade more in the game will look back on with unmatched pride and joy. But no, Kohli didn't sacrifice the team cause for a personal milestone. There was enough cricketing logic, and a beyond-the-boundary rationality, to his decision.