The Dugout: Cricket's new war room

The Indian Express
01-05-2017
WHAT ARE you doing bowling googlies to AB? Bowl a leg-break." Substitute Mayank Agarwal has just brought a strong message out to Imran Tahir from the Rising Pune Supergiant dug-out at the end of his second over. The South African leggie has conceded 12 runs from six balls that he bowled to AB de Villiers at the Chinnaswamy Stadium. Five of those deliveries were either googlies or sliders, exactly what de Villiers has been bracing for from his countryman. "Bowl him a loopy leg-break on off-stump" was the original plan.
Two balls later, Tahir gets it right. It's slow in the air, dips while landing between middle and off-stump to tempt de Villiers into a flick, and turns enough to go past the closed-face of his bat, stranding him outside the crease. AB de Villiers stumped MS Dhoni b Imran Tahir, flashed the scoreboard and the leggie apologetically puts his hand up towards the dug-out.
A night later, Manish Pandey is facing Amit Mishra in a shootout scenario at the Feroz Shah Kotla. Kolkata Knight Riders need 8 off the last 3 balls after Mishra has started the 20th over with a dot ball, a wicket and a single.
Photos: Best IPL Photos from April 2017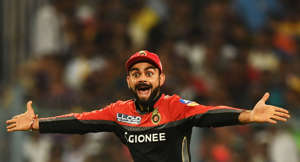 A slow googly outside off-stump should be a logical choice for Mishra to the well-set right-hander with his mid-wicket back on the fence. But it's a cross-seam wide and full delivery at 100 kph. Pandey stood deep in his crease and this allows him a free swing and the ball soars over the long-on fence. It's almost like Pandey was reading Mishra's mind. Actually he was, but not there at the centre of the Kotla but earlier in the confines of the hotel room. Pandey was told what to expect from Mishra.
Cricketers in the IPL don't second-guess anymore. They don't have to. This is not to say that cricket in the T20 franchise way doesn't have its uncertainties, glorious or otherwise.
Or that every move and every play during the hectic three-and-a-half-hour ride has become predictable. But never before in the history of the game, have players walked to the centre with such an encyclopaedic knowledge of what they are about to encounter. And never before has the dug-out been such a nerve centre and borne such an influence on the action in the middle.
Wagon wheel redundant
Cricket is no stranger to analytics. Almost every cricket team across all levels and age-groups these days has someone working furiously on a laptop. Analysts like Prasanna Agoram and CKM Dhananjai have occupied vital vantage points for their IPL franchises from the inception of the league. Both have also tasted immense success as part of high-profile international teams. And they accept that their role has advanced drastically since the early days when they were expected mainly to, as Prasanna puts it, "capturing videos and providing wagon wheels and pitch maps".
These days, it's not simply about telling them that a Jos Buttler struggles against spin at the start and saying "this is how he gets out". It's about giving the bowlers various options based purely on historical data and research to get him out.
It's about telling them that Buttler doesn't attack bouncers in the early stage of his innings, that he turns into a compulsive hooker once he's lasted 15 balls and that he doesn't mind them directed at his body. If back in the early years of the IPL it was general information that the players sought, now it's more segmented. Stating the obvious cannot pass off as analysis. It's about how the dug-out is able to deliver real-time strategies.
A bowler wants to know what he's supposed to do with each of the 24 balls he'll bowl on the day to that particular opposition. For instance, unlike in Test cricket, where a batsman takes at least 40 balls to settle, here he takes around 7-8 balls. So it's prudent that a bowler knows exactly what he needs to do from the first ball he bowls.
"The game preparation is more on a ball to ball basis. You can't just sit back and plan on what your team's strategy is for the 20-over period. There's ground analysis, there're field settings. The list is endless," says Prasanna, who's been with Pune since last year, his third franchise after RCB and Delhi Daredevils.
Having started out with the more generic term of video analysts, they now prefer being referred to as game data coaches or game preparation experts.
Watch: Warner show flattens KKR
(Video provided by Wisden)
According to Dhananjai, just being able to operate a computer or showing replays cannot be a yardstick for cricket analysis anymore. Identifying and delivering the data from the plethora available that helps the team make an informed decision is an art and a science.
"There are multiple levels of information delivered from a tactical, strategic and technical angle. Some simply use it to validate their instincts," he explains.
7th to 10th phase
"Trend analysis" is the buzzword. While a lot of focus is laid on the powerplay overs and the death overs, it's the period between the 7th and 10th overs that the dug-outs are now focusing on as being the period that has the maximum impact on the match. That's the trend. On an average, most teams get to nearly 55 or 60 in the first six overs. And regardless of how powerful the bowling team, the death overs invariably fetch nearly 50 runs. Hence, teams have begun preserving their key bowlers for the four-over period right after the powerplay.
"You'll see Imran Tahir, Axar Patel or Rashid Khan bowling the 7th over often. If that goes for 6 runs, there's pressure on the batsmen immediately. You get a wicket in the 8th and suddenly by the 10th over, the score has progressed from 55/0 to 85/2 and the game is balanced again," says one voice from the dug-out. So if a team gets a blazing start of say 23/0 in 2 overs, teams are preferring to not panic and bring on their key bowler right away but keep him for that 7-10 period.
Head start
The actual work for the analysts though starts some 30 days before the season commences. Each franchise has a contracted backend provider, who'll provide nearly 60-70 GB worth video footage of every opposition player once the auction is complete. They are generally spread in very specific folders i.e. "boundaries against spinners" "boundaries against pacers" "dismissals against spinners" "dismissals against pacers" "bouncers faced" and so on. Then begins the rigorous work of scouring through nearly 2000 balls of each batsman and bowler before zeroing in on their precise observations.
They could range from how and when Zaheer Khan uses his knuckle ball as compared to the off-cutter to how Chris Morris' go-to shot is the reverse-sweep to Aaron Finch scoring mainly through extra cover in the powerplay. Their research isn't restricted to only the big-name players though.
You are told that Ishan Kishan's release shot is in the direction of cow corner and also that he doesn't mind swinging in that direction with only one hand. Basil Thampi, who's still a relative unknown in terms of the IPL, meanwhile depends a lot on leg-cutters in the death and has the ability to slip in the perfect leg-stump yorker.
There is still no uniformity in terms of how the various analysts go about their business and the data they deliver. While Prasanna is more hands-on, Dhananjai uses Over the Rope, an analytic platform designed by Sportsmechanics which he co-founded, which provides model-driven outputs.
Cricket has also moved on from being a game-review sport. It's more about preparation and real-time decision support from the dug-out. On match-days, Prasanna's room is a revolving door from 10.30 in the morning with bowlers and batsmen dropping in for their final revision. Dhananjai at least doesn't worry about having his personal space invaded so much this year with his team having come up with the Mumbai Indians App, which is an interactive platform for all the players fitted with all the research material they need.
Tough job
You can easily lose respect as an analyst in T20 cricket. Even a single misstep can change the match, even from the dug-out. One team suffered at the hands of Hardik Pandya, who outsmarted their ploy of bowling wide yorkers to him, by widening his base and smacking them for a few sixes. McCullum can easily be advised to bat outside off-stump to eliminate the lbw for example, thus throwing all plans against them into the bin. "7 out of 10 is the best success rate you can expect," says Prasanna.
Unlike 10 years ago, where analysis was one-size-fits-all, these days the information provided is more custom-made as per the player's strength and grasp over his own game. Despite the glut of information there are times when players need last-minute reassurances while the match is on.
"Suddenly you'll have a batsman saying ok 43 to win in 4 overs. Where should I expect the bouncer or can I stick to off-stump for the wide Yorker against this particular bowler? You tell him no don't go too close to the ball, that way you won't be prepared for the double-bluff," says Prasanna citing an example of the kind of real-time support that's called upon.
But whatever their inputs, at the end of the day unless the player, like Tahir didn't in the early part of his joust with de Villiers, execute the plan on the field, the analysis is only redundant. The player still remains the judge, jury and executioner once the match starts. Or as Dhananjai puts it, "Ideation without execution is delusion."
In the IPL world for now though the gap between the playing field and the dug-out is only getting narrower.
Kieron Pollard: Bring on the spinner
Welcome him with either left-arm spin or leg-spin and get them to bowl within the line of the stumps. That gives you a 60 per cent better chance of dismissing him within 10 balls and keeps the giant Trinidadian quiet. He averages 6 runs in the first 10 balls he faces against spin. The best time to bowl a bouncer — within the first 15 balls he faces, for he will duck under them.
Brendon McCullum: Steps out if he faces 2 dot balls
56 % of his boundaries in the first 10 balls come from stepping down the track . But there's a dismissal chance once every five balls if a seamer bowls short of good length on fourth stump and shapes it away. He's susceptible to the ball angling in from spinners. Research shows that he will step down the track if he's faced two dot balls from a spinner. Best way to get him out — toss it slow, wide out of his reach.
Virat Kohli: Bowl a Test Match Length
This year, bowlers have reverted to bowling Test lengths to Kohli —either length on fourth-fifth stump shaping away or short at his body like Ben Stokes did. And if it's a bowler without the necessary pace, then bowl cutters with deep extra cover and mid-wicket back to cut out his scoring areas. There's also the ploy of playing with his ego by getting a young domestic bowler to bowl bouncers.
Praveen Kumar: Slips in a wide yorker
PK mixes up his length and pace ingeniously in the death. PK bowls with four men back on the leg-side, third-man and mid-off in with sweeper cover back. Three out of six balls are yorkers from around the wicket aimed at your toes. He wants you to back away so that he can slip in the wide yorker. If you don't, he'll slip in a wide slower delivery but never bowls a bouncer at this stage. So it's best to stay deep in the crease like Hardik Pandya and make length for yourself.
Steve Smith: Bowl wide, pack off-side
There are those who believe that the best chance against him is to frustrate him. Rather than follow his trigger movements and get sucked into bowling at his stumps, it's better off to bowl wider lines and pack the off-side field like South Africa did against him during their tour of Australia. Chances are, in the form he's in anyway, the Aussie and Pune skipper will still score runs.
Parthiv Patel: No bouncer around eyeline
Parthiv packs quite a punch against the new-ball in the IPL. He takes on the bouncer from the start. So the short-ball shouldn't be within his eye-line for Parthiv will pull or hook those away comfortably. And if it ends up somewhere above his left-shoulder, he'll glide it over the slips for six. So if the bouncer is straight then fine-leg and square-leg both need to be back. And if they want to go wider, then the third-man has to be back and a lot straighter.