The lost anonymity of growing up as Dravid Jr

Wisden India
23-12-2016
He is a normal, everyday 11-year-old that does what every normal, everyday 11-year-old does. Like most Indian kids his age, he is also taken in by cricket, even if cricket isn't his only interest. But he isn't just another 11-year-old Indian boy.
Meet Samit Dravid. Right-hand batsman, small and bespectacled but packing quite a punch. A kid really, but thrust into the limelight not merely because of his talent and his ability to make runs, but also because of one of the most famous surnames in world cricket.
Rahul Dravid is perhaps the most intensely private individual you can find in the most public of Indian activities. India's long-serving No. 3 successfully managed to insulate his family from probing eyes during his days as the country's batting bulwark, but what do you do when your son starts to score runs by the bucketful? You can't tell the little fella, 'Son, we don't need this publicity, so can you please make a nice fifty and get out,' can you?
The obvious cliché is of course that cricket runs in young Samit's genes, much like it does in his younger brother Anvay's. Samit Dravid, like Arjun Tendulkar, will never just be another Indian kid with a passion for cricket. Their performances are magnified simply because of their lineage. That's a reality Sachin Tendulkar accepted a long time ago, and it's a truism that Rahul Dravid too has come to terms with, because there simply is no other way.
Samit is quite the destroyer for one so young and pitted against boys older than him. In April 2016, he slammed 125 with 22 fours and a six in an Under-14 game, putting on 213 with Pratyush Girish, 143 not out. It wasn't Samit's first tryst with the headlines; he has made spectacular runs in the past as well in inter-school tournaments, batting with a flourish that wasn't necessarily associated with his illustrious father.
Photos: 36 crazy cricket records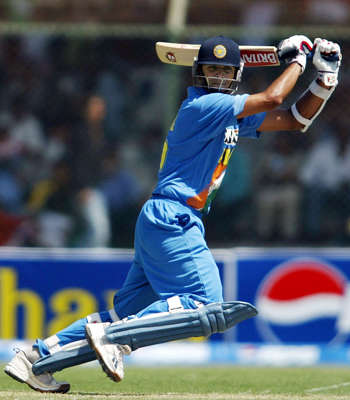 Dravid Sr has always insisted that his two little boys dabble in anything that interests them. That's not hard to imagine – the doting dad sitting the kids down, talking to them about life and hobbies and passion, but never talking down to them. That's not the Rahul style – not in public, and not in the confines of his home. Samit knocking the ball around at the M Chinnaswamy Stadium when only four or five wasn't a common occurrence, but he would once in a while surface when papa was playing a Ranji Trophy game, belting the ball as he received throw-downs beyond the boundary ropes even as his dad was bleeding oppositions dry with his command over his craft.
If Samit has embraced cricket in totality – but not at the exclusion of everything else – then it is entirely his decision. If he has deemed that the best way to bat is to smash the ball around, then that too is entirely his own decision. Father and son haven't had too many cricket discussions, Rahul told Wisden India a few months ago, and most certainly not on Samit's approach to batting. "I don't really get into trying to coach him too much. I just want him to enjoy it and just play the game, have some fun with it," Rahul revealed. "He plays different sports at the moment which is good – they (both sons) play football and they play cricket, they swim. So that's nice. He is too young at the moment for anything more."
Watch: Virat Kohli pleased by manner of India victories
Young, yes, but he is also Rahul Dravid's son, so how can he not attract attention when he is making runs galore. "Yeah, I get it," Rahul conceded. "That's something he will learn to deal with. It's not easy, we wouldn't want it that way but I guess that's what it is, that's the reality of it and that's what it is going to be. I guess there are some advantages of being my son, there are going to be some disadvantages of being my son. Sometimes, you want to grow up as children in an anonymous situation, without pressure and without people watching you, noticing you. Especially when you are growing up, you want to be a bit anonymous, you want to just do your thing. That might not be possible for him. But that's the way it is and he has got to deal with it."
Typical Dravid touch there, not so much a crunch through point as a dab to third-man, strike turned over, over to you now. Dravid is well aware that Samit will be judged through an entirely different prism. Alright, so he shouldn't be judged at all, but that's how the world is. And while there may not have been too many father-son cricketing discussions, it is almost a given that both father Rahul, worldly-wise and well travelled, and mother Vijeeta, doctor by education and as erudite and grounded, will have opened Samit's eyes to the plusses and minuses associated with the Dravid surname.
In some ways, the Dravids are perhaps fortunate that they are based out of Bangalore and not in the more hustle-and-bustle environs of New Delhi or Mumbai. The scrutiny that Samit would have been subjected to had he been playing in either the country's political capital or its financial capital would have gone through the roof. Here in Bangalore, Samit can still go about his business in relative anonymity, though all that will change rapidly if he continues to impose himself on older, stronger oppositions.
Samit might enjoy seeing his photograph in the papers, as any 10-year-old will, but he will not get carried away. A friend went to watch him bat in an inter-school game just for the heck of it – at the St John's grounds. It was fairly early in the morning, and dad was in attendance with the little man holding fort with the bat. Not so much a father wanting to live out his dream through his son – Rahul, of course, has lived out his dream himself – but a father more there to offer support and encouragement rather than make unrealistic demands of his progeny.
There was one moment, my friend told me, that made going to the ground at 7 in the morning worth the while. Short ball, Samit rocks back and hammers it over midwicket. Up go the umpires arms, take six! "As soon as he hit it, I turned to look at Rahul," the friend said. "As it soared over the boundary, he had a sheepish but contented smile." Most certainly not like father, like son. 

Muttiah Muralitharan, the Sri Lankan legend, has seen traces of the father in the son's batting, but Rahul himself won't commit when you ask him if Samit is in the old Dravid mould. "He's OK, he's got good hand-eye coordination. But no, he just smashes it and that is what I encourage him to do – just smash it," he broke out into the biggest laugh ever.
What will Samit's pals and teammates make out of all this? They will of course be thrilled – as much as their parents – that from time to time, Rahul drops in for their matches. By now, his mates at the Mallya Aditi International School will also have realised that Samit will never strive to be first among equals except inside the cricket field. And that is credit not just to the parents, but also to a 10-year-old who has perforce had to be mature way beyond his years.
---
---