The more I serve Virat Kohli, the better it will be for Indian cricket: MS Dhoni

India Today
14-01-2017
Mahendra Singh Dhoni said he and India captain Virat Kohli have always been very close and backed the latter to scale even bigger heights as a leader.
Dhoni steped down as India's limited-overs skipper last week and the BCCI handed over the reins to Virat Kohli, who had been captaining India in Tests since December 2014 when Dhoni retired from the longest format.
Kohli, in a touching interview with bcci.tv, had said Dhoni would always be his captain and expressed hope he would bat more freely now that he had shed the burden of leadership.
Dhoni was the undisuputed leader of Indian cricket when Kohli walked into the Indian team and the latter has credited the Jharkhand superstar for shaping his career by giving him several opportunities.
Dhoni, addressing the media for the first time, said he was always close to Kohli and would keep helping him on the field with suggestions.
"I will be there to give as many suggestions as possible to Virat. The wicketkeeper will always be the vice-captain of the team.
"Virat and I have been very close right from the start. He always wanted to contribute big. He wasn't just satisfied with 70s & 80s.
.@imVkohli & I have been close right from the start. He always wanted to improve & contribute in the chances he got: @msdhoni #TeamIndia pic.twitter.com/PTVvKGZq5R

— BCCI (@BCCI) 13 January 2017
"The good thing is that if I go up to him with 100 ideas, he is comfortable to say no to all of them. We share that kind of comfort level," Dhoni said.
Dhoni, who is now the senior-most statesmen in the Indian side along with Yuvraj Singh, said he would keep giving inputs to Kohli on the field and share his experience with him. "The more I serve Kohli, the better it will be for the Indian team."
Dhoni will be key to India's ODI series against England starting January 15. The two sides will also play a three-match T20 International series later.
Slideshow: Cricketers and their superstitions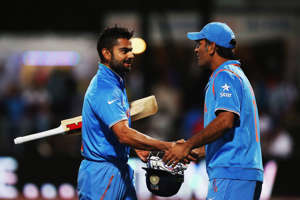 Watch: 'Never thought would captain India in all three formats'
More from India Today

India Today