The most viral moments of the 2016 Olympics

Photos
16-08-2016
From sparking off memes to making fans angry, the 2016 Olympics has a lot of moments outside of the competition that people are talking about. Let's take a look at some of this year's most viral moments.

Bolt flashes cheeky smile during 100m semifinal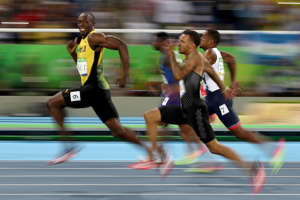 Although Usain Bolt successfully defended his 100m title as the world's fastest man on Aug. 14, it was this picture from the semi-final race that took Twitter by storm. Just before crossing the finish line, he looked on to his left and grinned. The moment, capture by photographer Cameron Spencer, shows how easily the Jamaican sprinter qualified for the final. While the image is being heralded as one of the best pictures of Bolt, Spencer is garnering praise for his work with many commentators saying: "pretty much Bolt's whole career in one photo."
Phelps' unique stretching technique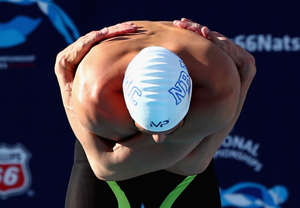 Michael Phelps has a unique way of stretching his muscles before a race: he wraps his 80-inch wing span around his back — leaving many wondering if that's the secret of his success. The technique has inspired the Chinese people so much that they have started following his warm-up move and posting the pictures about the same. The hashtags #Feiyubao and #Feiyubaobimohoubei, which roughly translates to "Phelps crossing arms whilst touching his back," have been viewed more than 10 million times on Sina Weibo, the Chinese microblogging site. 
Chad le Clos plays mind games with Michael Phelps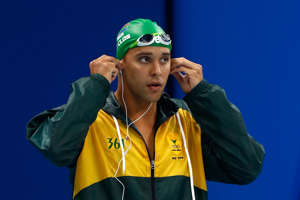 South African Chad le Clos (pictured) tried to – and failed to! – intimidate his U.S. rival Michael Phelps before the Men's 200-meter butterfly semifinal on Aug. 8. Le Clos was seen shadowboxing right in front Phelps, who was staring daggers at him. Later, after beating the South African swimmer, when asked about the dancing, Phelps said he wasn't really looking at Le Clos. "He does his thing, I do my thing," he said.
Tonga's hunky flag bearer steals the show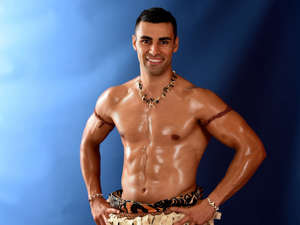 Ladies around the world had a collective meltdown after seeing Tonga's flag bearer, Pita Taufatofua (pictured), during the opening ceremony. He was wearing a ta'ovala (a Tongan mat) wrapped around his waist and was oiled up. The first-time Olympian is also the first person from Tonga to compete in taekwondo.
Phelps celebrates with son Boomer
Michael Phelps' son Boomer stole the show when the swimmer went toward the stands to kiss his little boy after collecting his medal for the men's 200-meter butterfly final. His fans went "aww" when they saw the father-son duo cuddle. His fiancée Nicole Johnson and mother were also present to support the Olympian.
NBC announcer criticized over comments on U.S. gymnast's parents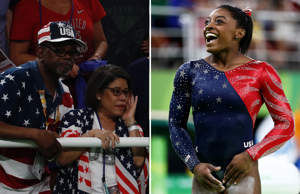 Three-time World Champion and now an Olympic gold medalist Simone Biles' (R) parents were derided by Al Trautwig, NBC's gymnastics announcer for the game. Biles and her sister were adopted by her maternal grandparents, Ron and Nellie Biles (L) in 2001 as their biological mother struggled with a drug habit. In a now-deleted tweet, he had said: "They may be mom and dad but they are NOT her parents." Soon after that, the "Gymternet" blasted Trautwig for making the comment and #FireTrautwig started trending on Twitter.
Lefort's phone falls out of pocket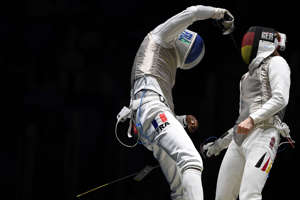 Fencer Enzo Lefort of France had an odd moment during his individual foil qualifying bout against Germany's Peter Joppich (R), when his phone fell out of his back pocket in the middle of the match. The crowd booed him as he quickly picked it up and handed it to someone on the sidelines.
Horton calls Yang a "drug cheat"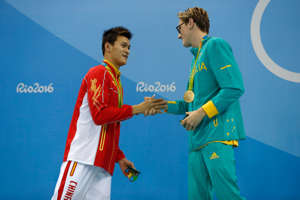 Swimmer Mack Horton of Australia, who clinched the gold medal in the men's 400m freestyle, ran into a controversy when he called China's silver medalist Sun Yang a "drug cheat." Horton said, "I don't have time or respect for drug cheats." Sun, who received a three month doping ban in 2014, broke down during an interview after the race. His fans, however, supported him, with "Sun Yang Don't Cry" becoming the top-trending hashtag on Chinese social media.
Green pool water scares athletes
The diving pool at the Maria Lenk Aquatics Center turned bright green on Aug. 9. Before the officials blamed algae for the discoloration, there were few theories making the rounds on the internet, including the presence of oxidized copper and urine in the water.
North and South Korean athletes bond over a selfie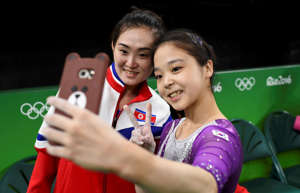 North Korean gymnast Hong Un-jong (L) and South Korea's Lee Eun-ju (R) took a selfie during their training period, which was hailed as representing the spirit of the games. While some people expressed concern for Hong for she might be punished once she goes back home, others were calling it as the "most iconic photo" of the event.
Mysterious purple spots on U.S. athletes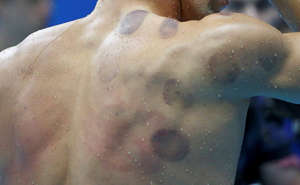 A number of U.S. athletes, including Michael Phelps (pictured), were seen with purple bruises over their back. After the images went viral, it was found that the marks were leftovers from "cupping" — an ancient Chinese healing practice. Practitioners place specialized cups on the skin or wherever the athlete is experiencing some discomfort and then create suction between the cup and the skin, pulling the skin away from the underlying muscle. This is supposed to help ease blood flow in the muscles, reducing soreness and speeding the healing process.
Rugby player receives marriage proposal from girlfriend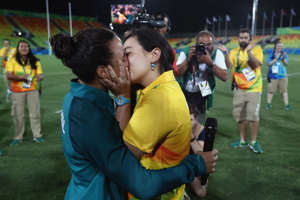 Brazilian rugby player Isadora Cerullo (L) received an on-field marriage proposal from girlfriend Marjorie Enya (R), who's also a manager at Deodoro Stadium. Even though Cerullo's team finished ninth in the first-ever rugby sevens event at the Olympics, Enya cheered her up when she took heart-shaped balloons and got on the field to pop the question.
American fencer creates Olympic history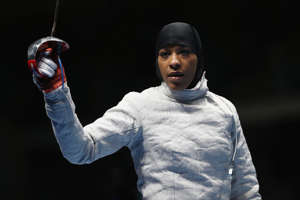 Ibtihaj Muhammad (pictured) of USA made history by becoming the first Muslim woman from the country to compete in the Olympics in a hijab. Muhammad, who features in the 2016 list of Time's 100 Most Influential People, said: "I want to compete in the Olympics for the United States to prove that nothing should hinder anyone from reaching their goals — not race, religion or gender."
U.S. swimmer Lilly King speaks her mind on drug cheating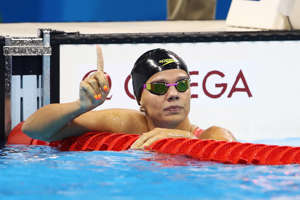 U.S. Olympic gold medalist Lilly King was watching the women's 100-meter breaststroke semifinal on Aug. 7 when she saw Russia's Yulia Efimova (pictured) strike a number one pose. King wagged her finger in return and then later went on to win the gold. The American champion was miffed because Efimova had tested positive for meldonium, a performance enhancer, in early 2016. King later told NBC: "You've been caught for drug cheating. I'm just not a fan."
Leslie Jones' tweet sends her to Rio

Actress Leslie Jones' (pictured) tweet-storm supporting Team USA at the Olympics caught NBC Olympics executive producer Jim Bell's eye, who agreed to send her to Rio to work on their coverage. The "Ghostbusters" actress will be joining the network as a correspondent, meeting athletes and interviewing them.
Gymnast's parents get adorably nervous watching her perform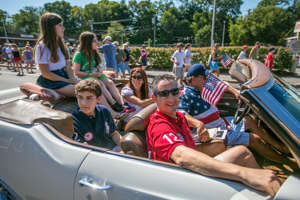 The parents of Aly Raisman, the captain of Team USA women's gymnastics, could barely watch their daughter perform on the uneven bars on Aug. 7.  During the performance, they fidgeted and moved in sync with Raisman's routine. Only once she got done did both of them jump up and give each other high fives. (Pictured): Rick Raisman (front passenger seat) and Lynn Raisman (backseat) drive during a parade with their other three children in 2012.
Rio's Olympic mascot has everyone confused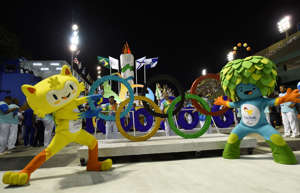 It's a cat... It's a Minion... No, it's a mix of various Brazilian animals. This year's Olympic mascot may look cute, but people were not quite sure which animal it represented. A mixture of different Brazilian animals, he is named after the famous Brazilian musician Vinicus de Moraes. (Pictured on right) Tom, the Paralympic Games mascot is a mixture of every plant in Brazil.