The mystery behind Virat Kohli's refusal to use DRS after record-breaking 204

India Today
11-02-2017
Virat Kohli had just brought up his fourth double hundred. After a loud round of applaise, the crowd at the Rajiv Gandhi International Cricket Stadium settled down for the next milestone from their captain.
Bangladesh were under the pump in the only Test. India had batted all of Thursday and Kohli had shattered a few records in the course of his fourth double hundred. Only a couple of months back, Karun Nair had smashed a triple ton. Why couldn't Kohli? He had all the time in the world.
Full scorecard: India vs Bangladesh, one-off Test
And then Taijul Islam finally bowled one that hit Kohli on the pads. A loud appeal for lbw was upheld by umpire Marais Erasmus. Wriddhiman Saha, the man at the other end, walked up to his captain (like he had done when the umpire had raised his finger with Kohli on 180). Again, he asked his captain to review but Kohli shook his head and walked off.
Photos: Virat Kohli's amazing records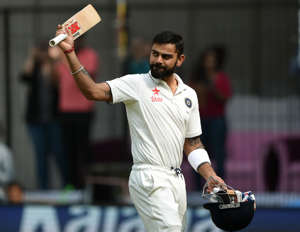 India still had both their reviews left and Saha is usually spot-on with his assessment of those calls. Surely, no one in the team would have complained even if Kohli had used the DRS and it upheld the umpire's call.
Replays showed the impact was outside the off-stump. Had Kohli used the DRS, he could have stayed on and who knows, maybe gone on to score a triple ton. Who knows?
But the skipper decided he had had enough. Only yesterday, Bangladesh captain Mushfiqur Rahim embarrassingly called for a DRS against Kohli when the ball had the middle of his bat. Maybe the Indian captain did not want to be overruled and he thought it was best for everyone if he just walked off.
Or did Kohli accept his fate because umpire Erasmus rarely makes mistakes? We won't know the reason until the man himself has spoken. And for sure, he will soon.
However, all said and done, the fans got over the disappointment and gave their captain a standing ovation. (Virat Kohli breaches 1000-run mark in home Tests this season) After all, Kohli had done his job again - another day, another double hundred.
---
---
More from India Today

India Today