The pain of finishing fourth, the joy of being the fourth best

Wisden India
18-08-2016
A group of finely tuned athletes run across the length of the court and slot the ball home after a couple of deft moves. One of the great tennis players of her generation spots a wide open space and rockets a forehand cross-court to leave the pair on the other side of the net standing. A gymnast lives up to her status as the current greatest with a vault executed almost to perfection.

At the other end of each of these, if you were Indian, you sighed, you perhaps cried. Belgium were the better team in their hockey quarterfinal against an Indian team that played with spark. Venus Williams stepped on it when it mattered to leave Sania Mirza and Rohan Bopanna – fine young people that they are – trailing in her wake. Simone Biles was born to be a champion – and so was Dipa Karmakar, but the path that brought the Indian to the Rio Olympics was much more fraught than the one that was smoothed out for the American.
None of the Indians won a medal. In a black-and-white world they were not winners. That doesn't mean they were losers, but it is the nature of sport that you can be fourth best in the world at something and still not be a winner. For all its glory, its power to uplift, its inherent beauty, sport can be a cruel mistress that way.
Photos: The greatest Indian Olympians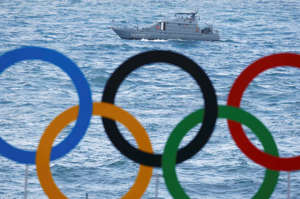 If I was fourth best in the world at my job – objectively judged as the fourth best writer in the world – I would be in demand worldwide, would never have to worry about my job, would have a room full of awards, would always land the most plum assignments and could probably still spend my free time on a hammock by the beach with my poison of choice.

Elite athletes on the other hand … do you remember who came fourth in the 100metre race in Beijing? In London? Could you name the losing semifinalists of each of the Grand Slams in 2015? Do you remember how a television channel thought India had been 'Shamed in Sydney' because they lost in the semifinal of a World Cup?
And yet, and yet … if offered the chance to swap the ability to just write about sport versus actually playing it with the same degree of success that anyone has achieved in their journalistic career, would any of us – the tribe of sportswriters – not want to consider a switch? The finish line in sport can be cold-blooded and ruthless, but there is something to be said about the journey and the opportunity to perform on the biggest stages.

But it leaves the dichotomy of a being a top-flight sports star forever open.
The Indian team had mounted a stirring defence of their 50-over World Cup trophy last year. Given how the tri-series preceding the 2015 World Cup had gone, not many would have expected a run of seven wins in seven matches. If told before the tournament that India would play Australia in a semifinal, fewer still would have thought that Australia wouldn't be a landslide favourite before the match. The Indian team's run through the tournament ensured that wouldn't be the case, and New Zealand showed that Australia could be beaten.

If you were a member of the Indian team – having found form when it most mattered, having got past opposition like Pakistan and South Africa almost at a canter – you would have felt on top of the world going into that semifinal. The defeat after would have hurt, sure. Hurt terribly even. But in a tournament where there could be only one winner, having come thus far in such style would have – in retrospect – been worthy of nothing but pride. As a sportsperson, there is the wound of not being the winner. As a fellow traveller in the journey of life, there is unadulterated honour in going so far, further than most others could even hope to.
So you feel the pain of sport and take the joy of life. Even if that pain is the kind that comes as a gymnast who has fought every battle that the average mind can imagine, and several more that one can't fathom – and then come within a whisker of climbing on the podium with a medal around her neck. Even if it is the pain of knowing that this, this moment in Rio, might be the highest you rise professionally because you're at the peak of your powers – and you know that though you soared your highest, you couldn't fly with those you set out to.

Because there is a joy in knowing that a girl from a middle-class family in the unfashionable state of Tripura had united a country at midnight, broken boundaries and crossed into a horizon that nobody in India's gymnastic history had even seen. There is the joy of being a success enough that the No. 4 doesn't matter.
Dipa Karmakar set off on a run to glory, launched herself in the air, somersaulted as if every obstacle she had ever had to overcome was below her, and landed on her feet – but not perfectly. It wasn't enough to get her into the top three.
She finished fourth. It was sport. It matters.
She missed coming third by 0.15 points. It was not enough to climb a podium, but perhaps enough to leave several struggles behind.
She finished fourth. It was life. It doesn't matter.