The Starc difference in Mitchell's bowling

Wisden India
22-02-2017
In two Tests in India in 2013, Mitchell Starc took 2 for 200. In the United Arab Emirates 18 months later, his only outing produced figures of 2 for 142. But Starc then and Starc now are two very different beasts. In Sri Lanka in 2016, he took 24 wickets in three Tests at 15.16. For Australia, he is the X-factor who could inspire a first Test win in India in more than a decade. For Virat Kohli, who captained him at Royal Challengers Bangalore in the Indian Premier League (IPL), he's someone to be wary of. 
"He is a world-class bowler, we all know that," said Kohli on Wednesday (February 22), the eve of the first Test. "He has been hampered by injuries quite often, but the way he has evolved as a bowler has been outstanding. I have played with him in the IPL, I have faced him on my first tour to Australia. From then to now, it's a massive change.
"He has learnt the art of reverse swing and bowling with the old ball. It's amazing to see the way he has developed his skills. That's something that every cricketer in the world would admire. Like you admire world-class batsmen, you admire world-class bowlers as well. Mitchell is one of them. He has really taken his game to the next level, and that's why he is counted amongst the top bowlers in world cricket."
Even as he played down expectations and painted his team as underdogs, Steven Smith, the Australian captain, spoke of the impact Starc could make. "First of all, the fact that he can bowl 150kmph," he said. "That's a good start. But with that, you've also got to have some skills to take wickets, particularly on slow wickets. He's a very good reverse [swing] bowler, he controls the ball really well. So that's a great starting point for a fast bowling spearhead in subcontinent conditions, where the wickets aren't quick and you can't bounce guys out.
"You have to have other plans, and getting the ball to shift in the air is a big weapon for fast bowlers. When the ball is shifting, he is one of the best going around."
But while Starc and Josh Hazlewood have the enviable bowling numbers, it would be unwise to discount India's own pace resources. Over the five Tests against England, they were more than a match for James Anderson, Stuart Broad and company, and their captain was confident that the performance levels would be maintained. "The pacers have stood out," said Kohli. "People who have standout performances are the ones in the limelight but guys who have important contributions, especially with the ball, are the ones that take those important one or two wickets in between to give the spinners a bit of rest. 
"The pace bowlers have been able to do that. One reason for that is they are very comfortable in the roles they have been given. They have been really happy in bowling in one area for long periods of time and not get desperate for wickets. I think that's been the most important thing.
"To run in in hot conditions and not necessarily having the plan to attack all the time can be difficult. When you have to bowl dot balls and you know the batsman's not going to get out if he keeps leaving the ball. But that takes character and the players have bought into it. And that's one reason for our success as well. People are playing selfless cricket and the fast bowlers have been the prime contenders for that." 
---
---
Much has been made of Australia coming to India with a spin-heavy contingent, but Kohli, for one, was not surprised, especially considering the timing of the series. "Coming to India, playing in summers, wickets are meant to be dry and they are meant to turn. You will have a stronger spin bowling attack than getting six or seven fast bowlers. That is a pretty natural selection. 

"We are not worried about the opposition's combinations or what they want to come up with. We are pretty comfortable with what we want to do. We are pretty sure about how we want to go about this game and the series. That's our strength, not focusing on opposition too much. We are aware of their skills, but that doesn't mean we will wait for the opposition to come out with their XI and decide how we are going to play."
Photos: India vs Australia Tests - Records that matter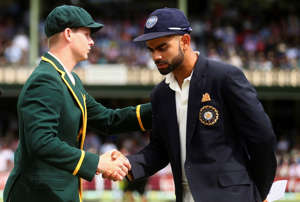 Anil Kumble, who took over as coach at the start of this marathon sequence of Tests – Pune will be the 14th in less than nine months – has undoubtedly had a lot to do with that phlegmatic approach. But in Kohli's eyes, his influence was as apparent on the less-lauded bowling unit. "What he has really brought into the side is the mindset of taking wickets as bowlers," he said. "He was a spinner, but used to think as a fast bowler. He was that aggressive with his thinking. That's why he ended up taking the highest Test wickets for India. 

"He was an out-and-out match-winner and the mindset rubs on to the players in the change room as well. There is so much to learn from him, especially for the bowlers. The way he thought about getting batsmen out, the way he used to set them up. And the way he worked on his fitness and skills as well. So everyone takes a lot of inspiration from him. He has been a legend of Indian cricket and we are really glad to have him in the change room."
Watch: 'Virat a champion player but Sachin will remain Sachin'