The Thomson principle – skills, scowls and all

Wisden India
11-06-2016
Jeff Thomson was annoyed. He had made it clear he wouldn't talk about anything apart from the reason he was in Bangalore on Wednesday (June 9) – to train bowlers as part of the KSCA-IDBI Bowling Foundation – and perhaps, about pace bowling in general. But he was still asked for his views on India's next coach, among other things. He held his cool the first time, but when a television network crossed the line again, he cancelled the interview straightaway. No hesitation.
"If you annoy me, you see me and (you will know) that's not right. Don't try to pull one over me," he said, recounting the incident to Wisden India afterwards.
Thomson's reputation precedes him. He made his name as an aggressive paceman – emphasis on the word aggressive – but that was one of the very few times in the afternoon that the aggression came through.
Charming and witty, he held the small gathering by a string – during a photo-op with the boys from the foundation, when a table proved a hindrance for photographers, it was Thomson who took charge. Before anyone could move a muscle, he had lined the table along the side of the room and got back in front of the camera, a smile lighting up his face.
Thomson at his prime was, they say, a sight to watch. A slingshot action and pace – a lot of pace – which put countless batsmen in hospitals. His 200 wickets came in 51 Tests, and he was always the biggest proponent of aggression. It didn't dim when he bowled to a 41-year-old Colin Cowdrey in the 1974 Ashes Test in Perth. And even in hindsight, one wouldn't envy Keith Fletcher in Sydney 1975.
It hasn't dimmed even now. His face truly lights up when asked to talk of aggression. "Of course!" came the reply when asked if he would pass it on to his wards at the IDBI foundation. "Because they … they gotta be a fast bowler. You can't be a nice, cuddly little bloke as a fast bowler and go, 'Ha. That went for a four. What a good shot!' No. Know what I mean?
"You've got to be aggressive. You've got be self-motivated. You've got to be like … (he makes a scowl and grunts). Know what I mean?"
Thomson understands the rigours of the modern cricketer, what with relentless workload and the physical and mental demands. However, the incentive isn't lost on him either. "Cricket is a hard game these days. I used to play for four to five months and get a break in Australia, but now there is no break," he said. "As much as I think I am tough, these guys are going to be tougher physically. These guys have the rainbow to aim for. We didn't play for much those days, but these guys get well rewarded and that is a really good incentive to try as hard as you can as far as I am concerned."

It is a point he kept going back to. He said programmes like the KSCA-IDBI collaboration wouldn't happen back when he was a youngster. At the same time, having to stand on his own helped him grow as a thinking cricketer. As a coach, the onus was on him and his team to ensure their wards develop the thinking skills. "You got to make sure they work it out themselves," he said. "When I show them they're doing something wrong, I show them why something happens, and why that is wrong. It's no good just saying, 'That was a crap ball,' and give no explanation. You give the explanation and show the wrong, and show them the difference when they are getting better."
As a coach, Thomson's philosophy is simple. He doesn't try to impose himself on his wards: "Not everybody thinks like me. I'm the only one who thinks like me, just ask my wife." He sees his role more as a facilitator. "I don't try to make them think like me. I just show them how you should think and why things work. Know what I mean? You cannot go in with a 12-man team and expect everyone to be simple to coach. You've got to vary.
"It's funny, but I enjoy showing people. I'm not a listener. I'm a giver. There are people that listen, and there are people that like to instruct. I like instructing. I always liked to find out how things worked. As a kid, I used to pull my toys apart and all that. And when I coach, I always look at people and try to work out what made them tick. And everybody is different. You've got to have an open mind. But when you're playing in a team, that open mind has to be in the team's direction. So you've got to do that without them really knowing it, especially some guy you don't want to be teamed with!"
Thomson isn't keen on talking about how he would bowl to the modern biggies, Virat Kohli, AB de Villiers and David Warner – "Aaah, I don't want to talk about that," he said – but is happy to speak at length about yorkers. "It's the best ball that's ever been invented." Period.
"The yorkers and bouncers are the hardest balls. Okay, you're limited on bouncers but you're not limited on yorkers," he said. "It's a matter of where you bowl 'em, how you bowl 'em. It's still a hard ball, especially if you're very quick, because you can't move to a very quick yorker. If I am a medium pacer and I try to bowl a yorker, you can charge me and make it a full toss. But if you're quicker and bowling a yorker, it's pretty handy.

"You've to be able to bowl them at the right place. You've to able to adjust. If it's a big bloke, it's a shorter length. If it's a shorter bloke, it's a fuller length. It varies on the batsman you're bowling to, where they standing. It's all about accuracy. You've got to be able to control what you are bowling. Otherwise, you might be able to bowl every ball in the book, but if you bowl them badly, it's a waste of time."
Thomson is 65 years old. He is still fit – displayed in his willingness to tackle that table – and is engrossed with the IDBI Bowling Foundation. He is set to take David Mathais, Prasidh Krishna, Tushar Deshpande and Minad Manjrekar to Australia for further training at Cricket Australia's Centre of Excellence. "I am not David Copperfield. I don't weave tricks and I am not a magician. I show what is to be done, but it takes time," he said. So much so that it's left him without any spare time for golf.
That's just as well. Golf is too peaceful a sport for someone like him.
Slideshow: 25 cricket world records you must know about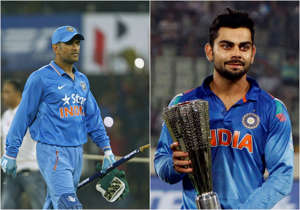 Cricket world records you must know about