There is no danger to Rahane's spot in the Test team, says Sourav Ganguly

India Today
28-11-2016
Ajinkya Rahane has had a series to forget so far against England and former India Captain Sourav Ganguly has a valuable piece of advice for the middle order batsman. In five innings so far Rahane has scored only 63 runs and was again trapped lbw on Day 2 in Mohali on just 4. Ganguly says for Rahane to rediscover his touch he first needs to stop worrying.
Sourav Ganguly told India Today, "I'll tell him to just take this (poor run) out of your system, go out and enjoy, have a dinner and come back tomorrow and just take it out of your mind. India will field again tomorrow so he does not have to bat. So I'd tell him to stop worrying about batting for now, when you go back to bed tomorrow then start planning what you are going to do in the next innings because in this way it keeps you fresh and keeps pressure off you. Rahane is a very intense cricketer and you could see that in his front foot defence, even when he missed the line of the ball his head was down and he was all the way forward to the delivery trying to get everything correct."
Rahane's series average of 12.60 is a far cry from his career Test average of 47.33. Along with Kohli and Pujara, Rahane is the backbone of this team and India needs one of its best batsmen to rediscover his form.
"Ajinkya Rahane is as good as Virat Kohli in Test cricket for India. It is just a patch of 3 Test matches where he has struggled and he just needs to take this off his head. When you go through this sort of a phase in your career you have just got to keep believing that the next day is going to be mine or the next afternoon is going to be mine and that is the way you come back. I don't think Rahane is worried about his place in the side and there should not be any worry about Ajinkya Rahane in India's Test side and it is just a matter of time for him," Ganguly added.
© Reuters Image

Considered one of the most technically sound batsman in this Indian team, Rahane has scored eight Test tons and nine Test half centuries. In this series so far however the 28-year-old has just not gotten off the blocks, he has a highest score of 26 so far and has gotten out thrice to English spinners and twice to the pacers. Former India cricketer Nikhil Chopra too says that the batsman needs to stop putting pressure on himself.
Slideshow: 27 cricket world records you must know about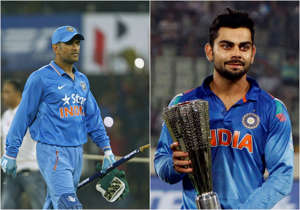 Nikhil told India Today, "I am sure Rahane would be kicking himself because this is a good batting track. The ball is not turning much but he probably did not read the googly out of Rashid's hand and he is a far better batsman than the way he got out. That happens in sport sometimes and you have your ups and downs. But like we all have been saying Rahane is a class act and he is just 1 innings away from getting back into that Rhythm. So he should not worry, everybody else is contributing and looking to get big scores and I just hope that the next big innings comes from Rahane because then this Indian Team will have a complete look."

With two days still left to play in the Mohali Test a result is expected and Rahane will hope to contribute with the bat in the second innings.
Watch: 'India in respectable position due to Ashwin'
More from India Today

India Today