Three cheers for King Kohli, triple-ton for Commoner Karun

Wisden India
31-12-2016
The last day of Test cricket action for the year. In two different countries, two different continents actually, but in the same hemisphere. A stirring Australian charge at the 'G', a more stately South African march at St George's Park. Couldn't have asked for a better finish to 12 months of solid, at times spectacular, Test cricket, red ball and pink.
It was exactly two years back to the day that one of the more celebrated Test careers came to an abrupt, unexpected, unspectacular end. There was little hint of what was to follow when Mahendra Singh Dhoni engaged in a solid rearguard action at the MCG, a defiant 68-minute final act shepherding India to a hard-fought draw in the third Test. Dhoni walked off the field all smiles and well concealed satisfaction, wore his poker face throughout the post-match press do, but hadn't so much as returned to the dressing-room when the Board of Control for Cricket in India announced through a cold email that the man who had overseen some of the best, as well as darkest, moments of the Test team was retiring from the longest version to manage his workload.
As stunners go, this was up there with the very best. It was through an official BCCI email that Sachin Tendulkar's limited-overs retirement had been formalised in December 2012, but as bland and unceremonious as that announcement was, it barely registered on the Richter scale. Tendulkar's One-Day International forays had already become too few and far between, the retirement was no more than bringing the curtain down – officially.
In Dhoni's case, though, there wasn't so much as a hint. He was still active, still involved, still passionate, still the undisputed captain and leader, still the man to drive the young team forward. Or was he? Not anymore, he said. Time for the next bloke to take over, a bloke that is ready and able, willing and well-received.
That bloke answered to the name of Virat Kohli. By then, he had provided more than mere glimpses of his extraordinary batting skills, but he was still a work in progress. He was brash where Dhoni was calm and composed. Where Dhoni's face was an inscrutable mask in glorious triumph and debilitating disaster, Kohli was unafraid to wear his heart on his sleeve. Dhoni was the zen-master, Kohli the king of emotion, at once snarling and cussing and seemingly on the verge of self-destruction.
How would he handle a young bunch? Volatile Kohli, tempestuous Kohli, mercurial Kohli. How would the boys respond to this sea change from the shimmering onyx to the uncut diamond? Pretty well, as it has turned out.

It took the fans and the pundits, the commoner and the connoisseur, the better part of 2015 to come to terms with the fact that Dhoni in whites was history, that there would be no dramatic comeback, no waking up from the dream to hear him trill semi-sarcastically from behind the stumps 'aage bhi daal sakta hai, Jaddu'. Jaddu now had a new Test captain, a new master, if you like. And, the new master is doing quite well, thank you. For most of 2016, there was hardly a murmur about Dhoni the Test player.
Kohli provided some of the most enduring, endearing memories of 2016 – as foot-soldier (from a captaincy perspective) extraordinaire in white-ball international play, and as general nonpareil in red-ball action. Whenever he played with – and under – Dhoni, he was happy to be in the captain's ear without stepping on his toes, while continuing to paint the most breathtaking of pictures on wide canvases across the world. He was a more animated, more proactive but equally passionate beast when he led his band of warriors out in the red-ball format, comfortable in his skin, happy to be his own man, drawing tips from the past but not caught in a time warp.
His captaincy was sometimes instinctive, sometimes predictable but never uninteresting. He would follow the ball and drive you to exasperation, he would irk you by not having enough catchers around the bat (according to you, that is) and he would stupefy you with bowling changes, but how can you argue with the results? Nine wins, three draws in 12 Tests played. Wins achieved overseas and at home, on good cricket tracks and twice by an innings, in successive games, after conceding 400 runs in the first hit of a Test.
Kohli the leader was electric and dynamic, in your face and in the consciousness; Kohli the batsman transcended all that, striking a chord that kept throbbing throughout the year. There was such magic that cascaded off his willow that you wondered how batting could ever be difficult. Time came to a standstill when he briskly, purposefully marched out to the middle, twirling bat and steely eyes a foretaste of the most mellifluous carnage to follow. Seldom has one man batted so beautifully with such success over such a long period of time across so many formats. If there is one stroke seared into my cricketing mindspace, it is the Kohli cover-drive, left foot out to the pitch of the ball, knee bent, hands low, wrists breaking, the bat a mere extension of wondrous hands as it made the sweetest contact with the unsuspecting sphere that is a willing ally in its journey towards the boundary boards.
As delightful as watching Kohli with the bat, was sitting back and enjoying R Ashwin's hold over the cricket ball, and of batsmen transfixed – and no, we are not talking Ben Duckett alone. Just as with Kohli, you could see from a 100 yards, or a thousand miles, away that this was a man in complete command of his craft. The scything arc the ball made, whirring like a top as it was propelled by the long fingers of the right hand, translated into a mesmeric parabola. Each ball was an event, a set-up, an examination. Sometimes, like a student in possession of a leaked question paper but unequipped to make the most if it, you could see what he was going to do. And yet, you could do nothing about it. King Kohli, Aristocrat Ashwin – quite the heady combo that.
But as much as these two lorded over the cricketing universe, it was the commoner who clinched it for me. An affable, likeable young man, unassuming and unflashy, a throwback to the old days when cricket was about turning up, getting the job done and then quietly retreating into the shadows. Karun Nair's unbeaten 303 in India's last outing of the year, at Chepauk, has ensured that he can safely forget the shadows. The unlikeliest of companions for Virender Sehwag in the 300-club fired a massive shot for the unglamorous lot sometimes disparagingly referred to as the journeyman cricketer. Nair is anything but a journeyman even if, by all accounts, he is in for the long journey. Through one magnum opus, he has shown that for every Kohli, you need a Nair, just as for every Ashwin, there must be a Jadeja. The moment of the year for me – man-boy Nair cutting Adil Rashid for four, getting to 303, raising his arms with a shy, almost embarrassed smile. What a way to announce an arrival!
Slideshow: Virat Kohli - On and off the cricket field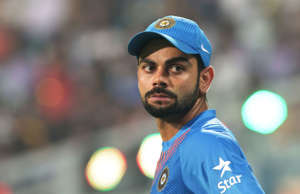 Watch: Virat urges people to never drink and drive