Tongue Tied? Sehwag Fails to Mention Dhoni in Speech

The New Indian Express
04-12-2015
Perhaps, six years weren't enough for Mahendra Singh Dhoni to find a place in Virender Sehwag's list of captains! As the Board of Control for Cricket in India (BCCI) felicitated the recently retired superstar on Thursday, Sehwag thanked all his 'captains', sans MS Dhoni.
Former skippers Sourav Ganguly, Rahul Dravid, Anil Kumble and Sachin Tendulkar found a mention in Sehwag's speech. He didn't even miss out on his first Ranji Trophy captain Ajay Sharma, but surprisingly the Nawab of Nazafgarh didn't utter a line about Captain Cool. Even before his retirement, there had been speculations about Sehwag's 'uneasy' relationship with Dhoni, but so far, those remained as speculations. But Thursday's glorious 'omission' once again raised a big question mark about their relationship.
However, such things are nothing new in Indian cricket. In 2012, when the Board felicitated Dravid, he skipped Tendulkar's name, only to admit that it was a 'mistake in hurry'. Even people close to Sehwag claimed it was a similar case. But controversies aside, it was a morning to remember for the 37-year-old. To make the moment special, the Delhi & Districts Cricket Association (DDCA) named two-ends—'Viru 319 End' and 'Viru 309 End'—after his two triple centuries. And, he even sounded emotional as he went around the ground with his sons Aryavir and Vedant. "I am also a human being, at times you do get emotional. Today is one such day," he said.
Sehwag walked down memory lane in the company of wife Aarti and mother Krishna, and went on to narrate stories about how he had borrowed money from a friend to buy a scooter and how his first coach AN Sharma used to motivate him.
"My most memorable moment was scoring my first Test ton, because when I started playing, everyone said Sehwag is good in ODIs, but I thought if I had scored heavily in the Ranji Trophy, I should get to play Tests. So when I got an opportunity, I was very excited," Sehwag said.
"If you take a look at Test cricket, four or five names come to your mind. But if you look at the individual feats (highest score) in Test cricket for India, the first name that comes to your mind is of Sehwag, the second name is of Sehwag and the third name is also of Sehwag," he laughed.
It's not easy to leave behind something that has been his first love, but as Sehwag walked out of the stadium with two sons, he looked back at the stands, perhaps to bask in the glory for one final time!
Slideshow: Virender Sehwag — Rare and unseen images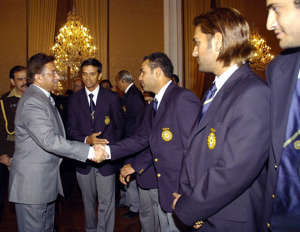 Virender Sehwag: Rare and unseen images
More from Gadgets & Gizmos

The New Indian Express