Top 10: Batsmen who book bed and breakfast at the crease

Wisden India
13-11-2016
Using Impact Index findings, here is Wisden India's list of the top ten batsmen with the highest Partnership Building Impact in Test cricket or, in layman terms, the men who turned a Test on its head by building a big partnership or staying at the crease for a long time.

Matthew Hayden – 1.08
Pakistan were bowled out for a paltry 59 in the first innings of the second Test, but they didn't give in. Their bowlers came out blazing, but Hayden's 119 willed Australia to 310, his partnership-building ability coming to the fore as he was the ninth wicket to fall.

Jonathan Trott – 0.92
The 2010 Pakistan series will be remembered for all the wrong reasons, but in the midst of all the chaos, Jonathan Trott was able to make his mark. Asked to bat, England got off to a horrid start as they slumped to 47 for 5 in the 17th over, with Mohammad Amir running riot, before Trott dug in. He added 55 runs with Matt Prior and then came a stellar 332-run stand for the eighth wicket with Stuart Broad.
Inzamam-ul-Haq – 0.89
Stuttering at 57 for 2, Pakistan needed something special to keep an in-form New Zealand at bay and Inzy rose to the challenge. The burly batsman teamed up with Imran Nazir and added 204 runs, 94 runs with Yousuf Youhana, 111 with Saqlain Mushtaq and 78 alongside Shoaib Akhtar as he guided Pakistan to 643. Pakistan bowled New Zealand out for 73 in the first innings and 246 in the second to win the game by an innings and 324 runs.

Len Hutton – 0.87
Hutton walked out to the middle with Bill Edrich and the duo went their separate ways after the latter was dismissed for 12, but England took the game by its horns when Maurice Leyland joined Hutton at the crease. They added 382 runs for the second wicket, but Hutton was far from finished. He added 135 runs with Wally Hammond and 215 with Joe Hardstaff Junior before his innings came to an end. His knock of 364 helped England score 903 for 7 declared, which remains the second highest score in Test cricket.
Herbert Sutcliffe – 0.84
England's batting line-up had faltered in the first innings and the team was trailing Australia in the second innings. But Jack Hobbs and Sutcliffe came to England's rescue as they smashed 171 runs for the first wicket, with Hobbs falling after making a century. The rest of the batsmen also chipped in, but it was Sutcliffe's 161 that really stood out.

Arthur Morris – 0.84
England were bundled out for a meagre 52, but any hope of returning the favour to Australia went out the window after Sid Barnes and Arthur Morris's 117-run opening stand. What made matters worse was that Morris stood strong at one end and only departed after Australia reached 359.
Desmond Haynes – 0.84
In a low-scoring tie, West Indies were having as horrendous a time with the bat as Pakistan but they were trailing after the first innings. In the second innings, Haynes, the opener, went about cautiously en route to an unbeaten 143. Barring his partnerships with Richie Richardson and Brian Lara, there was not much in terms of runs, but he carried his bat on to help West Indies to 382.
Rahul Dravid – 0.82
This name shouldn't surprise anyone. India got off to a horrid start as they lost Virender Sehwag off the first ball of the innings. The pressure was on Dravid but, as always, he put his head down and got to work. He carved out 270 runs from 495 deliveries in 740 minutes, stitching partnerships with VVS Laxman, Sourav Ganguly and Yuvraj Singh.
Alastair Cook – 0.81
England were already on top in the series and stuck to that script at Edgbaston. Andrew Strauss and Alastair Cook came together and added a superb 186 runs for the opening wicket before Strauss was dismissed. Then, there were partnerships with Ian Bell, Kevin Pietersen and Tim Bresnan. Cook made a stellar 294 from 545 balls before being dismissed, at the stroke of which England declared with 710 runs on board.
Photos: 27 cricket world records you must know about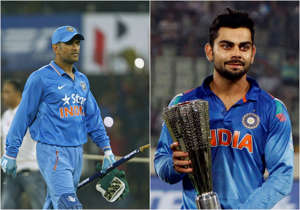 Watch: Virat Kohli's debut ODI innings