Top 10 run-hauls in a year: Williamson in the company of legends

Wisden India
03-11-2016
Many batsmen go through good form, but only a few manage to carry it across formats and over long periods of time. Kane Williamson is one such batsman who converted good form into a dream run in 2015, scoring 2692 runs from 39 matches across formats.
Wisden India looks at other such dream runs – batsmen who have scored most runs in a year in international cricket.
1. Kumar Sangakkara, 2014
Runs: 2868 from 48 matches (57 innings); average: 53.17; 100s: 8
To say that Kumar Sangakkara was unstoppable towards the latter half of his career would be an understatement. The Sri Lankan legend enjoyed a dream penultimate year in international cricket scoring runs almost for fun, especially in Tests. In 11 games in the format, he scored 1493 runs including a career-best 319 against Bangladesh. It also included a historic match-winning performance of 79 and 55 in Leeds to give Sri Lanka their maiden series win in England and a double-century against Pakistan in Galle. Sangakkara scored four centuries in ODIs that year too, totalling 1256 runs from 28 matches.
Only 119 of the 2813 runs in 2014 came in Twenty20 Internationals but Sangakkara performed when his side needed the most, scoring an unbeaten 52 against India in the final to help Sri Lanka lift their maiden World T20 title.
2. Ricky Ponting, 2005
Runs: 2833 from 46 matches (58 innings); average: 56.66; 100s: 9
Captaincy often takes a toll on one's batting but Ricky Ponting was an exemption, especially in 2005. More than half of Ponting's runs in 2005, 1544 of them, came from the 15 Tests he played. The Test average was 67.13 per innings and included six tons. Five of those tons resulted in victory for Australia. He was also in fine form in ODIs, scoring 1191 runs from 29 games including three tons.
Ponting was also a major part of history that year as he scored an unbeaten 55-ball 98 against New Zealand in cricket's first ever T20I to win the Player of the Match award.
3. Kane Williamson, 2015
Runs: 2692 from 39 matches (46 innings); average: 65.65; 100s: 8
Kane Williamson has been in full form in 2015, scoring five tons from eight Tests, where he averages over 90. It included a stunning 242 not out against Sri Lanka in Wellington to give New Zealand a massive victory from a precarious position, a century each at Lord's, Brisbane and Perth. The year ended on a perfect note too with Williamson scoring a century against Sri Lanka to give New Zealand a win in Hamilton. Overall, he scored 1172 runs in Tests last year.
Williamson did not have the best of World Cups but still managed 1376 runs from 27 matches at 57.33 in 2015.
4. Angelo Mathews, 2014
Runs: 2687 from 53 matches (59 innings); average: 66.14; 100s: 4
That Angelo Mathews made only four centuries but still managed nearly 2700 runs in 2014 should give an idea about his consistency that year. Sri Lanka's captain started the year with scores of 91 and 157 not out against Pakistan in the Abu Dhabi Test and carried the form through the year, scoring 1408 runs at 88. It included centuries in each of the two Tests in England where Sri Lanka won a Test series longer than one Test for the first time ever. He was also in terrific form in ODIs where he made 1244 runs from 32 games, including his only ODI century, against India in Ranchi.
All this, apart from his contributions as captain and bowler.
5. Ricky Ponting, 2003
Runs: 2657 from 45 matches (49 innings); average: 66.42; 100s: 11
To put it in simple terms, Ponting was in a century making mood throughout 2003, slamming six tons in Tests and five in ODIs. Three of those were converted into double-tons and two were against India, including his career-best 257, in back-to-back Tests in Adelaide and Melbourne. But his most memorable performance came in the ODI format in the biggest stage possible, the World Cup final. The Australian captain blasted an unbeaten 140 against India to give his country their third World Cup title.
In all, he scored 1503 runs from 11 Tests at a Bradmanesque average of 100.20 and 1154 runs from 34 ODIs.
6. Rahul Dravid, 1999
Runs: 2626 from 53 matches (62 innings); average: 46.89; 100s: 10
Dravid the Test batsman often overshadows Dravid the ODI batsman, but the roles were reversed in 1999. As many as 1761 runs came from the 43 ODIs at an average of 46.34. It included a wonderful World Cup where Dravid was the highest run-scorer with 461 runs from eight games including two centuries. In all, he scored six ODI centuries and four Test tons in 1999.
The Test performances included the New Year Test against New Zealand in Hamilton where he scored 190 and an unbeaten 103 to help India draw the game.
7. Kumar Sangakkara, 2006
Runs: 2609 from 50 matches (55 innings); average: 52.18; 100s: 5
Sangakkara will remember 2006 most fondly for the mammoth record-shattering 624-run partnership he shared with Mahela Jaywardene in the Test against South Africa in Colombo. While the 287 runs he scored that innings was his best performance, the year also included some classy knocks like the consecutive tons in the two Tests in New Zealand. The unbeaten 156 in the second Test in Wellington is one of his all-time best performances as it helped Sri Lanka draw square.
In all, 1242 runs came in Tests while 1333 came from 36 ODIs.
8. Sourav Ganguly, 1999
Runs: 2580 from 51 matches (60 innings); average: 47.77; 100s: 6
Just like Dravid, Sourav Ganguly too had a wonderful year in 1999 in both ODIs and Tests. The left-handed opener was in typically fluent form in ODIs scoring 1767 runs from 41 games including four centuries. It included a career-best 183 against Sri Lanka in the World Cup game in Taunton. He was in good touch in Tests too, scoring 813 runs from ten matches with a century each in Hamilton and Ahmedabad, both against New Zealand.
9. Tillakaratne Dilshan, 2009
Runs: 2568 from 42 matches (49 innings); average: 55.82; 100s: 10
Tillakaratne Dilshan started 2009 with scores of 162 and 143 in a Test against Bangladesh and ended the year with another century against India. In between the two Tests, he scored four more tons in the format, taking his Test tally to 1097 runs from 11 games that year. He also scored exactly 1000 runs from 19 ODIs at 55.55, including four centuries. His 124-ball 160 in Rajkot against India resulted in a heartbreaking three-run loss for Sri Lanka despite chasing a mammoth target of 415.
Dilshan was also prolific in T20Is, scoring 471 runs at an average of 42.81 from 12 matches, with five 50-plus scores.
10. Sachin Tendulkar, 1998
Runs: 2541 from 39 matches (42 innings); average: 68.67; 100s: 12
1998 is perhaps the most unforgettable year for Sachin Tendulkar and his legion of fans for it was the year of the famous sandstorm innings against Australia. His back-to-back tons of 143 and 134 in Sharjah are among the best knocks he has ever played, but there were more such performances that year. He scored a whopping 1894 runs from 34 ODIs with the help of nine centuries.
His Test form was even better, with the legendary batsman scoring 647 runs from nine innings at 80.87. It included two centuries against Australia at home and one against New Zealand in Wellington.
---
---
Photos:Cricketers — Then and now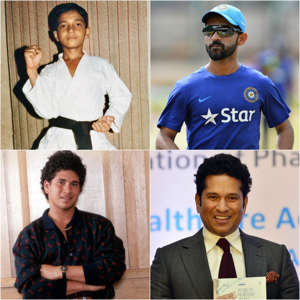 Watch: Top 5 funniest cricket moments